Lithia Motors Inc. (NYSE:LAD) continues to impress investors with a double-digit earnings growth and a promising outlook, based on its strong sales momentum and profitable market expansion strategies. This automotive retailer delivered the highest quarterly EPS in its history in the third quarter of the year, leading to strong estimate revisions. With a price-to-sales (P/S) ratio as low as 0.27, this Zacks #1 Rank (Strong Buy) is a true value pick.
Promising Third Quarter
On October 24, Lithia Motors posted a whopping 47.5% rise in third-quarter earnings per share to 90 cents from 61 cents a year ago, surpassing the Zacks Consensus Estimate by 16.9% and marking the 11th straight quarter with a positive surprise.
Total revenue grew 24.2% to $888.4 million driven by strong revenue growth in new vehicle retail (31.4%), used vehicle retail (24.7%) and finance & insurance (38.6%).
The company's selling, general and administrative (SG&A) expenses as a percentage of gross profit declined 340 basis points to 66.8% during the quarter, which is an all-time low.
As part of its continued market expansion plans, Lithia Motors acquired Connell Chevrolet in Killeen, Texas on August 27 and upgraded its earnings guidance accordingly. The store has estimated annual revenues of $60 million.
Upgraded Outlook
The management at Lithia Motors believes new safety norms, technological development, better fuel economy, improving consumer credit markets and an aging fleet of vehicles on the road will continue to drive sales through the remainder of 2012 and in 2013.
The company raised its full-year 2012 EPS guidance to between $2.88 and $2.90 from the prior level of $2.69 to $2.75. The upgraded EPS guidance represents estimated growth of 44.7%-45.7% over 2011. The projection is based on revenue expectation of between $3.2 billion and $3.3 billion for the year, which reflects an estimated growth of 18.5%-22.2%.
For 2013, LAD expects between $3.11 and $3.21 per share based on total revenues of $3.5 billion to $3.6 billion. The earnings and revenue guidance reflect estimated year-over-year growth of 8.0%-10.7% and 9.1%-9.4%, respectively.
Lithia Motors expects to earn between 64 cents and 66 cents per share in the fourth quarter of the year, and also projected earnings per share between 65 cents and 67 cents for the first quarter of 2013.
Strong Estimate Revisions
The Zacks Consensus Estimate for 2012 rose 6.2% in the past three months to $2.91 per share, including a rise of 5.8% in the past 7 days on upward revisions from all 6 estimates. As for 2013, the Zacks Consensus Estimate is up 8.4% to $3.23 in the last 90 days and 4.9% in the past week based, again, on upward revisions from all 6 estimates. The estimates for 2012 and 2013 reflect year-over-year growth of 46.3% and 11.0%, respectively.
Justified Value
Shares of Lithia Motors are on the rise with an impressive one-year return of 65.4%. With positive earnings surprises stretching back to 2010, the upward shifts in the 2013 and 2014 estimate lines clearly indicate that the stock should continue to advance.
Lithia Motors has strong value characteristics. In addition to a low P/S, it is currently trading at a forward P/E multiple of 11.7 and a P/B multiple of 2.1 (a P/S ratio lower than 1.0, a P/E below 15.0 and a P/B ratio under 3.0 generally indicate value). Moreover, the company has a 1-year ROE of 18.6%, which is higher than its peer group average of 14.5%. It also has a PEG ratio of 0.78, which is less than 1 and indicates that the stock is reasonably valued given the long-term expected growth of 25.0%.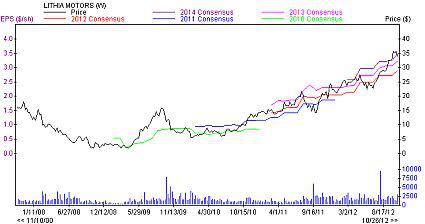 Headquartered in Medford, Oregon, Lithia Motors was founded in 1946. The $860.7 million company sells new and used cars and light trucks, and their replacement parts. It also provides vehicle maintenance, warranty, paint and repair services, and arranges related financing, service contracts, protection products and credit insurance. As of September 30, 2012, the company has offered 29 brands of new vehicles and all brands of used vehicles in 87 stores in the U.S.
Read the full analyst report on LAD (email registration required)