Statoil (NYSE:STO) announced Q3 2012 earnings on October 28. Production was up 3% to 1,811 mboe/day and net operating earnings were up 4% compared to the prior-year quarter.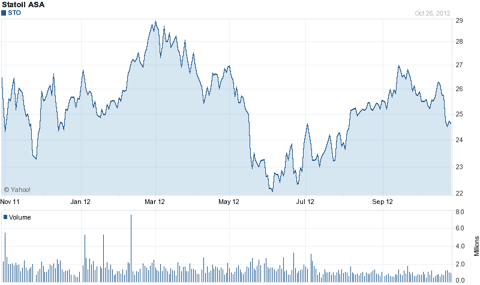 STO = $24.65
Mkt Cap = $78.42 billion
P/E (ttm) = 5.41
Earnings (ttm) = $4.47
Div (Yield) = $0.91 (3.7%)
Year-to-date, STO has increased production by 10% compared to the same period in 2011. Cash flows from underlying operations have increased by 12%.
Statoil has recently announced an agreement with German oil and gas company Wintershall that will net the company $1.45 billion. Details are as follows:
Exit the Brage licenses, Wintershall to assume operatorship
Farm down in Gjoa and Vega
Acquires a 15% stake in the Edvard Grieg licence (near Sverdrup)
Effective date will be January 1, 2013
STO's production from divested assets averaged 39,000 boe/day in the first half of 2012.
Gjoa interest drops from 20% to 5%
Vega Unit interest drops from 54% to 24%
The Grieg field is expected to begin first production in late 2015 with a forecast peak production of 100,000 boe/day.
The transaction raises cash and also consolidates STO's position in the Sverdrup area with the new Grieg position. It gives STO a more focused portfolio and enhances the company's flexibility moving forward. As a result of the transaction (and associated loss of production), the company expects production in 2013 to fall below that of 2012. However, the company said it is still on track for an average annual production growth rate of 2-3% from 2012-2016 and is comfortable with its long-term production goal of 2.5 million boe/day by 2020.
Selected notes from the conference call:
Gullfaks is now producing more than 100,000 barrels per day.
Internationally STO increased production by 24% quarter-on-quarter.
Bakken produced 38,000 boe/day
Marcellus produced 63,000 boe/day
Decreased production estimates for 2013 are due to the Wintershall agreement and the decision to reduce U.S. rig counts due to low U.S. gas prices
In summary, STO is a very strong international oil and gas company that is growing production. With a P/E of 5.41 and a dividend yield of 3.7% (net, USD), STO should be considered for both its value and the income it delivers.
Disclosure: I am long STO. I wrote this article myself, and it expresses my own opinions. I am not receiving compensation for it (other than from Seeking Alpha). I have no business relationship with any company whose stock is mentioned in this article.