My watch-list in the semiconductor sector has grown considerably over the last year as I begin to explore adjacent sectors to my home-field of high performance computer products. However, there are many unsung heroes that help power the mainstream computing devices that are prevalent in our lives. Today, I would like to make the case for Atmel (NASDAQ:ATML), a semiconductor firm that specializes in micro-controllers. Now, these micro controllers are used in all sorts of applications, but the products that really stand out as a high-growth opportunity are the firm's capacitive touch controllers.
The Touch Opportunity - Plain As Day
It's clear that touch-screens are here to stay. Smartphones and tablets, which rely almost exclusively on touch input these days, are big growth drivers. Big names such as Samsung (OTC:SSNLF), LG, and Apple (NASDAQ:AAPL) are all profiting quite handsomely from the sales for smartphones. On the tablet side, Apple has traditionally dominated, but competition from the Microsoft (NASDAQ:MSFT) Windows 8 and Windows RT based tablets will likely be formidable, as will Google (NASDAQ:GOOG) Android based tablets. In fact, in the most recent quarter, devices based on Google's platform snapped up 41% of global tablet sales.
More importantly, the Intel (NASDAQ:INTC) Ultrabook initiative, aims to transform the PC into thin, light, and aesthetically appealing portable devices with high performance and great battery life. Most importantly, though, 40 out of the 140 Ultrabooks slated to be released for the Windows 8 generation will be touch-enabled.
Touch is here to stay and grow, so there is clearly a case for owning a touch controller vendor. That brings us to Atmel.
Atmel - A Mercilessly Beaten Down Controller Vendor
While there are a number of touch-screen controller vendors such as Cypress Semiconductor (NASDAQ:CY) and Texas Instruments (NYSE:TXN) that compete with Atmel, the latter is much more diversified and levered to analog ICs (so any major upside in the controller business would be diluted by the size of its other businesses). The former is also fairly levered to the touch business and is small enough to also benefit from upside, but its balance sheet is not as attractive.
To compare, Atmel has $245M in cash and no long term debt. Cypress, on the other hand, has $219M in cash and $198M in long term debt. Taking a look at my favorite valuation metrics - price/sales, price/ tangible book, and price/earnings - we see that Atmel once again compares quite favorably to its rival: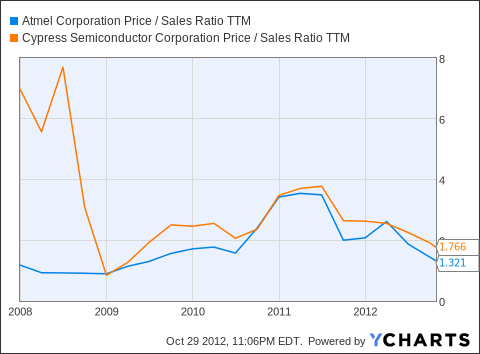 ATML Price / Sales Ratio TTM data by YCharts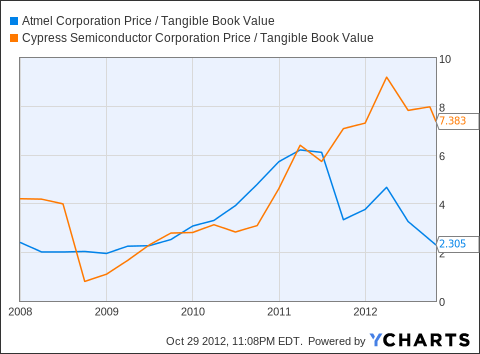 ATML Price / Tangible Book Value data by YCharts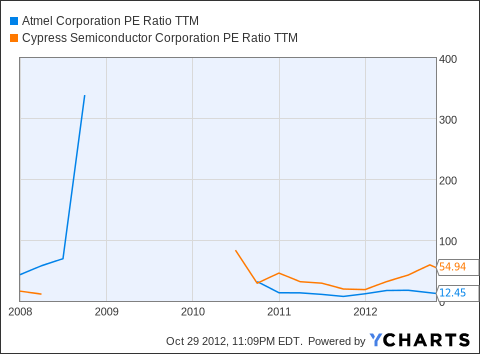 ATML PE Ratio TTM data by YCharts
The one thing that Cypress seems to have over Atmel is that it pays a fairly handsome dividend of $0.44/share. Unfortunately, this payout ratio comes out to 283%, so I am not entirely convinced that this dividend is sustainable in the long term barring some fundamental changes to the firm's profitability and cash flow metrics.
Onto the price itself, Atmel is trading near multi-year lows after having flown quite high for a couple of years: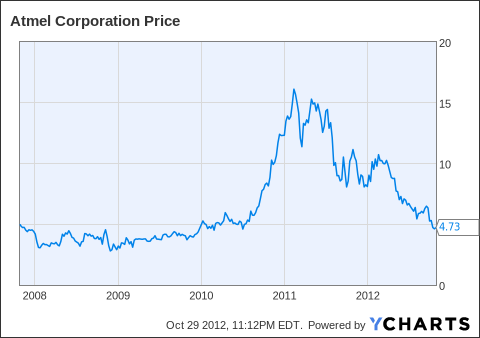 Conclusion
Touch-enabled devices represent a huge growth segment. As tablets and smartphones increase their unit volume sales and as more of the stable traditional PC TAM becomes touch enabled, the vendors who supply touch controllers will be quite in vogue over the next couple of years.
Now note that this isn't a no-brainer investment - Atmel's revenues and earnings have been shrinking over the last several quarters and its stock price has followed suit. The company also spent quite a bit of its cash pile buying back shares at substantially higher prices to the most recent close (can't blame a company for trying, though).
Further, with no dividend to cushion against further price depreciation, any potential investment in this stock has the potential to be "dead money" until the secular growth in the touch controller space that I'm expecting to happen becomes material on the top and bottom lines (and the thesis may turn out to be wrong altogether). However, at these prices, I'm ready to pick up a starter position and, if the upcoming earnings report on November 1st is good, add opportunistically on dips going forward.
Disclosure: I am long INTC. I wrote this article myself, and it expresses my own opinions. I am not receiving compensation for it (other than from Seeking Alpha). I have no business relationship with any company whose stock is mentioned in this article.
Additional disclosure: I may initiate positions in ATML and MSFT over the next 72 hours.