SNL Financial's Jason Lail reports that
As Hurricane Sandy nears landfall on the East Coast, publicly traded U.S. equity REITs with properties in the area of exposure could face significant impact from associated storm damage. With high wind and rain exposure ranging from North Carolina to Maine and as far west as Ohio, there are a significant number of REIT properties that could potentially be affected by the storm.
images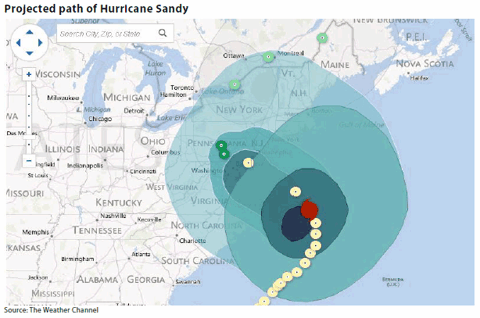 The portfolios of five public U.S. equity REITs are located entirely within the expected path of the storm. Washington Real Estate Investment Trust (NYSE:WRE) has 71 properties, or 100 percent, of its portfolio in the wide swath that is projected to be impacted by the hurricane. First Potomac Realty Trust (NYSE:FPO) also has 100 percent of its office/industrial portfolio of 62 properties in the area of exposure.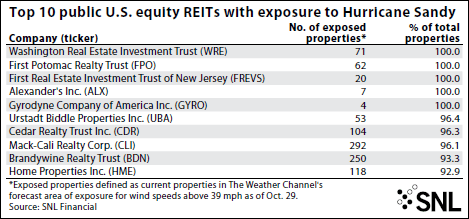 Looking at exposure for U.S. REITs by property type, the property sectors of "other" retail, office and health care each have more than 1,000 properties in the projected area, with "other" retail topping the chart at nearly 2,000 properties in this area.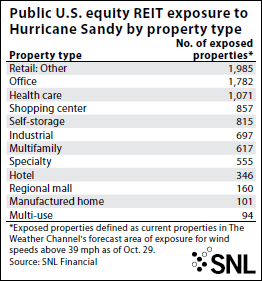 In total, more than 9,000 properties owned by public U.S. equity REITs have potential exposure to Hurricane Sandy. The storm is expected to make landfall in the New York-New Jersey area.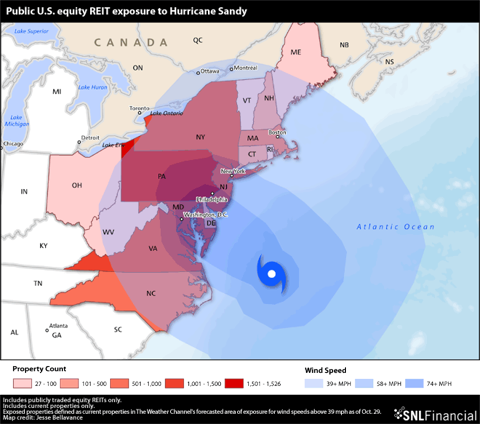 Source: SNL Financial (and reporting by Jason Lail)
Other REITs referenced in this article: UBA, CDR, CLI, BDN, HME, GYRO, and ALX
Disclosure: I have no positions in any stocks mentioned, and no plans to initiate any positions within the next 72 hours. I wrote this article myself, and it expresses my own opinions. I am not receiving compensation for it (other than from Seeking Alpha). I have no business relationship with any company whose stock is mentioned in this article.