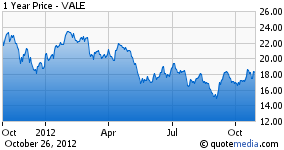 Brazil is one of the richest countries in the world when it comes to unexplored mineral resources. The country is rich in precious metals, stones, minerals, oil and gas, much of it still unexplored. Brazilian mining giant Vale (NYSE:VALE) is also one of the largest mining companies in the world, and there is always something to talk about with this company, when it comes to analyzing future possibilities. Being a Brazilian company, Vale is no stranger to the issues of indigenous peoples and un-contacted tribes. No matter how big or small, mining companies have to face a lot of resistance from tribal people and the governments if their exploratory projects intrude upon tribal-inhabited areas.
That being the case, it should not come to us as a surprise that native Brazilians from the Guarjajaras and the Awa tribes blocked a crucial railway line that transports Vale's ores to processing centers and ports. The tribes protested between the towns of Mineirinho and Auzilandia deep inside Maranhao state. The point I am trying to make is that Vale is no stranger to the issues of indigenous peoples and such protests and blockades will be expertly and sensitively handled by the company's legal and environmental teams.
Directive 303 of Brazil prohibits tribal people from expanding their settlements any further, and there had always been seething anger about mining companies being allowed into territories that the native Indians believe is theirs. However, a judge ruled that the protest cannot be allowed and Vale immediately resumed transport cargo operations on the Estrada de Ferro. While Vale won this particular battle, the relationship between mining companies and tribal peoples have always been notoriously bad.
Vale is one of the few companies that have made attempts to be inclusive of tribal interests and respect their land and culture. Some of these tribal people have never been contacted by the modern society and continue to live in a prehistoric hunter-gatherer kind of living. The U.N. has explicitly stated that tribal interests must be protected and that their way of living must not be interfered with. When Vale is Brazilian and is no stranger to such rules and regulations, what really went wrong in Maranhao? The answer seems a little sketchy but is convincing nonetheless.
My experience with Indian tribes in India has led me to believe that many of them do not understand modern laws of government and corporate land ownership. As long as they walk into a patch of land, they believe it is rightfully theirs. It is easy to exploit such sentiments of theirs by actual land grabbers and real estate developers who exploit tribal people's naïveté and lack of education. It is no news that tribes in India have been misguided and used as armed militants for a growing Maoist insurgency, which is purported to fight against mining companies.
Likewise, in Brazil, it is possible that unknown and undisclosed agents who seek to grab protected forest land from both legal corporate and government ownership instigated the tribes to stage an illegal protest. The very fact that they immediately left the place also suggests that they may not even have been tribes in the real sense. They probably were sent to protest at the location by a rival company or a land grabbing enterprise in order to destabilize the existing peace and harmony in Amazonia. Nevertheless, railway construction within Brazil has always been controversial and both Vale and the Brazilian government know it all too well.
This is precisely why Vale is committed to protecting environmental and tribal interests as it knows that in the long run, to be sustainable, it needs to protect the environment it works in. What needs to be addressed is the growing migration of tribes into government and corporate territory. This can be done with the help of adequate fencing, talking with local leaders and sticking to environmental protocols.
Every mining company has a unique relationship with the environment it works in. Barrick Gold (NYSE:ABX) states on its website that the Diaguita of the Huasco Alto are partners in their Pascua-Lama project. Such a distinction is very important in winning the hearts of tribal people. Barrick has set up schools, institutions and many strategic plans to help affected tribes to make most of their association with Barrick.
BHP's (NYSE:BHP) record with tribes and environment has never been good. Back in 2007, tribes in Papua New Guinea sued BHP Billiton for its activities at the Ok Tedi mine. PNG lawyer Camillus Narokobi sued BHP for $4 billion. The Shoshone Paiute tribes co-monitored a unique $25 million Rio Tinto (NYSE:RIO) copper mine cleanup, in a unique collaboration between miners and tribes. Southern Copper (NYSE:SCCO), which has experienced frosty relationships with tribes in Peru and Mexico, postponed a planned bond sale. Delaware Supreme Court upheld an onerous $2 billion judgment against parent company Grupo Mexico.
Meanwhile, market fluctuations, low commodity prices and a weak Chinese economy seem to have affected Vale's numbers. It currently trades at $18 and has a market cap of $94 billion, With an enterprise value of $117 billion, it is still one of the strongest mining companies in the world. With a trailing P/E ratio of 6.78, investors certainly are looking forward to greater revenues and returns. Vale has a profit margin of 28.21% and an operating margin of 43.17%.
The company had a gross profit of 35.42 billion and currently holds total cash of $4.2 billion. It has a total debt of $27.27 billion but has a significantly high operating cash flow of $17.24 billion. Vale will continue to build sustainable relationships with tribes and indigenous people not only in Brazil but everywhere it currently operates in. This strategy is a very wise one as it is important to be sustainable environmentally and socially. This very relationship building will help Vale to continue its position as an established mining leader that has laws and regulations on its side. For investors, that is good news. Vale is currently trading around $18.28, between a 52-week range of $15.77 and $26.87. I think Vale will trade closer to $22 by late 2012.
Disclosure: I have no positions in any stocks mentioned, and no plans to initiate any positions within the next 72 hours. I wrote this article myself, and it expresses my own opinions. I am not receiving compensation for it (other than from Seeking Alpha). I have no business relationship with any company whose stock is mentioned in this article.