We enjoy covering BlackRock (NYSE:BLK) because it is the industry leader in our favorite industry (asset management). We were disappointed that BlackRock only bought $1B of stock from Barclays (NYSE:BCS), but for some reason, BlackRock's management felt it could generate a favorable image in the investment community and make it more well-known to investors by having the majority of the Barclays shares sold on the secondary market in a road show. Considering that BlackRock has seen its AUMs grow from ~$300B when we first entered into it in 2004 to $3.67T as of the most recent quarter and considering that it is now the asset management industry's leader, we would think that investors are more than aware of it by now. If they are not, we think that they should be demoted to working in a middle-office or back-office environment because we believe it is inexcusable to be unaware of the investment management industry's unquestioned, undisputed King of the Mountain.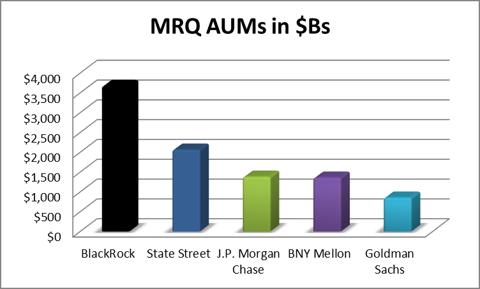 Source: Most recent quarterly reports for BlackRock and its peers
We were pleased that BlackRock once again beat consensus EPS expectations by $.15 on an adjusted basis and its GAAP Reported earnings beat the consensus adjusted EPS expectations by $.33. In this quarter, GAAP EPS was higher than Adjusted EPS as the PNC LTIP and Merrill Lynch compensation contribution has become a smaller share of total expenses and it benefited from a non-recurring non-cash tax benefit that will reduce future tax liabilities. We still think BlackRock is absolutely undervalued at 15X Trailing 12 Months EPS, 14.15X 2012 Consensus estimates and 12.65X 2013 Consensus estimates, especially because it is expected to generate 12% long-term growth in its annual EPS. Here is our latest analysis of BlackRock.
BlackRock grew its Q3 adjusted 2012 EPS by 23.3% versus Q3 2011. The EPS growth was due to a combination of a 4.25% revenue increase, a slight reduction in expenses and a $142M positive shift in its investment income net of its interest expense. We noticed that BlackRock's stock bottomed out in the second quarter once Barclays completed the sale of its stake and BlackRock's stock has seen a 20.15% total return during this period, which exceeded the 11.5% generated by the SPDR Financial Sector ETF (NYSEARCA:XLF).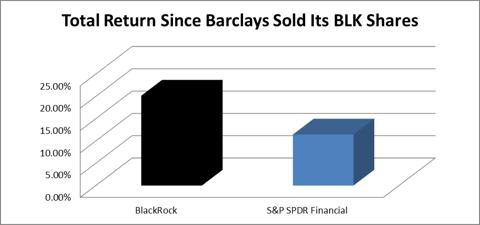 Source: Morningstar Direct
In the linked quarter, Blackrock's AUM increased by 3.2%. Increases in AUM were due to market appreciation as the third quarter saw central bank monetary easing in order to combat the global economic weakness caused by the European debt crisis and slowing growth in the emerging markets. We also noted that BlackRock has over $45B in institutional client assets that it will begin to assume management of starting in Q4 2012, compared to $55B in Q3 2012 and $30B in Q2 2012. The majority of these asset management mandated will be in institutional index mandates ($33.1B or 73%). Another product area that BlackRock is leading the industry is in its Separately Management Accounts (SMA) platform, which has over $55B in AUM.
The U.S. Treasury redeemed about one-third of its $97.65B for its crisis era liquidation advisory mandate relating to the Maiden Lane I and Maiden Lane III assets taken on by the Federal Reserve in the wake of the AIG bailout in Q2 and it redeemed another $19.4B. BlackRock still oversees $46.5B in these liquidation assets and this represents less than 1.5% of BLK's AUM. BLK had $55B of net fund outflows during the quarter due to this planned withdrawal as well as the decision by BlackRock to not renew a $74B passive index mandate for an Asian-Pacific institutional client. We believe that State Street Corporation's (NYSE:STT) SSgA unit swooped in and took over this mandate because BlackRock felt that this client was not generating a sufficient level of revenue relative to the resources that BlackRock devoted for this client. We think that Larry Fink said it best when he said that he wasn't going to chase business to window-dress AUMs at the expense of sustainable revenues and profitability. Excluding these planned outflows, BLK saw net subscriptions of nearly $39B for the quarter due to positive subscription inflows in all of its products except Active Equities and Core Alternative Assets. Equity iShares products generated $20.5B in net inflows as people were tip-toeing back into equities during the quarter.
BlackRock also reported strong operating margins of 40.7%, as the company continues its expense management discipline in the wake of the soft revenue environment. BlackRock saw its greatest base fee revenue growth from its passive products (up 14.75%), BlackRock Solutions and advisory products (9.4%) and multi-asset class asset allocation products (5.75%). Unfortunately, this wasn't enough to offset a 10.75% revenue decline from active equity products and declines in its alternative asset products.
BlackRock also closed the acquisition of Swiss Re Private Equity Partners from Swiss Re. This deal added $6.2B in AUMs and created a private equity operation with a total of $15B in funding. We've already discussed how BlackRock is working to expand its brand through its "New World of Investing" campaign, as well as our opinion of it in relation to PIMCO's New Normal program. We've seen an increasing amount of advertising by BlackRock promoting its "New World of Investing" campaign in order to increase its brand awareness amongst fund investors. As retail assets under management for long-term investment products only represent about 11% of BlackRock's AUM, we believe that BlackRock has potential to increase its brand recognition amongst individual investors.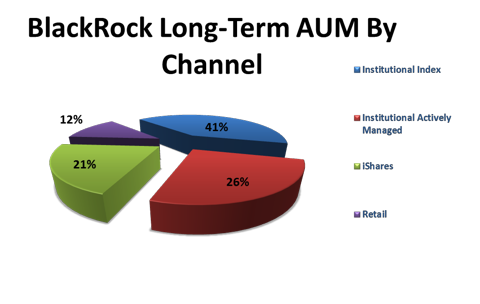 Source: BlackRock's Q3 Earnings Release
We were glad that BlackRock announced that it was cutting the fees charged on six of its largest ETFs in order to regain market share from Vanguard. We agree with Larry Fink when he said that Vanguard gave BlackRock an unexpected gift when it made a stupid unforced error by replacing the MSCI Index from its International Equity ETFs because while retail investors may notice the basis fee reductions from the change, institutions actually want to use the MSCI Index, and this helped force fund flows to BlackRock. We think that BlackRock is looking to position itself so that not only does it maintain its commanding market share leadership, it dominates the market with regards to ETF demand from institutions.
In conclusion, we are maintaining our holding in BlackRock. We believe that BlackRock's ability to generate strong cash flows and industry leading presence in asset management result in it being a compelling value for investors, even after the 20% run-up when Barclays began selling its shares in BlackRock. We can't for the life of us see why the industry leader in asset management is trading at the same Price to Earnings ratio as the S&P 500, especially due to the fantastic business model that asset management firms enjoy. We believe that BlackRock's somnolent performance with regards to asset fund flows is coming to an end and it will be positioning itself amongst the asset management industry's blue chip firms. In closing, we believe that Vanguard dumping MSCI's indexes awoke BlackRock from its slumber and filled it with a terrible resolve. We hope that Vanguard has savored its moment as the golden child of the ETF industry because we see BlackRock regaining its momentum.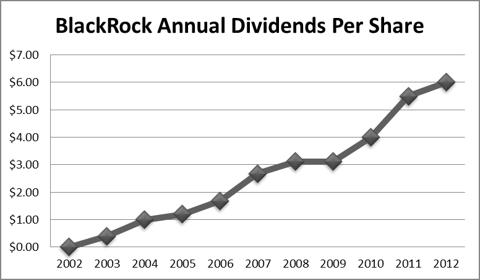 Source: BlackRock's Dividend History Page
Disclosure: I am long STT, BLK. I wrote this article myself, and it expresses my own opinions. I am not receiving compensation for it (other than from Seeking Alpha). I have no business relationship with any company whose stock is mentioned in this article.
Additional disclosure: This article was written by an analyst at Saibus Research. Saibus Research has not received compensation directly or indirectly for expressing the recommendation in this article. We have no business relationship with any company whose stock is mentioned in this article. Under no circumstances must this report be considered an offer to buy, sell, subscribe for or trade securities or other instruments.