Something really is changing at Apple (NASDAQ:AAPL). First we had the launch of half-baked Apple Maps. Then Apple put out the iPad mini without retina display, which made it possible to control cannibalization of the larger iPad, but also made it easy for competitors such as Amazon.com (NASDAQ:AMZN) to claim theirs is a superior product. The news today was all about how Amazon.com had put a huge ad comparing the Kindle Fire HD to the iPad mini, with most of the comparison focusing exactly in the iPad mini's inferior resolution (as reproduced below, red emphasis mine).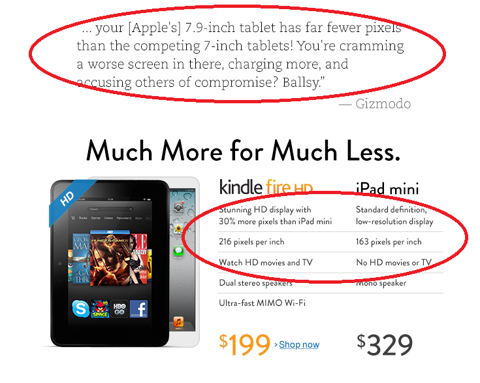 But it didn't stop there. Something else also made the news today. Apple is letting go of Scott Forstall and John Browett. While John Browett's departure might not be so much of a surprise, since he was front and center in the blunder where Apple stores reduced staffing and then had to quickly backtrack, Scott Forstall's departure is much more of a surprise.
Scott Forstall, just 44 years old, was supposedly one of the people at the center of Apple's revival with Steve Jobs' comeback. Coming with Steve Jobs when Apple bought Next, he was regarded as one of the architects of Mac OS X and would rise to preside not only over the Mac OS X, but also over iOS. As is well-known, iOS was, together with the industrial design of the iPhone itself, the reason why Apple became what it is today, with the iPhone generating 2/3rds to 3/4ths of its earnings.
The first rumors regarding Scott Forstall's departure talk about how Mapgate as well as some complaints about Siri might have ultimately been the reasons why Scott Forstall had to leave. However, we might actually have something very different on our hands.
At its core, an old-fashioned executive war might have been the true reason. This is something which Apple hasn't experienced since Steve Jobs' return. The reason I say an executive war might have been the reason for his departure, is due to events earlier in 2012. According to a book launched in January by Adam Lashinsky, "Inside Apple: How America's Most Admired--and Secretive--Company Really Works", Scott Forstall had made it abundantly clear that he expected to ascend to the CEO spot. Maybe he saw Tim Cook's reign as temporary in light of the circumstances which led to his naming as CEO, but the fact is that not so long after this book came out in January, Scott Forstall sold 95% of his stake in Apple (in May).
It's easy to see that by May, there was still no Mapgate, yet Scott Forestall was already making moves which basically meant he had quit his well-known ambitions towards Apple's CEO spot. It's not hard to connect the dots and understanding that it was the very public disclosure of those ambitions that led to the war that, ultimately, claimed his post at the company -- with that destiny cast even before Mapgate happened.
Although the latest news indicates Scott Forstall will stay on as a consultant to Tim Cook until 2013, that seems more like boilerplate to keep him around while demoted, just waiting for a final slug of stock to vest.
Conclusion
Once a company where nearly everyone seemed to be on the same page, Apple might at this point be experiencing the first signs of corporate warfare. The departure of Scott Forstall has all the signs of such a struggle.
While these movements cannot serve as guidance for Apple's near term performance, they might nonetheless be signs of a significant change, the outcome of which is especially risky when considering we're talking about a company whose present performance outshines all others.
Disclosure: I am short AMZN. I wrote this article myself, and it expresses my own opinions. I am not receiving compensation for it (other than from Seeking Alpha). I have no business relationship with any company whose stock is mentioned in this article.