I like a medical miracle as much as the next guy, maybe more. But the truth is I'm all about the money.
I like biotech because no other sector provides the opportunity to enjoy explosive gains on great breakthroughs. Take a look at this biotech index (NBI) for the past year and you'll easily see why the sector is so enticing.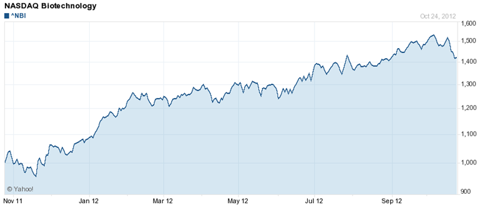 As an industry, biotech has left the S&P 500 in the dust. And keep in mind that the index is just an average. I prefer to spot individual companies on the verge of a breakthrough and scoop up 100% returns.
The Weight Loss Wars
There are two biotech companies that are in a race to bring new weight loss drugs to market. They are Arena (NASDAQ:ARNA) and Vivus (NASDAQ:VVUS).
By looking at the Food and Drug Administration's calendar of upcoming events biotech investors were able to spot when the new drugs created and tested by these two companies would be up for approval. If approved they were likely to become blockbusters. That means the unprofitable companies that created the drugs would be on their way to becoming billion-dollar corporations.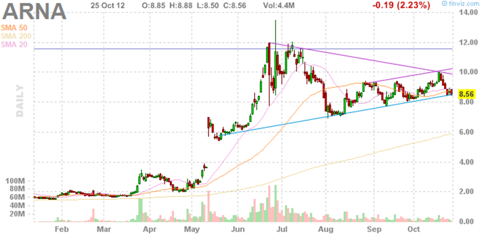 When Good News is Bad News
Every investor has heard the phrase, "buy on the rumor and sell on the news". Well, the rules are different with biotech. We know when a decision is coming but we don't know what it will be. We do know that a positive decision could mean huge gains. And a negative decision will result in potentially disastrous losses.
Here's the trick. A positive decision means big gains for a very short time. Sometimes corporate insiders dump millions of shares on the market to take advantage of a "thumbs up" price-spike from the FDA. Of course that can leave ordinary investors with empty pockets. That's why the biotech rule is "sell BEFORE the news".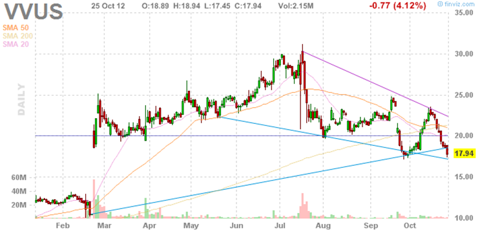 As you can see, Vivus share prices actually collapsed after approval of the company's weight-loss drug. Now share prices are as low as they ever were before the FDA gave Vivus the go-ahead to market its drug. But these two companies will not remain in the basement forever. Not when they are bringing blockbusters to market.
The Next Move
Because biotech stocks almost never move in a straight line, it is important for investors to buy for pennies on the dollar and get out before the next price-spike tops out.
For Arena and Vivus the next step is here. Vivus has beaten Arena to market with its new drug combination called Qsymia, the first weight-loss drug to reach patients in thirteen years. After just two weeks on the market, Qsymia sales are beginning to take off
Two drug-tracking companies, IMS Health and Wolters Kluwer, have been following early sales figures. IMS reports 933 new prescriptions compared with 236 the first week. Wolters Kluwer says there were 581 new prescriptions compared 106 the first week.
Vivus is unleashing a large sales force, and there are indications that this initial blip is not a fluke. The company did not expect insurers to pay for the medicine but already 36% of insurers have announced that they will pay for prescriptions. Considering the obesity crisis in America and the resulting health effects, it is not entirely surprising that many insurers consider it wise to encourage weight-loss before high-cost diseases like diabetes set in.
I think momentum is about to build once again. As you can see from the current chart, the market has not priced in Vivus' potential at all even though the drug is taking off. It is time to buy low.
The Case for Arena
The Arena drug, Belviq, was less effective than the Vivus product. It produced only a 5% loss in body-weight. Arena's Belviq still has a few hurdles to clear before it reaches market but share prices are beginning to show signs of life, hitting consistently higher support levels.
Unlike Vivus, which has been refused permission to sell its drug in Europe, Arena is actively working with European drug regulators to gain approval on the continent.
European regulators are afraid of the Vivus drug which could be abused. By comparison, Arena's drug contains an active ingredient similar to many common and safe anti-depressants. That should be safe enough to sell in the vast European weight-loss market.
The Stakes are Huge
Future sales potential is colossal. Already the major players in the pharmacy business, including Express Scripts (NASDAQ:ESRX), Walgreen (WAG) and CVS Caremark (NYSE:CVS) have all lined up to sell Qsymia by Vivus. The appetite for Arena's drug will also be enormous.
Doctors who are worried about prescribing a phentermine-based drug will probably be more comfortable with Belviq's relatively benign method of reducing appetite.
Most analysts believe sales of Qsymia will soar to somewhere between $1.1 billion and $1.9 billion per year by 2019. The cost of one pill is between $4 and $6. Sales of Belviq could reach similar levels in the U.S., and approval in Europe could drive Arena's revenues even higher. I think these projections are too conservative.
With some 500 million people worldwide believed to be clinically obese, the global market for these two competing drugs could accelerate much more quickly than current predictions indicate.
Continuing exponential sales growth could spark an explosive move in share prices for both companies. I am recommending taking a position in Arena and Vivus at this time.
Action to Take: Buy VVUS at $18.00 or less. Target: Double. Sell-stop limit: $20.00
Action to Take: Buy ARNA at $8.75 or less. Target: Double. Sell-stop limit: $8.05
Happy Trading!
Disclosure: I have no positions in any stocks mentioned, and no plans to initiate any positions within the next 72 hours. I wrote this article myself, and it expresses my own opinions. I am not receiving compensation for it. I have no business relationship with any company whose stock is mentioned in this article.