The International Monetary Fund has recently softened its stance on fiscal consolidation by suggesting that a slower pace of fiscal tightening could be more appropriate in the current global environment. In the past, the IMF has argued firmly that aggressive fiscal consolidation is needed to regain market's confidence and lay the ground for recovery.
However, and especially in Europe's periphery, fiscal consolidation without a currency to devalue can be self-defeating. Furthermore, this can be especially hard when there is widespread fiscal tightening in advanced economies. This is the current environment for Portugal, Greece and Ireland, which all received bailouts in the last two years.
Given that Ireland's issue was from its banking sector and Greece seems to be a hopeless case, Portugal may represent the best case-study of this fiscal tightening experience currently going on in Europe. In this article, I analyze the Portuguese experience before and after it received the bailout, trying to reach a conclusion regarding the austerity's merits or lack of.
Portugal's Background
Before analyzing the result of Portugal's austerity program, I think it's important to understand its background and economic track-record over the last few years. Without being too exhaustive, Portugal is a small country that doesn't have any edge besides tourism or wine production. Its workforce has below-average training compared to other developed countries leading, over the last decades, to an economic model based on cheap labor.
Obviously, this model is currently broken within the context of a global economy in which Portugal isn't competitive against China or Eastern European countries. This isn't the only problem, as the country also suffers from other structural issues such as: the structural high unemployment levels, sluggish real GDP growth, high fiscal deficits, lower productivity and competitiveness relative to its closest peers, and its structural trade deficit.
From 2002 to 2011, the average annual GDP growth rate was only 0.3%, and the unemployment rate was always above 5%. Even before the European sovereign debt crisis, the unemployment rate rose by more than 3%, from 7.6% in 2008 to 10.8% in 2010. Last year, it rose even further to 12.7%.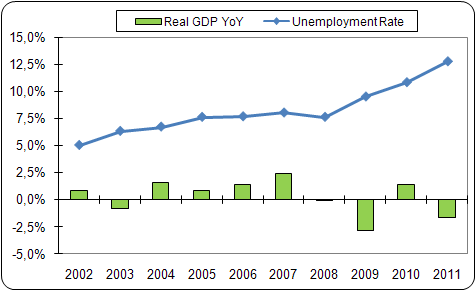 Source: Statistics Portugal and Banco de Portugal
Portugal indebtedness has increased a lot over the last 15 years, firstly in the private sector and more recently in the public sector. The private sector debt is above 200% of GDP, and the public sector debt almost doubled from 2002 to 2010, when it reached 93% of GDP. Under the Stability and Growth Pact (SGP) the debt must not exceed 60% of GDP, but Portugal failed to comply with this rule since 2005.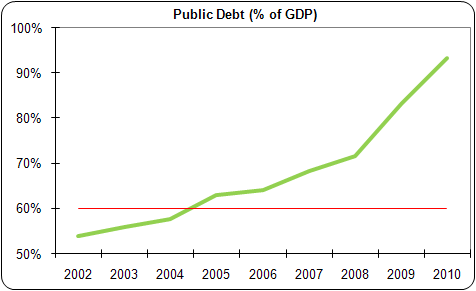 Source: Banco de Portugal
Regarding the fiscal deficit, Portugal struggled to comply with the SGP's 3% deficit rule over the last few years. From 2002 to 2010, only in one year the fiscal deficit was below 3% and only slightly. In 2009 and 2010, the fiscal deficit skyrocketed to levels around 10% of GDP.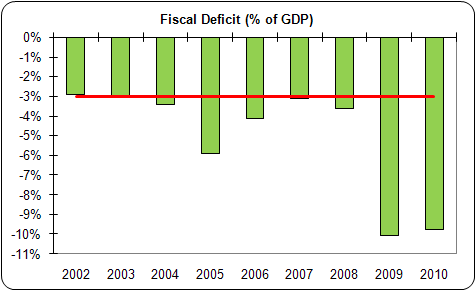 Source: Banco de Portugal
Austerity Program
In April of 2011, the Portuguese government had to request financial assistance from the European Union and the International Monetary Fund to avoid default. The €78 billion ($116 billion) package agreed to with those institutions included a wide variety of measures to improve the Portuguese economy's competitiveness and allow it to adjust its imbalances until 2016.
Since then, Portugal has had five reviews by the "troika" of its austerity program and were all positive. The government has made progress in its economic adjustment program and reducing the deficit. In 2011, the official deficit was only 4.2%, but this number was cooked through the use of extraordinary revenues, as I wrote in my previous article "Portugal: How it differs from Greece." The underlying deficit without these one-off revenues was near 8%.
Furthermore, deficits exceed the original targets, and forecasts were consistently being revised upwards. The 2012 deficit is now expected to hit around 6% of GDP without additional measures, against the original target of 4.5%. This slippage is mostly explained by lower tax revenues and higher spending with social programs, justified by lower economic activity.
Given that around 70% of Portugal's GDP is based on consumer spending, it's obvious that austerity measures, mainly the spending cuts and tax rises that hurt households' disposable income, have a lot of negative impact on GDP growth. Since the first quarter of 2011, the GDP has decreased on all quarters, mostly due to the impact of consumer retrenchment.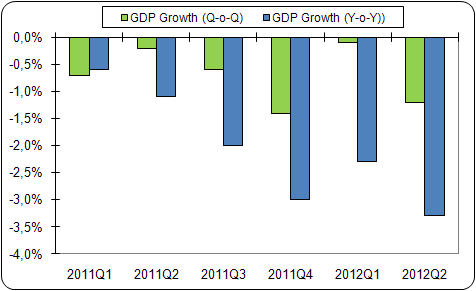 Source: Bloomberg
The unemployment rate has been rising since Portugal received the bailout, with companies cutting on payrolls due to the lower economic activity. Over the last six quarters, the unemployment rate rose 260 bps from 12.4% to 15% in 2012 Q2.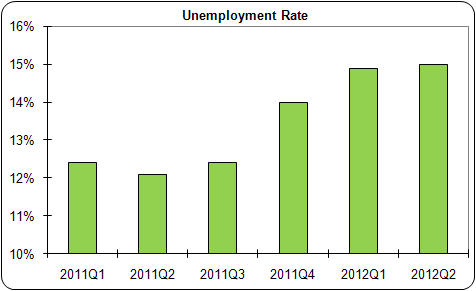 Source: Bloomberg
Regarding the current account balance, Portugal is improving substantially its deficit both from a good performance of exports and a reduction in imports. Over the last few months, the deficit narrowed to below 4% reaching its lowest levels since 1996, correcting to a large extent one of Portugal's key macroeconomic imbalances.
Source: Bloomberg
Almost all of the previous macroeconomic variables' evolution can be explained by Portugal's lack of credit availability. Portugal is facing a deleveraging process reducing the credit supply, especially to small and medium size companies, and leading to above-average default rates both for companies and households. This leads to lower GDP growth, higher unemployment and lower imports. For instance, car sales (which are almost entirely imported) tumbled almost in half over the last few months.
Short-Term Outlook
As seen before, Portugal is embraced in a severe recession that should continue in the short term, with the IMF forecasting -3% GDP growth this year and -1% in 2013, unemployment rising to 16%, and a public deficit above 4% next year. Furthermore, Portugal's main trading partner is Spain, which represents around 25% of exports and also faces a deteriorating growth outlook. Hence, Portugal's exports could weaken over the next few quarters adding further pressure over GDP growth.
Additionally, the 2013 public budget is designed to cut spending by €1 billion ($1.3 billion) and raise €4.3 billion ($5.6 billion) in taxes, squeezing even further households' disposable income. Support for austerity is starting to wane, and in September the government withdrew reforms to social security following mass protests. This decreasing support for austerity can compromise the government's ability and confidence going forward to successfully execute austerity measures.
Portugal's debt-to-GDP ratio recently reached almost 120% of GDP, increasing rapidly from 108% in 2011, its highest level in history, and rapidly approaching Greece's path. This high stock of debt will drag future GDP growth as more tax revenue will be required to service interest payments. If it continues to rise as it did over the last few years, a debt restructuring (or default) will certainly be required.
Conclusion
So, does austerity work? At least for the Portuguese case, and in the short-term, the answer is clearly no. The austerity measures are becoming counterproductive, worsening the growth outlook, lowering tax revenues and resulting in higher than expected deficits.
Furthermore, austerity focus is on short-term goals something that make the government less worried about the country's long-term structural problems. This makes it more likely that even if this adjustment program is successful, over the long haul Portugal can find itself in the same position as before 2011.
As the IMF recently admitted, austerity should be balanced with growth measures or the short-term pain seems to be a never-ending story. Or maybe the only credible solution is to apply austerity if you have your own currency, balancing the pain through fiscal tightening and external devaluation.
Disclosure: I have no positions in any stocks mentioned, and no plans to initiate any positions within the next 72 hours. I wrote this article myself, and it expresses my own opinions. I am not receiving compensation for it (other than from Seeking Alpha). I have no business relationship with any company whose stock is mentioned in this article.