This article has been modified from its original content. The original article stated incorrectly that PDL's "Series 2012 Notes" would be convertible on October 31, 2012, and that PDL shareholders would be diluted by 21%. This is factually incorrect. The "Series 2012 Notes" are not currently convertible. Further, the notes "net share settle,": which means that upon conversion, the principal amount of the notes will be repaid in cash.
Many investors and traders look for overvalued stocks and try to short them simply because they're overvalued. This breaks one of the main rules of trading: you need a catalyst to cause a downturn in an overvalued stock to bring it closer to its true value. PDL BioPharma (NASDAQ:PDLI) owns the Queen et al. patents, which begin expiring in 2013 and 2014. Royalties from these patents will wind down in late-2015 and early-2016. Investors and traders who look at PDLI's projected cash flow will agree that they are overvalued.
The upcoming earnings report in early November should be a moot point since on Sept. 6th, 2012, the company preannounced quarterly revenues which were in-line with analyst estimates. Also, 3Q drug sales from Avastin, Herceptin, Lucentis and Xolair reported by Roche Holdings (RHBBY.OB) and Novartis (NYSE:NVS) were mainly in-line with expectations. Since revenues generated by Roche and Novartis in 3Q translate to the royalty revenues earned by PDLI in 4Q, we can derive that there will be no major surprises in 4Q guidance.
Currently, PDLI's management has made it clear that revenues from their Queen et al. patents will end in early 2016. Management has talked about trying to find significant new revenue streams or PDLI will simply wind down operations. The decision is expected to be made in late-2013 or early-2014 by the current management team. Assuming PDLI increases sales and profits over the next 3 years at a reasonable rate, total net income is expected to be $937M (as seen below). Currently, as of June 30th, the company had a negative book value of $161M. So, $776M is the future cash flow are all that investors would be entitled to, assuming the company winds down. This is just $5.54/share of value to shareholders. Discounting cash flow by 10% annually, the NPV of future profits would be just $4.56/share. Either way, the company's current share price of $8.07 is significantly overvaluing the expected future cash flow.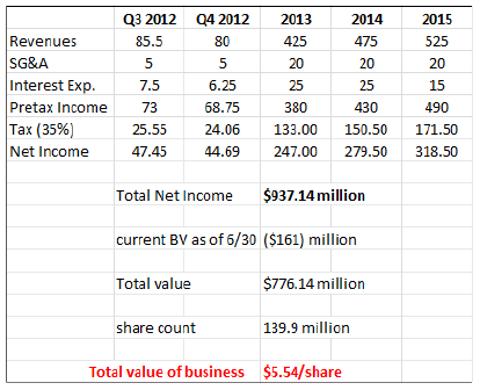 first graphic here
Investors should assign a small premium to shares of PDLI above their expected discounted cash flow just in case the company decides to continue business operations and finds new revenue streams. Investors seem excited about a potentially large revenue stream from Eli Lilly's (NYSE:LLY) drug, Solanezumab, an Alzheimer's drug. However, investors are well ahead of themselves given that both endpoints in the drug's Phase III trial were not met. PDLI shareholders banking on revenues from Solanezumab shouldn't be surprised if the drug never gets approved.
PDLI represents a great short opportunity given that the shares are significantly overvalued and traders have a catalyst for the shares to sell off. Given the prospects of PDLI, shares could trade down 15-20% during the next two weeks. Even though I believe shares are overvalued, I believe the management team is solid and competent. However, paying this large premium is not prudent, and new investors should look to get in at more attractive levels.
Click to enlarge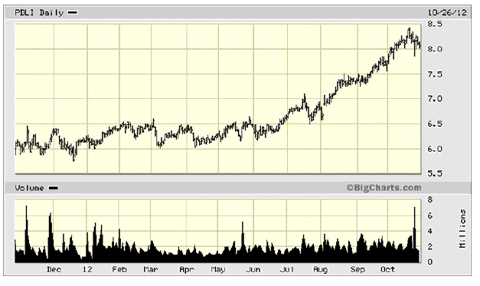 Disclaimer: This article is intended for informational and entertainment use only and should not be construed as professional investment advice, but rather my opinions as a writer only. Trading stocks are risky -- always be sure to know and understand your risk tolerance as in any given trade/investment you can incur substantial financial loss. By reading this article, you agree and understand that I am not giving recommendations on stocks to trade. Any trade you make -- wins, losses, or break even -- are entirely your decision and responsibility. You also agree and understand that I have no material insider information -- just opinions. Always do your own complete due diligence before buying and selling any stock, and/or consult with a licensed qualified broker dealer and/or certified financial adviser.
Disclosure: I am short PDLI. I wrote this article myself, and it expresses my own opinions. I am not receiving compensation for it (other than from Seeking Alpha). I have no business relationship with any company whose stock is mentioned in this article.