Far from my usual plain vanilla articles on retirement strategies and dividend growth stocks, there are actually times when I throw caution to the wind with some risk capital. This could very well be a good time to make a calculated investment in a biotech stock.
The key reasons for selecting a strong stock for a speculative play in biotech is if the drug or drugs being worked on are having strong and positive results while in Phase II trials. This is when the efficacy of the drugs speak loudest and also the time when the big pharma companies set their sights on buying these smaller biotech firms that have very these promising drugs.
Achillion Pharmaceuticals (NASDAQ:ACHN) is a small firm that has a potential winner on its hands. The drug(s) is for the treatment of hepatitis C. Many other companies had been rushing to get a large chunk of this $20 billion target market potential, but ACHN is ahead of the pack.
ACH-2684 can be reviewed in detail in this report, which is the most recent report on the drug that has been developed: 
"ACH-2684 is a potent pan-genotypic inhibitor of HCV protease. Preclinical studies demonstrate its excellent potency in the low pico-molar range, safety and tolerability, and a pharmacokinetic profile supportive of once daily dosing with excellent metabolic stability. The potency and virology profile of ACH-2684 demonstrates that it very effectively suppresses a broad range of natural variants of the hepatitis C virus, and may be effective in prevention and treatment of emerging resistant variants."
ACHN is in Phase II trials and has had very positive results thus far. That does not guarantee success of course. Most other companies have scrapped their research due to the failures from Phase I trials. That leaves a rather interesting situation for Achillion.
The other drug in Phase II is Sovaprevir (ACH-1625) which works somewhat similarly, and can reviewed in detail in this report, which is also the latest report on this drug:
"Achillion is a leader in the development of small molecule therapeutics for the treatment of HCV infection. Sovaprevir (formerly ACH -1625) is a potent inhibitor of HCV NS3 protease which, based upon its preliminary safety and tolerability, unique pharmacokinetic profile and demonstrated once-daily dosing, has the potential to be a best-in-class protease inhibitor for the treatment of chronic HCV infection. Sovaprevir is currently being clinically tested in Phase 2 and is poised to begin studies as part of an all-oral, interferon-free regimen for the treatment of HCV."
ACHN is one of the very few firms left standing with a viable drug for hepatitis C and is much further along it seems.
The latest drug trial failure was that of Bristol-Myers (NYSE:BMY), when it had to halt any further drug studies on their hepatitis C drug, as noted in this article:
"Bristol-Myers Squibb suffered a serious setback in its multibillion-dollar efforts to find new treatments for a deadly liver disease, suspending testing of a pill for hepatitis C after a patient's heart failed.

The pill was the crown jewel of Bristol's $2.5 billion purchase of a small drug developer early this year, and part of Bristol's attempt to enter a fast-growing market by coming up with a new generation of hepatitis C treatments that were easier to take and more effective than current drugs."
BMY spent $2.5 billion for a company whose drug did not make it. Achillion has a drug that is on the cusp of actually being the best-of-class. ACHN could be ripe for either a huge buyout by a big company or have a huge winner on their own. A nice double edged sword for a speculative investment.
Why Achillion And Not Arena?
We are not talking about a drug that might help folks lose weight if it works as Arena Pharmaceuticals (NASDAQ:ARNA) is banking on (Belviq has received FDA approval). We are talking about a potential life saving, life altering treatment for a disease that cannot be "cured" with plain old diet and exercise, like obesity.
Yes, I am taking a shot at Arena. I believe that the drug might easily fail if patients do not see immediate results and fail to re-fill prescriptions.
Arena is banking on a drug that will help people lose weight. However; the drug's label will recommend that people stop taking the pill if they don't lose 5 percent of their body weight after 12 weeks of treatment, as those patients are unlikely to achieve meaningful weight loss even with continuing treatment.
The bottom line with Arena is that if the drug does not work, prescriptions will not be refilled. I believe that could cause the stock to drop from it's recent price of $8.46/share, right back down to the pre-Belviq hype of $2-4.00/share.
In my previous article on Arena I outlined the various reasons that the stock is a risky investment. You can review that article here and make a determination for yourself.
Achillion on the other hand, has had solid success with a drug that can actually cure patients who have the hepatitis C virus. If this drug works and makes it through the FDA process, it will be a blockbuster with little doubt.
The other interesting opportunity for Achillion is that now is the time for potential suitors to actually buy the company out completely. Phase II trials are big if the product shows promise, because the price of the company will be lucrative for both buyer and seller.
Once out of Phase II and into Phase III, the buyout price might be out of reach for potential suitors. At that point the company will simply raise equity by teaming up with other big pharma companies. That will cost Achillion a large percentage of all future profits (still not an awful deal at this point), just as Arena had to do. (They gave roughly 30-40% of all potential future profits for funding from Eisai. Not your everyday, tip of the tongue, big pharma company.)
In just a few weeks the AASLD meetings (review the meeting information here) will commence, and Achillion will not only be a major presence, they more than likely will be a major focus, since ACHN is one of the last companies standing with a drug combination that appears to be working.
An anticipated exhibit as well as a major presentation of the company's success during this meeting could have the potential suitors begin a bidding process for a potential buyout of the entire company.
It makes sense. Sort of like the winter baseball meetings where some of the big trades occur. This venue brings all of the big pharma gurus to one place. This drug therapy, with a $20 billion potential market, is like the free agent home run hitter that commands $30 million a year. Everyone might covet ownership.
Some Analysts Obviously Think Something Is Up
Less than two weeks ago, Deutsche Bank raised their price target of ACHN to $17.00/share stating:
"We are increasing our probability of success to 60% (from 50%) after events that provide read through to future success of ACHN 2 drug combo regimens," the analyst said. "We maintain our 15% peak share & $2.7B unadjusted peak sales. Buy. ABT's regimen has 5 drugs in combo: HIV booster/PI/NS5A/non-nuke/Riba. BMY's regimen has 3 drugs: PI/NS5A/nonnuke. ACHN's PI is un-boosted & NS5A has better resistance in GT1A."
They were obviously paying attention to the early September reports that bio analysts at Piper Jaffray Cos. and William Blair, Co. noted. Since the failure of other trials of hepatitis C tests had failed, ACHN could fetch a very lucrative premium offer to its share price.
In a report from the EATG, it was stated:
"Bristol-Myers Squibb Co. (BMY) last week said it was abandoning an experimental hepatitis C pill it obtained through its February purchase of Inhibitex Inc. after one patient died and others were hospitalized while taking the drug in a study. This week, Idenix Pharmaceuticals Inc. said U.S. regulators halted its study of a similar therapy, marking the second hold on clinical trials for the company this month.

With the market for new hepatitis C treatments projected to reach $20 billion by 2020 and Achillion facing no delays in two drugs under development, Piper Jaffray Cos. and William Blair & Co. say the $481 million company could gain fresh attention as a takeover candidate for Merck & Co. (MRK), Roche (NYSE:ROG) Holding AG and Vertex Pharmaceuticals Inc. (VRTX) A suitor could pay a premium of as much as 79 percent to Achillion's stock price and still acquire the New Haven, Connecticut-based company for less than its peak market value earlier this year, when takeovers and merger speculation spurred a surge in hepatitis C drugmakers' shares.

"The frenzy has been taken out of the space, but I still think Achillion is very attractive" because its therapies have the potential to be the best of their type, Ted Tenthoff, a New York-based analyst for Piper Jaffray, said in a telephone interview. "We expect the wave of consolidation to continue. Achillion is clearly a target." (Emphasis added)
To add even more to this story is the fact that Achillion is a widely recommended company. According to Thomson/First Call, there are 7 "strong buy" recommendations, 6 "buy" recommendations, and 2 "holds". This is a very strong showing for a stock that has a drug only in Phase II trials.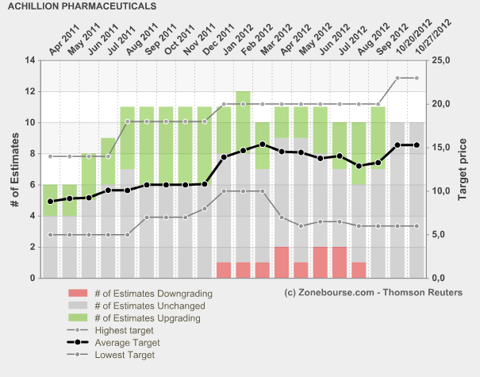 The price estimates of all analysts has risen steadily from a year ago, and is sitting at over $15.00/share as an average. That equates to a nearly 60% premium to the closing price of $9.54/share on Friday.
In the chart above, you can also see that there are more upgrades, and zero downgrades, for the last 3 months.
Here are some basic fundamentals for Achillion:
$60 million in cash.
Only $900,000 in debt.
A beta of just over 2.2, which is rather low for a biotech stock.
Institutional ownership of nearly 73%, which is quite large.
Included in that institutional ownership is insider ownership of over 40%, which is actually amazing in and of itself.
An enterprise value of only $630 million, makes this company very attractive as a buyout candidate.
When we add up the cash on hand, virtually no debt, and the enterprise value of the company, is it difficult to see this company being bought out for a significant premium to its current share price?
My Opinion
Nothing is ever a slam dunk in the biotech world. I believe there are enough reasons shown here that this could be a profitable risk investment with available risk capital used. Anything could happen and you could face a significant decrease in your investment here, but the stock certainly looks good for what it is.
Disclosure: I have no positions in any stocks mentioned, but may initiate a long position in ACHN over the next 72 hours. I wrote this article myself, and it expresses my own opinions. I am not receiving compensation for it (other than from Seeking Alpha). I have no business relationship with any company whose stock is mentioned in this article.