The third largest telecom carrier in terms of subscribers, Sprint Nextel Corporation (NYSE:S), announced its quarterly results last Thursday, posting a wider loss in the third quarter as compared to the same quarter of the previous year. The company, which recently was part of the $20 billion deal with the Japan-based telecom operator SoftBank (OTCPK:SFTBF), reported a loss of $767 million and a loss per share of $0.26, which was largely due to the expenses incurred in regards to its Network Vision Program. Loss per share of $0.26 is much lower than what analysts were expecting. Sprint recognized approximately $400 million in depreciation during the quarter for the shutdown of its iDen Nextel platform, which affected its profitability, however, its network vision program, which involves shutting its iDen Network, is well on track, as the number of sites that are ready for construction or already underway has doubled to reach a total of approximately 14,000 sites.
Sprint Q3 2012 RESULTS

Actual

Expected

Revenues

$8.76b

$8.81b

EPS

-0.26

-0.43
Sprint is also aggressively building out its 4G LTE network and has launched the services in 32 cities so far, which is significantly less than Verizon's (NYSE:VZ) coverage of over 400 cities. However, Sprint is quickly catching up and now expects to extend its coverage in over 100 markets in the coming months. In the third quarter, the company sold more than one million Sprint Direct Connect devices, which helped the company in maintaining the high recapture rate of 60%. The recapture rate of 59% is impressive considering the company was able to recapture only 27% of its customers to its CDMA network in Q32011.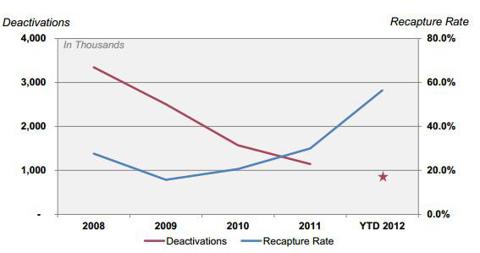 Source: Company presentation
The company reported total operating revenues of $8.8 billion, which represents an improvement of 5% over Q32012. Improvement in total revenues was largely due to a staggering growth of 14% in wireless service revenues, making it the eighth consecutive quarter of double-digit growth YoY.
Sprint Q32012 RESULTS

Q32012

Q32011

Postpaid subscribers

32.1mn

32.9mn

Total subscribers

55.9mn

53.4mn

Postpaid ARPU

$61

$58

Postpaid Churn

1.88%

1.91%

Net postpaid adds

410,000

265,000
Sprint added 410,000 postpaid subscribers to its subscriber base, which reached almost 56 million customers by the end of the third quarter. This is particularly impressive considering that its bigger rival, AT&T (NYSE:T), recently reported a significant drop in net postpaid customer additions for the quarter. Improvements can be seen in almost all key business metrics for the core Sprint platform, which is an indication that without the Nextel network weighing on its profitability, it has the potential to deliver good results. Postpaid ARPU has been on a consistent incline over a number of quarters now. In the third quarter, the company's average revenue per user increased to $61.18, showing a 5% growth over Q32011. Overall, increased ARPU and the company adding more postpaid subscribers in the quarter led to the boost in revenues. The company recently started selling the Apple (NASDAQ:AAPL) iPhone, and it is currently one of three carriers to be offering the new iPhone 5 to its customers. Products like the iPhone 5 are attractive for telecom carriers as they bring in additional revenues not possible with basic phones, and the decision to cut a deal with Apple has helped Sprint in bringing growth to its customer base. The deal with Apple has resulted in a lower churn for the company, which is improving every quarter. The quarter recently ended was also the best ever in terms of churn reported.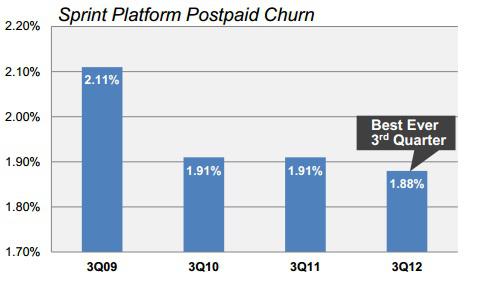 Source: Company Presentation
The wireline business continues to decline for the company because of factors that are affecting all carriers in the region. The trend towards wireless products and customer preference for internet on the go is adversely affecting the wireline revenue stream for all telecom companies, including Sprint. Sprint, however, will be affected the least with the changing trend out of the three major telecoms because it derives only 10% of its revenues from the wireline business, which is significantly less than the wireline stake that Verizon and AT&T have. Wireline revenues declined 12% due to losses in voice revenues, and the downward trend is expected to continue based on the reasons mentioned above.
Guidance Revision
The company has revised its OIBDA guidance for FY2012, expecting the metric to exceed the high end of the earlier forecast of between $4.5 billion and $4.6 billion. Reported OIBDA of $1.28 billion in Q32012 was higher than the expected $998 million.
After Softbank's recent decision to inject capital into Sprint, the company stands a good chance of bringing further growth to its customer base, as well as returning to profitability. Funds provided by Softbank will help speed up the process of its network overhaul, which will bring future benefits, both operational and financial. S is trading at cheap valuations based on all its multiples. EV/EBITDA of 6x is at a discount to AT&T's 7.4x. On a price-to-sales basis, S is trading at 0.5 times its sales, which is a discount of almost 55% over the said multiple of Verizon Communications Inc. The stock is up 140% on a YTD basis, and in our opinion, has further room to grow. Based on cheap valuations, the company's network overhaul program and the recent development with Softbank, we reiterate our previous long stance on Sprint.
Disclosure: I have no positions in any stocks mentioned, and no plans to initiate any positions within the next 72 hours.
Business relationship disclosure: The article has been written by Qineqt's Telecom Analyst. Qineqt is not receiving compensation for it (other than from Seeking Alpha). Qineqt has no business relationship with any company whose stock is mentioned in this article.