A year ago Diamond Foods (NASDAQ:DMND) was in the midst of its awesome decent from a all-time high of $92.47 on September 21, 2011 to $22.11 on February 13, 2012 (the stock has continued to trade lower through the balance of 2012). What struck us as most interesting about DMND's fall from grace, was the passion of supporters on the (unfortunate) long-side of the story. Today, we are going to show you why very simple fundamental analysis kept us on the sidelines, and should have kept you there as well.
Analyzing Underlying Sales Growth
At $92.47 on 9/21/11, DMND's was trading at 41.6x trailing earnings of $2.22 (which we now know would be restated even lower and valuation was even higher). To justify this high of a valuation a company must exhibit significant and sustainable growth.
At first glance, this valuation was understandable. From 2006 to 2011, DMND had more than doubled sales from $477.2 million to $965.9 million (a CAGR of 15%) and quadrupled earnings from $0.47 per share to $2.22 per share (a CAGR of 36%). In addition, the pending Pringles acquisition appeared to be a transformational opportunity. However, simple analysis illustrates that when adjusting for the impacts M&A, actual underlying sales growth had been dismal. Let's look at the record.
The chart below shows that reported revenues grew steadily from 2005 till 2011, with an acceleration of growth in the final two years.
Reported Revenues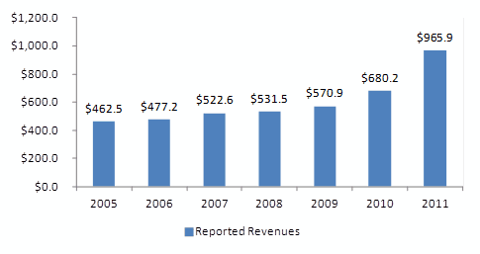 Source: DMND 2006-2011 10-K's
However, during this time frame DMND undertook three major acquisitions: Harmony Foods, Pop Secret and Kettle Foods. Digging through the notes to DMND's financials, we find that DMND provided pro forma results for each of these acquisitions. By examining these pro forma results, we can make a determination of what sales growth looked like assuming the company already owned these brands.
The first acquisition was Harmony Foods in 2006. This acquisition occurred in May 2006, providing approximately 2 months benefit to 2006 and 12 months benefit in 2007 relative to 2005. Let's compare DMND's pro forma results to actual reported results.
Reported and Pro Forma Revenues, 2005-2007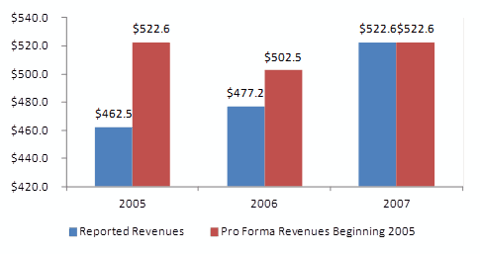 Source: DMND 2007 10-K, Notes to Financials
What is immediately clear from this chart is that, absent this transaction, DMND's revenue growth between 2005 and 2007 was effectively zero despite reported revenues growing 13% during this time frame.
The second acquisition was Pop Secret on September 15, 2008. This acquisition provided roughly 9 months benefit in fiscal year 2009 vs. 2008, and 12 months benefit in 2010 vs. fiscal year 2008. Note, we have not included 2010 in the chart below because of the future overlap with the Kettle analysis.
Reported and Pro Forma Revenues, 2008-2009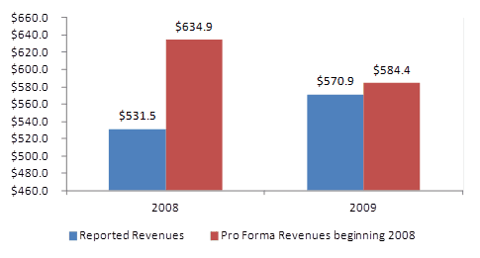 Source: DMND 2009 10-K, Notes to Financials
The impact of this transaction is striking. While reported revenues appear to grow at nearly 7.4%, pro forma revenues actually declined significantly (7.9%)! Finally, let's examine the impact of the Kettle acquisition which occurred March 31, 2010. This acquisition provided 3 months of sales benefit in 2010 and 12 months of sales benefit in 2011 relative to 2009. Note, the Pop Secret acquisition also benefits the company in 2010 and 2011 relative to 2009.
Reported and Pro Forma Revenues, 2009-2011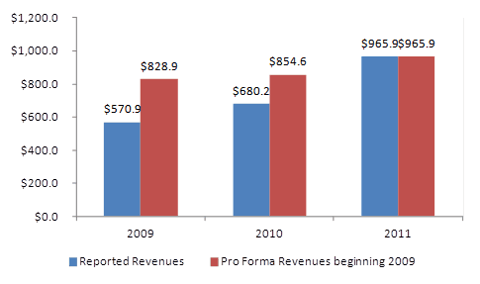 Source: DMND 2011 10-K, Notes to Financials
While there was some modest sales growth between 2009 and 2011, it is clearly significantly lower than reported results (approximately 17% growth vs. 69% growth).
Putting It All Together
If we combine our three pro forma sales growth analyses together, we get a very different picture of growth at the company. Here in graphical form:
Pro Forma Revenue Growth, 2006-2011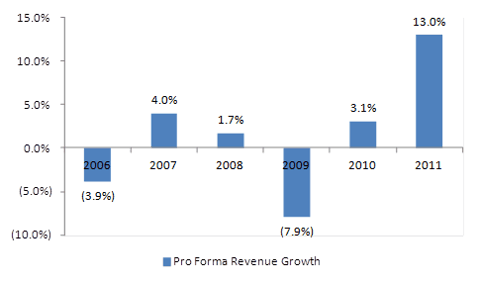 Source: Road Less Invested Analysis
Pro Forma revenues from 2005 to 2010 actually declined about 0.5% per year in the aggregate. Without the increase in revenues in 2011, there would not have been any aggregate sales growth over the last five to six years. Instead, DMND turned in a pro forma annualized sales growth of 1.5% over last 6 years and 2.6.% over last five years with nearly all of the growth coming in 2011. In other words, outside of one year, growth has been nonexistent.
Bottom Line
Paying 40x+ earnings for a company with limited underlying revenue growth is a recipe for losing money. Eventually margins peak and M&A opportunities dry up. This is not a sustainable path to long-term growth. Investors should demand real underlying revenue growth for that type of premium.
There are two basic drivers of valuation: return on capital and growth. Diamond's ROE of 11% in 2011 is reasonable, but nothing to write home about considering leverage at the company. Therefore, investors should want to be very sure about growth. Simple analysis would have raised significant questions about underlying growth and kept the value focused investor miles away from this tragedy.
For instructional purposes, we have posted our revenue analysis for download here.
Disclosure: I have no positions in any stocks mentioned, and no plans to initiate any positions within the next 72 hours. I wrote this article myself, and it expresses my own opinions. I am not receiving compensation for it (other than from Seeking Alpha). I have no business relationship with any company whose stock is mentioned in this article.