Shortly after U.S. stock markets hit multi-year highs on September 14, Pacific Investment Management Co. (PIMCO) declared that the probability of widespread recessions in developed countries is rising. In early October, the International Monetary Fund (NYSE:IMF) warned that the chances of economic contraction in the U.S. and Japan are 15% and 25% respectively, while essentially confirming that Europe's recession will deepen.
It is important to note here that economic growth does not historically correlate with a nation's stock market returns. That said, concerns about a breakdown in the macro-economic environment tend to promote selling activity. And conversely, when there's an emotional sense that conditions are about as dreadful as they can possibly get, stock markets tend to rally on expectations of improvement.
Why have ETF investors backed off technology, energy and materials since mid-September? Why are less risky non-cyclical sectors like health care and consumer staples gaining in relative strength?
Non-Cyclical Sectors Gain Momentum
9/14 RSf
10/26 RSf
SPDR Health Care (NYSEARCA:XLV)
68.5
93.1
SPDR Consumer Staples (NYSEARCA:XLP)
51.5
76.8
SPDR Utilities (NYSEARCA:XLU)
28.3
45.5
Economically Sensitive Segments Weaken
9/14 RSf
10/26 RSf
SPDR Technology (NYSEARCA:XLK)
88.9
52.5
SPDR Energy (NYSEARCA:XLE)
73.4
43.2
SPDR Materials (NYSEARCA:XLB)
61.9
39.4
The scores in the table above represent a percentile rank across the entire ETF universe. For example, back on the date of the U.S. stock market's multi-year high (9/14), SPDR Select Energy (XLE) had better year-over-year returns than 73.4% of exchange-traded funds in existence; SPDR Select Consumer Staples (XLP) chimed in at 51.5%.
What transpired in a matter of six weeks? Relative strength over time for XLE has been weakening, as it slipped from a respectable 73.4% to a sub-standard 43.2%. In contrast, XLP has catapulted into the top quartile from its previously pedestrian standing.
Many in the media may opine that weakness in corporate earnings has fueled selling activity. And that may be true with respect to tech stocks from Google (NASDAQ:GOOG) to Apple (NASDAQ:AAPL). On the other hand, most energy corporations beat on revenue and profits. Therefore, it seems that selling activity since the 9/14 pinnacle may have just as much to do with fears of weakening global demand in the larger macro-economic picture.
Everyone knew that weak earnings reports were coming… they were remarkably well telegraphed. And global recession fears have been talked about all year long -- they didn't stop stock markets from around the world from securing solid year-to-date gains thus far.
So the $16 trillion question may be, are investors reducing risk because of the rising tide of uncertainties? Yes!
Listen to the CEOs of major corporations literally beg government officials to get a deal on the fiscal cliff done. Listen to Spain's neighbors beg them to take the bailout already. Listen to the collective prayers of Americans on both side of the political spectrum, as they pray for an end to the national election on November 6. As it stands, we may be recounting Ohio ballots through Thanksgiving.
With clients of my Registered Investment Adviser, I haven't made dramatic changes to overall portfolios. I continue to emphasize the three most reliable asset groupings: (a) Assets with wide historical spreads with comparable treasuries, (b) Assets with a history of relative safety and real returns above inflation, and (c) Assets that take advantage of a stabilizing economic picture in China.
If I am talking about a trend toward risk reduction, wouldn't that imply a move away from emerging markets? Not necessarily. Malaysia (NYSEARCA:EWM) may have a lower beta score than the S&P 500. Meanwhile, the debt-to-GDP ratio remains relatively low, and the economic prospects remain relatively robust for Australia (NYSEARCA:EWA).
Absent a systemic collapse, stabilization in China makes Australia (EWA) a reasonable risk-reward selection. Moreover, EWA is holding above a 50-day trendline, whereas the S&P 500 SPDR Trust (NYSEARCA:SPY) has dropped below its support line.
(click images to enlarge)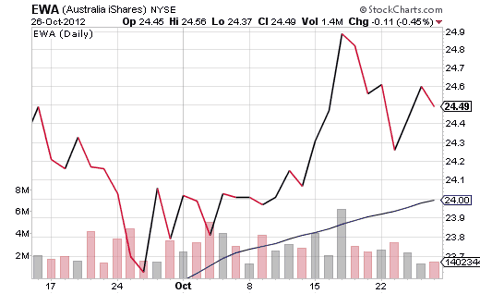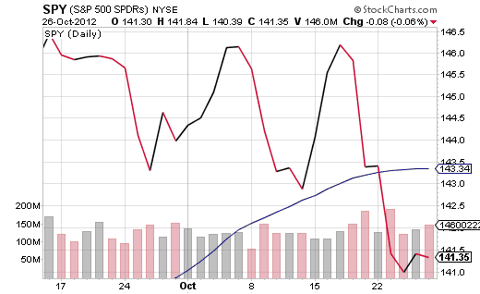 Disclosure: Gary Gordon, MS, CFP is the president of Pacific Park Financial, Inc., a Registered Investment Adviser with the SEC. Gary Gordon, Pacific Park Financial, Inc, and/or its clients may hold positions in the ETFs, mutual funds, and/or any investment asset mentioned above. The commentary does not constitute individualized investment advice. The opinions offered herein are not personalized recommendations to buy, sell or hold securities. At times, issuers of exchange-traded products compensate Pacific Park Financial, Inc. or its subsidiaries for advertising at the ETF Expert web site. ETF Expert content is created independently of any advertising relationships.