One of the basic principles of Dow Theory is that the Industrial and Transportation Averages must 'confirm' one another. In so many words, this is just part of a general principle of both fundamental and technical analysis: a rising tide lifts all boats. If the economy is doing well, then both manufacturers (Industrials) and shipping/railroads/airlines (Transportation) should be doing well.
Much attention has been focused on this topic in the last year or so. Why? Look at the charts below. Notice the SPDR Dow Jones Industrial Average ETF (NYSEARCA:DIA) has rallied to new highs repeatedly in the last two years: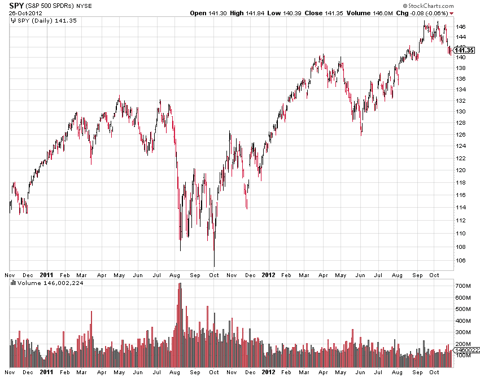 source: www.stockcharts.com
In contrast, the SPDR Dow Jones Transportation Average ETF (NYSEARCA:IYT) has stalled at last February's highs and has faded in a series of lower highs and lows; for nearly 9 months now.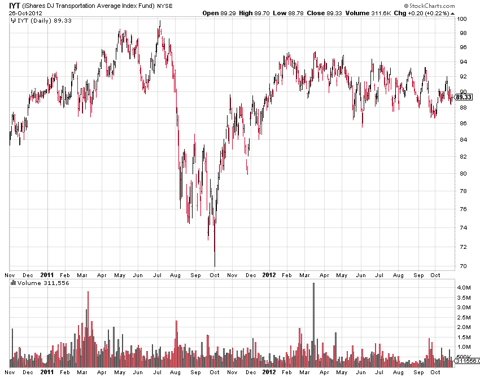 Nor have the Transports ever exceeded their June 2011 highs.
This should be worrisome not only to Dow Theorists but fundamental analysts as well. We are not Wizards: we cannot apparate from place to place or use magic(k) to move ourselves, goods, and services. Nope! We muggles must use trains, planes, rental cars, trucks and vans to move stuff around. Is the economy doing well if all kinds of goods and services are being produced but not shipped and markets and sold? Riddikulus!
Some have blamed the punk performance of IYT on higher oil prices. Perhaps. But oil prices fell for a while this spring and IYT till lagged.
If the market is to get stronger from here and surge to new bull market highs, it absolutely must take the transportation average with it. Furthermore, growth problems at Intel Corp (NASDAQ:INTC) and Microsoft (NASDAQ:MSFT) mean that technology, market leader the last few years, may be flagging. Cyclical shares like railroads, airlines, and shipping companies may be just the sector to capture the lead.
A simple approach would be to buy shares in IYT. However, we can be a bit more selective and aggressive by focusing on those companies in IYT which appear to be best positioned to carry IYT and the market higher.
To do this, I screened the top ten holdings in the IYT looking for two criteria:
earnings that held up well during the crash. Maybe they fell slightly, but only briefly; and have recovered steadily since.
a price earnings ratio that is low by recent historical standards, even if the stock price is near a new high.
I ended up with shares in two companies: CH Robinson WorldWide (NASDAQ:CHRW) and Union Pacific Corporation (NYSE:UNP).
Robinson's profile on Yahoo finance highlights the company's emphasis on air delivery, freight services and logistics services worldwide. Over the last decade earnings per share have grown steadily, with only the briefest hesitation during the recession: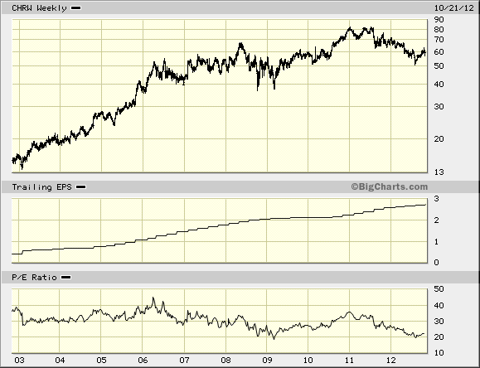 source: www.bigcharts.com
Return on Assets, Return on Equity, and gross profit margins remain solid; at or near peak levels of the last decade.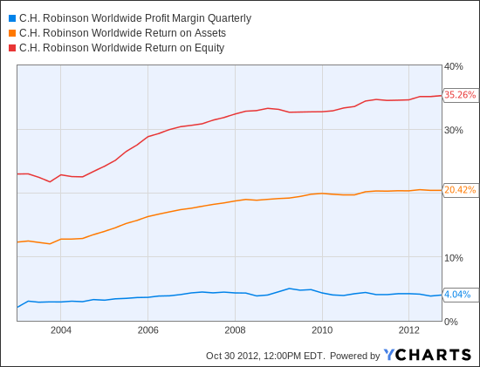 source: www.ycharts.com
Yet here is a stock that is available at slightly more than 20x earnings, not much more than the worst days of the crash in early 2009! Did I forget to mention a 2.2% dividend yield?
UNP has a similarly compelling story.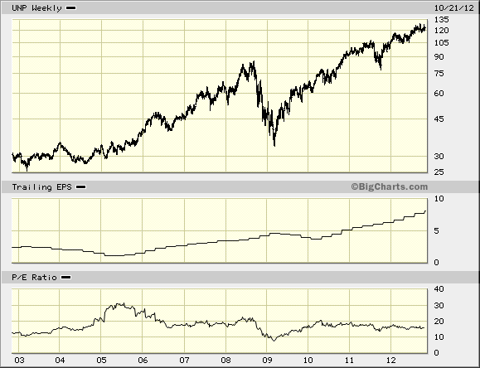 Earnings are a bit more volatile for this North American based railroad than for the internationally diversified CHRW, but still the company is posting impressive numbers and performance. Its PE ratio is the upper middle teens is a historical bargain: the single digits seen during the last crash are unlikely to return any time soon. Why should they when, like CHRW, profit margins, return on equity and return on assets are outstanding?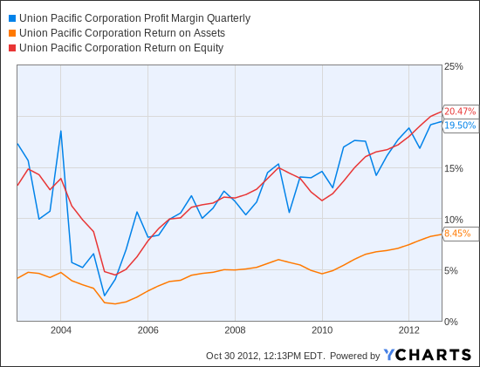 Both of these companies offer long term investors a chance to buy shares at attractive valuations. Given CHRW's broader international and business spectrum, as well as a dividend yield better than UNP's 1.9%, let's focus on this company's shares for now.
Earnings for the last 12 months totaled $2.77. Like many companies next year's estimates have been shaved by a few pennies but still should grow by 12% or so. During the last period of similar growth (2006-2008) the company commanded a PE of 28x, at the very least. A similar multiple today would price the shares at $77.56, a 30% premium to current prices. A strong resumption of the world recovery would take them much further.
CHRW would be a good core holding for a blue chip growth portfolio. I recommend purchase of the shares at current prices.
Disclosure: I have no positions in any stocks mentioned, but may initiate a long position in CHRW over the next 72 hours. I wrote this article myself, and it expresses my own opinions. I am not receiving compensation for it (other than from Seeking Alpha). I have no business relationship with any company whose stock is mentioned in this article.