What do Morocco, Tunisia, and Lebanon have in common? Besides being Middle Eastern nations not known for oil, they're also the only countries among 70 tracked by the MSCI that have stock markets in positive territory this year.
The other 67 have lost 33 percent on average, ranging from a 68 percent drop for the Ukraine to a 3 percent dip for Jordan. Although hard hit, at 18 percent U.S. equities have lost less than the world average, according to the MSCI.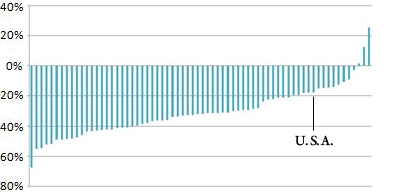 What's shielded the three countries from the global slowdown?
All three have tiny market capitalizations in the double-digit billions and are relatively removed from global money flows. Inflation is the primary concern for the three. While Morocco's market is up 2 percent this year, factor in inflation and in real terms equities are down 3 percent. Tunisia, Africa's "most competitive" country according to the World Economic Forum, clocks in with gains of 13 percent in its stock market, offset by inflation of 4.5 percent.
It also helps that structured products are nowhere to be found in the countries' debt markets.
Here is Moroccan central bank chairman Abdellatif Jouahri:
We are not affected by the international crisis because we do not have subprime loans in our banks. We are not concerned by the mortgage crisis and our banks do not have such assets.
As for Lebanon, despite internal political strife, the economy is expected to grow five percent this year and equities are up 26 percent, although inflation is eating away at 14 percent of that.
There really isn't a broad lesson to draw from the three countries' positive performance amid global financial panic, other than to put a final nail in the decoupling theory's coffin.