Market Recap
Schizophrenia is the word of the week. There is just a lot of action to digest here in the market. Very interesting times. Thursday, Morgan Stanley (NYSE:MS) was in heated talks with Wachovia (NASDAQ:WB) for a merger. Washington Mutual (NYSE:WM) is looking for a suitor. There was a report Thursday that Treasury secretary Paulson is considering an RTC type of entity that was formed back in the 80s to tackle the S&L crisis. This type of entity would basically absorb bad debt and free up cash for these troubled banks. Short selling was banned in the UK and naked short selling has now been stopped in the US markets. Basically, any naked short position must be returned to the broker/dealer before settlement occurs on this security. You have about 3 days to cover your shorts before your broker liquidates the position prematurely.
Market Action
The market is violently swinging up and down, moving 100 points with utter ease. Wednesday, I mentioned that I wanted to see a major reversal of 500 points on the Dow or more. Well, it happened Thursday. There was a 500 plus point reversal from low to high, with the Dow closing a few points off its daily high, the S&P had a 78 point reversal from low to high. The NYSE broke the critical support level of 7400 but staged a strong rally off of those lows. The 50% retracement level at 7400 was supported by the bulls. I think a bottom of some significance is in. There may be some backfilling but I don't see Thursday's lows being violated.
Very bullish action which basically erases all of Wednesday's losses. I also mentioned Wednesday that the point losses suffered were the highest since Sept. 11, 2001. Well, Thursday's gains in the Dow were the largest since the bottom in October 2002.
You may hear many technicians getting long term bearish here, suggesting that the 50% retracement level from the 2002/2003 bottom has been violated. The market is faking these technicians out. It is common to see the boyz jam the market between the 50% and 61.8% retracement to ruffle some feathers. I believe that this is exactly what has happened in the Dow, S&P 500, and the NYSE.
I took a step back and thought about the market Thursday. I thought about my emotions and the emotions in the rest of the market; news media, family members, message boards, etc. I have seen many bottoms in my trading career. This one is no different. There is always a crisis, fear, heavy volume capitulation, calls for a great depression, etc. The storm may only be in the 6th or 7th inning, but guess what? The market already knows this and is pricing this in. The leaders are the last ones to fall. Morgan and Goldman (NYSE:GS) are the last ones standing. Morgan will most likely be saved with the merger and Goldman may or may not be around but the market has priced this in.
In general, bear markets create "perma-bears". It is very dangerous to become branded as one of these. You will lose your money as fast as you made it. Adaptation is critical when major market changes are around the corner. A major short squeeze may be in the cards here, relentless squeezing which can last for weeks. We will see how this all plays out.
In conclusion, I have gone long another 50% on Thursday's close and also established a long position on Ultra Financials (NYSEARCA:UYG) at 15.43. Both are long term holds. I am in the SPX (NYSEARCA:SPY) at an average price of 1208 or so. My stop will be a close below 10,000 on the DOW on a weekly basis.
Market Analysis
I'm going to stick my neck out there and suggest that we have seen the lows in the Banking sector as a whole Thursday. I believe that this sector will have a gigantic move higher in the coming months. Notice how the UYG moved down into our target zone of 14.75 to 15.71 Thursday and shot out of there like a cannon. For starters, the UYG still has not taken out the lows of July and I do not believe it will. There was record volume printed again Thursday in UYG and this is bullish due to the size of the reversal that took place. There was probably a mix of new buyers stepping in as well as a huge short squeeze taking place. Friday will be interesting. I want to see follow through.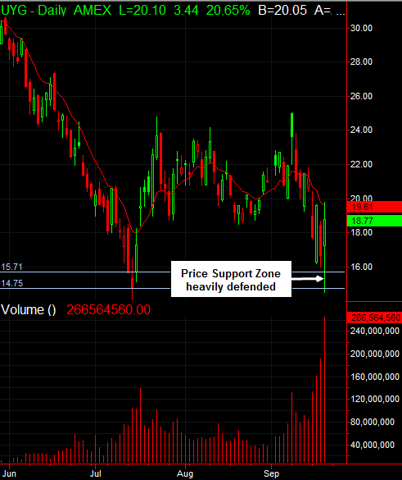 We may see a pullback Friday, it is options expiration and volatility is the word of the week so anything can happen.
Disclosure: Long UYG, DDM.