I have owned SEP Spectra Energy Partners for about a year. Recently the price of SEP has shown weakness. Considering that SEP has increased its dividend 18 consecutive quarters, I decided to do a review of this investment to see if there is a fundamental reason for this decline. Check the annual price movement chart below from Interactive Brokers (click to enlarge).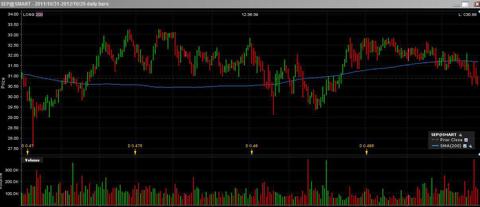 Background
SEP gathers, transports and stores natural gas through 3200 miles of interstate pipelines. This is a fee-based stable business with no direct commodity price exposure with long term delivery contracts. It operates in the southeastern quadrant of the U.S. with storage facilities in Texas, Louisiana and Virginia. On July 1, 2011 the partnership bought the Big Sandy Pipeline from EQT Corporation.(TD Ameritrade) It also just announced the purchase of 50% of a 77% interest in Maritime & Northeast Pipeline from Spectra Energy Corporation. This purchase will close at the end of October.
Industry Outlook
The outlook for the oil and gas storage and transportation industry is positive for the next 12 months. The EIA estimates that natural gas consumption will increase nearly 5% this year after advancing 2.2% last year. S&P predicts that pipeline and terminal operators will expand earnings in excess of anticipated U.S. GDP growth. Midstream companies will benefit from higher energy demand into the foreseeable future. (S&P)
Finances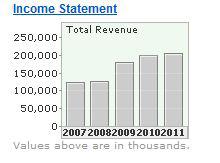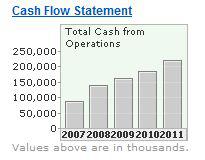 The 2 charts above, taken from TD Ameritrade, show that revenue has grown from about $110 million in 2007 to $200 million in 2011. Cash flow has grown from about $90 million to $200 million over the same period. SEP has investment grade ratings from S&P and Fitch of BBB. The balance sheet is conservative with a 30% debt to capitalization ratio and 9 times interest coverage. Last October SEP increased the size of its credit facility 40% to $700 million. The partnership has the financial ability to continue operations and to expand its business.
Analyst Opinion, Value and Inside Ownership
S&P has no rating on SEP and JP Morgan rates it at neutral. Credit Suisse has just moved it to outperform from underperform on 10/24/2012 and The Street Ratings call it a buy with a $35 target. Comparing P/E's of the partnership's peer group indicates that SEP is on the low end of the spectrum. For example Buckeye Partners BPL has a P/E of 87, Genesis Energy's GEL is 37 and Access Midstream's ACMP is 24 whereas SEP's is 18. (The Street Ratings) The conservative finances, the growth of the business and the relatively low P/E of SEP suggests that it is not overvalued.
Spectra Energy Corporation along with SEP's directors and executives own 58% of the units. Institutions and mutual funds own 27% of the units. There is about a 1% short interest in the partnership. Since the general partner owns over half the units, it is difficult to draw any conclusions about inside ownership.
Conclusion
At the current price of $30.88, it is paying over 6.25%. This is a superior return from a growing company with a secure future in an industry with a good outlook. The financials show a partnership in excellent shape with a growing cash flow that allows increases in the distributions every quarter. This review indicates Spectra Energy Partners unit owners will likely continue to be rewarded with rising dividends and probable unit price growth. I decided I can sleep well with this investment and that it may pay to purchase some more.
Disclosure: I am long SEP. I wrote this article myself, and it expresses my own opinions. I am not receiving compensation for it (other than from Seeking Alpha). I have no business relationship with any company whose stock is mentioned in this article.