Using a tried and true options method to capture upside gains in a leveraged fashion while limiting out of pocket expenses, I entered into a credit spread position with Apple (AAPL) with a January Expiration.

I've entered into credit spreads in the past with oil and long strangles with Apple before, but here's the most recent position I've entered and how it works. A credit spread is defined by wiki as:
In finance, a credit spread, or net credit spread, involves a purchase of one option and a sale of another option in the same class and expiration but different strike
prices.
I had promised myself recently that if I got the opportunity to buy Apple at 120's levels again, I would do it. After watching this stock yo-yo from 120 to 180+ multiple times, this week provided me the kick in the butt to make something happen.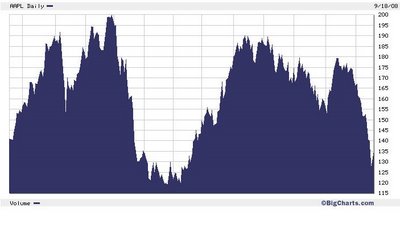 I bought 2 Jan 155's and sold the Jan 175's to create the spread for a net outflow of $745.
Symbols:
Bought 2 APVAK @ 6.84 ; Sold 2 APVAO @ 3.18
How It Works:
If Apple shares continue to flounder and never reach $155 per share, all the options expire worthless and I'm out $745.
If Apple shares rally, I capture any upside gain past $155, but I'm capped at
$175, for a maximum return of 2*$2000=$4000, or better than a 500% return.
If Apple shares rocket to say, $300, it's OK, as long as I have the same number of long and short calls. I will always be at the $2000 profit per position ($20 per share spread times 100 shares leverage per contract).
Rationale:
Here are the drivers for an upward move by January:
Most importantly, the recent decline in Apple's shares are really a result of poor general market conditions and not necessarily

a result of Apple's core business. The shares have been up over $180 multiple times and they'll be there again. Apple continues to innovate and deliver new products.

As bad as our economy gets, Americans and consumers the world around will continue to clamor for Apple's products. I bet they announce

an innovative launch by winter holiday time.

The thinking is that Apple is quite volatile with a Beta of over 2.5.
While the market is undergoing much churn now, it is likely that by later in the year, while things may still be difficult, at least this phase of uncertainty will have concluded. Markets hate uncertainty.
On this uncertainty topic, the presidential election will be over. I anticipate a relief rally following the election, regardless of the winner.
What could go wrong? If Google's new phone starts to outshine the iPhone, Google (GOOG) will rally and some air may be deflated from Apple's balloon. The solution? I own Google shares as well.
Valuation Update:
I entered into the position the afternoon of 9/18. By the end of trading, the stock had rallied $7 and the position's net gain is over $70 or 10%. Small potatoes for now, but in after hours, Apple's up an additional $3 and I expect follow through in tomorrow's market with an impending announcement by the Fed/Treasury on a new financial vehicle to shore up credit problems in the financial sector.
Disclosure: As of the time of publication, the author is long Google and has a long option position in Apple.