Last week's U.S. GDP print (advance estimate, revisions to come) came in slightly stronger than expected with an annualized growth rate of 2.0%. Financial markets had relatively muted reactions. The S&P 500 barely held support for the fourth straight day. Even the U.S. dollar index (NYSEARCA:UUP) closed flat remaining just below its 50-day moving average (DMA) as QE3 has still failed to weaken the currency.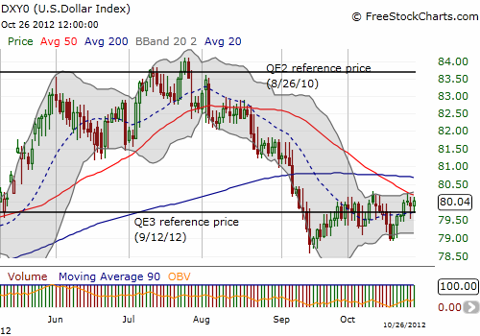 The U.S. dollar remains resilient as it churns around the same level it had when the Fed announced QE3
With this lackluster backdrop, I read through the details of the GDP report. I noted that residential fixed investment - including residential construction like new single-family and multi-family houses, manufactured housing (or mobile homes) - is showing increasing momentum. Residential fixed investment printed its sixth straight quarter with an annualized gain; three out of the last four quarters have printed double-digit annualized gains. As I have pointed out in several posts this year, financial markets have been pricing in this recovery (and more) through the soaring prices of housing-related stocks. For example, the SPDR S&P Homebuilders ETF (NYSEARCA:XHB) remains above levels defining a complete recovery from recession-driven losses. The bounce from lows that started in 2011 is the strongest yet since the recession and now looks more durable.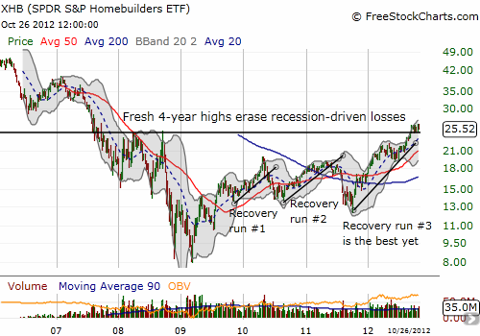 XHB remains strong
Source: FreeStockCharts.com
However, putting this momentum into perspective, it is clear why the economy remains sluggish. Private residential fixed investment is bouncing off historic lows.
Click graphic for larger view…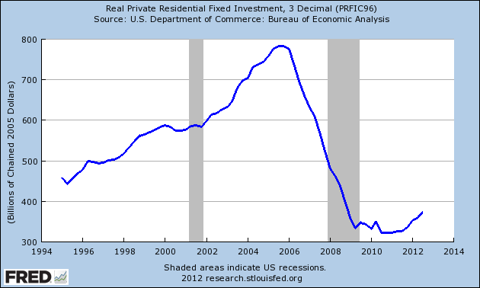 Real Private Residential Fixed Investment
Incredibly, residential fixed investment remains below 1995 levels in real terms. After plunging about 50% from peak to trough over 2 1/2 years, real residential fixed investment looks like it is finally bottoming; that is, it has stopped declining. At least it makes sense to expect an end to the decline here based on historical troughs.
The FRED inflation adjusted data only goes back to 1994, but the data unadjusted for inflation goes back to 1947. THIS view reminds us of the historic strength of housing coming out of the 1990/1991 recession, the (now relative) brevity of slowdowns in investment, the amazing resilience of housing through the 2001 recession, and then the historic collapse leading into the last recession.
Click graphic for larger view…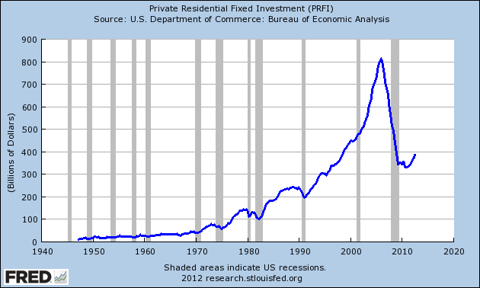 Private Residential Fixed Investment
Source for charts: Federal Reserve Bank of St. Louis, Economic Research (NASDAQ:FRED)
The long way up from here could point the way to a more robust economic recovery in coming years. Depending on how much over-building occurred during the historic housing boom, the extended collapse and lack of investment means that pent-up demand should soon become a significant factor propelling the housing market. During the past one or two earnings cycles, homebuilders have observed the early release of pent-up demand. Inventory is already tightening in the best housing markets, and labor shortages are even occurring. I believe 2013 will be a critical year for demonstrating the sustainability of the growing demand for housing and the ability for supply to deliver at reasonable prices.
For over a year, the Economic Cycle Research Institute (ECRI) has been predicting a recession right around the corner and has vociferously touted its flawless ability to make such calls in the past without false positives. While the third quarter's GDP print and the September consumer spending numbers suggest that recession is off the table for 2012, the ECRI claimed as recently as September 13th that a recession is already here (through Lakshman Achuthan, co-founder of the Economic Cycle Research Institute). The ECRI also made this claim in July. The ECRI claimed a prolonged slowdown was underway back in June, 2011 (I think you see the pattern). I suspect now the main obstacle for the economy is the fiscal cliff - the uncertainty it generates until it is resolved and/or the economic burdens it will create if it is not resolved. In other words, if a recession finally does arrive, it will likely be self-inflicted and thus, hopefully, much easier to turn around than the last one (the aftermath of Hurricane Sandy is of course a large wildcard). Or perhaps the nascent rebound in private residential fixed investment tells us that any near-term recession will be quite mild. Time will tell.
Be careful out there!
Disclosure: I have no positions in any stocks mentioned, and no plans to initiate any positions within the next 72 hours. I wrote this article myself, and it expresses my own opinions. I am not receiving compensation for it (other than from Seeking Alpha). I have no business relationship with any company whose stock is mentioned in this article.