Well, it's Halloween again, and that means it's time to get dress up in your favorite costume and yell out "trick or treat." Of course, for REIT investors there have been plenty of treats this year as equity REITs have returned around 16.09 percent year-to-date, beating the S&P 500 index with year-to-date returns of 14.26 percent.
Of course, the best dressed costume this year has been the mortgage REITs, returning an average of 28.11 percent year-to-date. Although somewhat of a scary proposition, the mortgage REITs have seen considerable interest in recent years, in large part because of the substantial yields they can offer.
These spooky critters provide real estate financing by issuing mortgages or purchasing mortgage-backed securities - often by using leverage in their day-to-day operations. In order to qualify as a REIT (and therefore for certain tax advantages) these entities must distribute at least 90 percent of their taxable income to shareholders. That results in a payout ratio that is substantially higher than traditional equities. Combined with the use of leverage to purchase mortgage securities, this business strategy results in some substantial yields.
This insatiable quest for yield is best explained by David Schawel, CFA in a recent article (Mortgage REITs: Does Doubling the Leverage Make Them a Good Investment?) that appeared in CFA Institute's Inside Investing:
In short, there's an insatiable appetite for yield in the fixed-income markets. Think of it as being like a "yield piñata": Investors far and wide are scrambling to pick up as much yield as possible before it's all gone. Investment-grade corporate bonds, high-yield, leveraged loans, non-agency MBS, and commercial mortgage-backed securities (NYSEARCA:CMBS) are just a few asset classes that have seen prices charge higher.

Both institutional and retail investors have been smitten with mortgage REITs and the 10 percent+ yields available from American Capital Agency (NASDAQ:AGNC), Two Harbors Investment (NYSE:TWO), Armour Residential REIT (NYSE:ARR), Western Asset Mortgage Capital (NYSE:WMC), and others. Yes, these have had a remarkable run in terms of share appreciation and total return from dividends, but it's important to remember how this has occurred. The Fed has purchased well over $1 trillion of agency MBS thus far, and this figure is only growing with the QE3 plan of an additional $40 billion per month.
The move by the Fed to buy additional securities has pushed down bond yields, narrowed spreads and reduced homeowner borrowing costs-squeezing mortgage REIT earnings and dividends. As a result, mortgage REITs are losing investors who have been attracted by average annual dividend yields currently at about 13 percent, or almost seven times that of S&P 500 companies.
The immediate challenge to mortgage REITs comes from a jump in homeowner refinancing driven by record rates. That will force the companies to write off the premiums they paid for bonds faster and reinvest at lesser yields. Applications to replace mortgages rose last month to the highest since 2009.
Denahan-Norris, who last week was named co-CEO of Annaly (NYSE:NLY), one of the largest mortgage investing REITs in the U.S., recently said:
It's not just at the mortgage REITs where the returns in this market are being put under assault, It's the general global landscape where you have an incredible mispricing of risk that's being delivered at the hands of academics at the central banks of the world.
That mispriced risk means that the high-yielding mortgage are at a crossroads where refinancing activity is nearing a severe chapter and the days of "gun-slinging" returns are in the past.
The Scariest Costume of All
UBS recently announced its plan to expand its suite of income-oriented products by debuting an ETN (exchange-traded note) that will offer monthly leveraged exposure to an index consisting of mortgage REITs. The new ETRACS Monthly Pay 2x Leveraged Mortgage REIT ETN (NYSEARCA:MORL) will offer 2x monthly exposure to the Market Vectors Global Mortgage REITs Index, a benchmark that includes companies such as Annaly Capital Management and American Capital Agency.
The index to which MORL is linked consists of about 25 REITs. Annaly Capital Management makes up the largest individual position at about 20 percent of total holdings. American Capital Agency Corp also makes up a meaningful slug at about 15 percent of the total index. As such, MORL will depend on two companies that combine to make up more than a third of the total index; any big movements in the price of those stocks will have a significant impact on the ETN's value.
MORL will use leverage to further enhance an already substantial yield, resulting in one of the highest payout ratios among all U.S.-listed ETPs. The huge return opportunity (24.8 percent yield ) offered by MORL will obviously come with some risks. Because mortgage REITs often leverage up in order to purchase mortgages, they can be extremely sensitive to interest rate changes.
While mortgage REIT ETPs have been remarkable stable recently, there exists the potential for some volatility in turbulent or unpredictable environments. MORL adds explicit leverage on top of the capital structures of the companies that make up the index, amplifying the downside risk along with the upside potential and yield profile.
MORL's scary high-yielding costume could spook investors as the true value proposition could be the modern day "wolf in sheep's clothing". As explained by David Schawel, CFA:
The cynic in me wonders whether UBS has created this product solely so that institutional clients can bet against agency MBS by shorting this ETN at a time when MBS prices have never been higher.

The average investor likely has no idea how mortgage REITs operate and what circumstances could cause a material fall in their share prices. As an investor who deals in the MBS markets regularly, I am downright frightened that such a product is being created at a time when so many red flags are apparent.

I am not saying that MBS prices cannot continue to rise or that this product will be a failure, but the dark side of QE, the yield-chasing investors, and the capitalizing nature of Wall Street have created a product ripe for trouble down the road. Caveat emptor!
Beware: Risk Meets Adversity
Risk is the potential for loss when things go wrong. Accordingly, a skilled investor can look at a portfolio and determine whether it's low-risk or high-risk. Without any reservation, the new UBS 2x leveraged mortgage REIT ETN, MORL, is considered high-risk and investors should consider the consequences when risk meets adversity.
Controlling risk in your portfolio is an essential element in the investment process and the acclaimed investor and author (of The Most Important Thing), Howard Marks, said it best:
...there are two main risks in the investment world: the risk of losing money and the risk of missing opportunity. You can completely avoid one or the other, or you can compromise between the two, but you can't eliminate both. One of the prominent features of investor psychology is that few people are able to (A) always balance the two risks or (B) emphasize the right one at the right time. Rather, at the extremes they usually obsess about the wrong one...and in so doing make the other the one deserving attention.

During bull markets, when asset prices are elevated, there's great risk of losing money. And in bear markets, when everything's at rock bottom, the real risk consists of missing opportunity. Everyone knows these things. But bull markets develop for the simple reason that most people are buying - ignoring the risk of loss in order to keep from missing opportunity - just when elevated prices imply losses later. Likewise, markets reach their lows because most people are selling, trying to avoid further losses and ignoring the bargains that are everywhere.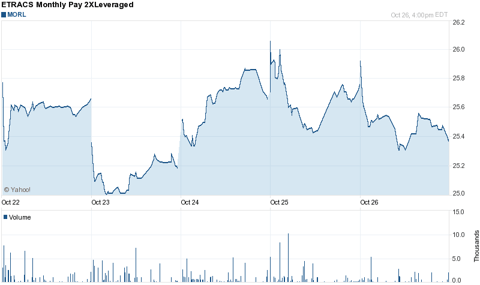 Source: Yahoo Finance, CFA Institute
Disclosure: I have no positions in any stocks mentioned, and no plans to initiate any positions within the next 72 hours. I wrote this article myself, and it expresses my own opinions. I am not receiving compensation for it (other than from Seeking Alpha). I have no business relationship with any company whose stock is mentioned in this article.