We have held a long position in Sherwin-Williams (NYSE:SHW) since September 1998. We dramatically increased our position in September 1999 when the company had suffered a 40% price decline in its stock due to revenue concerns, the retirement of its long-time CEO John Breen and the fact that the dot-com bubble was in full effect at that time. We're pleased with the performance of our stake in Sherwin-Williams since 1999 even with the recent pullback in its price due to revenue coming in less than what was anticipated. We considered adding to our stake back in August and with the recent pullback in price, we believe that investors should take advantage of market weakness to average in to a position in Sherwin-Williams, especially if they utilize SHW's Dividend Reinvestment Plan through Wells Fargo Shareowner Services.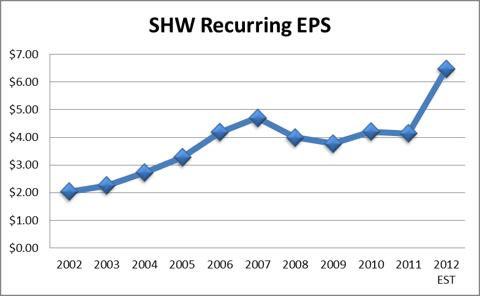 Source: Morningstar Direct and Saibus Research Forecasts
We believe that Warren Buffett was right about the stock market when he said that in the short term, it's a weighing machine. We can see that maxim applies to the performance of Sherwin-Williams' shares versus the market and its competition because the company benefits from the following fundamental factors:
Sherwin-Williams was a leader in the paints and coatings market when we first invested in it in 1998.
Sherwin-Williams has strengthened its leadership position since Christopher Connor and Joseph Scaminace succeeded John Breen and Thomas Commes as CEO and COO respectively of Sherwin-Williams when Breen and Commes retired in 1999.
SHW's CEO Chris Connor and his COOs Joe Scaminace (1999-2005) and John Morikis (2006-present) helped oversee the doubling of its return on equity from an impressive 18% in 1999 to an estimated 44% in 2012.
Sherwin-Williams generates strong free cash flows and benefits from prudent capital management
We find that paints and coatings are less sensitive to the housing crisis versus heavy-duty home improvement products or home builders
No other coatings company has an impressive network of company-owned stores with highly skilled sales professionals ready to advise customers on their coatings needs.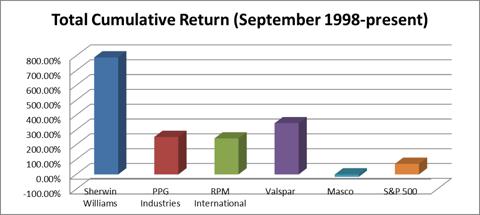 Source: Morningstar Direct
The Sherwin-Williams Company has performed well since bottoming out in 2009 and it is continuing this trend so far this year. In Q3 2012, it has seen its revenues grow by nearly 4.8% versus Q3 2011 levels despite dealing with the same currency headwinds that other multinational companies have been facing. Net sales of Sherwin-William's foreign subsidiaries declined by 3.2% in Q3 2012 versus Q3 2011 and this was primarily due to a 10.3% negative impact of foreign currency translation rate changes partially offset by acquisitions, which boosted net sales by 3.6% in the quarter. Net sales of US based subsidiaries were up by 6.8% in Q3 2012 and 11.9% for YTD 2012.
As always, Sherwin-Williams's Paint Stores Group leads the way for the company. The Sherwin-Williams Paint Stores Group saw 14.2% growth year-over-year in YTD 2012 versus YTD 2011 and 9.6% growth in Q3 2012 versus the prior year's Q3 period due to the strength of its same-store sales growth. Paint Stores opened for 1 year or more saw a strong increase of nearly 9% for the quarter and 13.6% for the first nine months of 2012. This helped fuel a rapid growth in operating income for the division (27% growth in Q3 2012 versus Q3 2011 and 32.75% in YTD 2012 versus YTD 2011). The division was able to generate a 2.6% increase in its operating margin for the quarter and a 228bp increase in YTD 2012 versus YTD 2011 due to increased paint sales volumes and higher selling prices which were partially offset by higher materials costs.
The Consumer Group saw its sales to external customers decrease by 1% in Q3 2012 versus Q32011 and increase by 4.3% for YTD 2012 versus YTD 2011 levels on the strength of selling price increases offsetting flat sales volumes. The division also benefited from improved operating efficiencies and this positive operating leverage helped the division increase its YTD pre-tax profits by 34.6% and its Q3 pre-tax profits by 39%.
The Global Finishes Group saw its revenue decrease by 1% in Q3 2012 versus Q3 2011 due to unfavorable currency translation effects but enjoyed a healthier increase of 7% for H1 2012 versus H1 2011 levels. The division was able to actually reduce its operating expenses slightly for the quarter and while operating expenses grew slightly in H1 2012, it was at a much slower rate (~4%) than revenue growth (7%).
The Latin America Coatings Group saw its quarterly revenue and profit decline versus the prior year's period. Revenue declined by 4.5% versus last year's performance and profits declined by 45%. YTD revenue was stagnant versus last year (1.2% growth) and pre-tax profits declined by 12%. Latin American Coatings saw economic slowdowns in its geographic regions, as well as negative headwinds from the currency translation effects. We also take note that this is Sherwin-Williams's smallest division in terms of revenues and profits.
Administrative and Corporate expenses increased by $12M for the quarter and $54M year-to-date due to increased incentive compensation payments as well as an increase in environmental provisions expenses.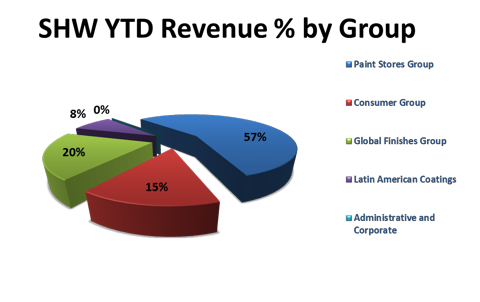 Source: Sherwin-Williams Q3 2012 10-Q
We were pleased to see Sherwin-Williams continue its impressive and consistent streak of growth. Even though it saw its global operations register slowing reported growth due to macroeconomic headwinds and unfavorable currency effects, Sherwin-Williams still posted an impressive 4.8% growth in net consolidated sales for Q3 2012 versus Q3 2011 and a 9.2% growth for YTD 2012 versus YTD 2011 levels. The company was finally able to get some breathing room with regards to its cost of goods sold and as such improved its gross margin by 240bp in Q3 2012 versus the prior year levels and by 120bp in YTD 2012 versus prior year levels. The company also benefited from positive operating leverage as operating (SG&A) expenses as a percentage of income only increased by 10bp in the quarter and declined by 60bp YTD versus prior year levels. This enabled the company to generate a 31.8% increase in its Q3 2012 operating income versus the comparable period last year and 32.86% in YTD 2012 income versus prior year levels.
We won't pretend that this is a value stock like it was in the 1998-2001 time periods or the 2008-2009 time periods. SHW is trading at 21.5X consensus 2012 EPS estimates and 18X 2013 estimates. It used to be a classic value stock however has taken on a profile normally associated with growth companies. We're not surprised at its PE ratio widening since it has grown its EPS at a rate of 19.7% for the last 3 years. We are glad to see the analyst community realize the competitive strengths and sound financial management of Sherwin-Williams as analysts are expecting the company to grow its EPS by 19% over the long-term (typically a 5 year period).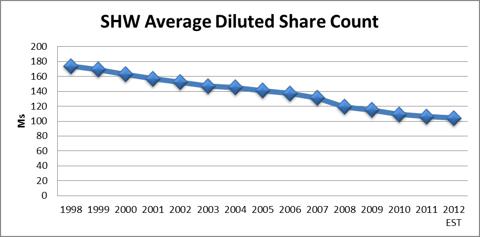 Source: Morningstar Direct
We are impressed with Sherwin-Williams's ability to generate cash. The company operates with a seasonal cash collection model as it incurs cash flow deficits in the beginning of the year, which are collected in Q2-Q4 of a given, with heavy emphasis on Q4. SHW repurchased over $362M worth of stock year-to-date on a gross basis ($238M net of ESOP share issuance). The company has increased its dividend every year since 1979 and its dividend of $1.56 represents a 7% yield on original cost for us due to the fact that we had purchased it in 1998 at 1998 prices. On a trailing 12 month basis, Sherwin-Williams generated almost $600M in free cash flows, up from $528M in FY 2011. Sherwin-Williams typically pays 30% of the prior year's adjusted net income as a dividend to shareholders and if the company meets its $6.48 EPS estimate, this will yield a potential annual dividend of $1.95/share next year. In that case, we think the company should just round it up to $2/share annual ($.50/share quarterly).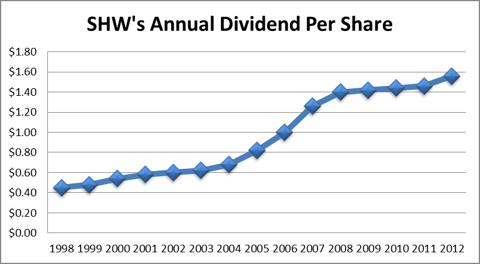 Source: Morningstar Direct
In conclusion, we can see why SHW is the industry leader in the paints and coatings segment. We were glad that Sherwin-Williams had struggled from 1998-2000. If it had been performing then the way it is performing now, Berkshire Hathaway (NYSE:BRK.B) would have stepped in and bought it instead of Benjamin Moore. Sherwin-Williams' four biggest competitors are RPM International (NYSE:RPM), Valspar (VAL), PPG Industries (NYSE:PPG) and Masco (NYSE:MAS). Masco is an afterthought to us because despite the fact that Masco's Behr paint products are sold at Home Depot (NYSE:HD) its Behr's revenues were flat from 2009-2011. Although its revenues grew by nearly 10% YTD in 2012, Behr's revenues are about one-third of SHW's. SHW also had a higher growth rate than Behr in Q2 2012 and YTD 2012 as well. Masco has also been an afterthought to us because although it has diversification in terms of product offerings, it has yet to translate to a profit stream that provides consistent and substantial profits as a percentage of invested capital. At least Masco has ~3.5X more debt outstanding than Sherwin-Williams. We also used to see some of the same dynamics with PPG. We see better profitability and less leverage as a percentage of book capital with PPG than with Masco as PPG has continually moved its product mix toward coatings and optical products. As good as Valspar and RPM are, we prefer Sherwin-Williams even though it has a higher PE ratio. We prefer Sherwin-Williams because of its network of company-owned and operated paint stores, larger market share and its better financial management.
Disclosure: I am long SHW, BRK.B. I wrote this article myself, and it expresses my own opinions. I am not receiving compensation for it (other than from Seeking Alpha). I have no business relationship with any company whose stock is mentioned in this article.
Additional disclosure: This article was written by an analyst at Saibus Research. Saibus Research has not received compensation directly or indirectly for expressing the recommendation in this article. We have no business relationship with any company whose stock is mentioned in this article. Under no circumstances must this report be considered an offer to buy, sell, subscribe for or trade securities or other instruments.