We were impressed with the fact that Amazon.com (NASDAQ:AMZN) was able to overcome its early history as an overrated, overpriced dot-com and transform itself into the world's leading internet retailer. Amazon made mincemeat out of its detractors in the early part of the 2000-09 decade because it responded to the dot.com crisis by holding the line on its cash operating expenses in absolute dollar terms and maintaining double digit revenue growth- even during the depths of the 2001-2002 recession period.
Amazon generated its first quarterly profit in Q4 2002, its first full year profit in 2003 and its rapid revenue growth has continued unabated (from $3.9B in 2002 to $48B in 2011, and we expect it to reach $62.5B in 2012). Unfortunately, Amazon now seems to be regaining its reputation as an overrated, overvalued dot-com chasing sales growth as the expense of profitability. We think it was irrational exuberance on the part of Amazon's stakeholders that Amazon's stock increased by nearly 7% on Friday October 26th after it released results and guidance that missed consensus expectations.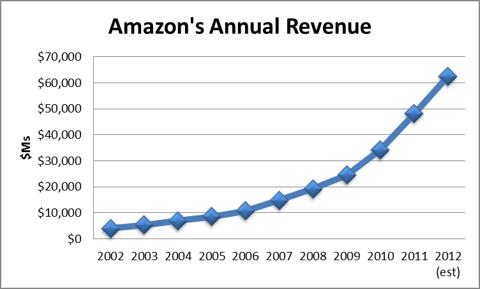 Source: FactSet Marquee
In our August report on Amazon, we analyzed how after Amazon released its FY 2010 results, the company announced that its 2011 operating income was expected to decline significantly relative to 2010 levels even though the company was expecting 35%-40% revenue increase for Q1 2011 and the year. Although Amazon's 2012 sales are expected to reach $62.5B, its Adjusted EPS is expected to be $.49 for Q4 2012 and $.70 for FY 2012 and $2.21 for FY 2013. As recent as 90 days ago, analysts were expecting $.54 for Q4 2012, $.86 for FY 2012 and $2.37 for FY 2013.
Basically, Amazon bulls are touting the company even though the company is expected to see its 2012 adjusted EPS decline by 72% relative to 2010's EPS of $2.53, even though it expects its sales to increase 83% relative to 2010's revenue of $34.2B. We are simply astounded that the company's share price has increased by over 42% since it bottomed out at the end of January 2011 after reporting its expectations of lower operating income. We are also astounded that Amazon's shares have significantly outperformed the S&P 500 and the NASDAQ Composite during that time period. We don't expect this to be repeated though.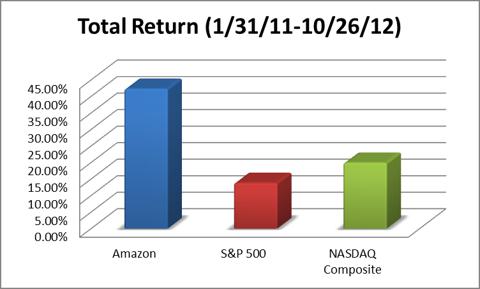 Source: FactSet Marquee
By any standard measure, Amazon is overvalued. Amazon's PE based on expected 2012 EPS is approaching 350 and we already established that it is trading at over 108X expected 2013 EPS. Amazon enjoyed 24% EPS Growth in 2010 versus 2009 levels and even if Amazon had replicated that feat in 2011 and 2012, 2012 EPS would only be $3.89 and Amazon's stock would still be at a rich PE of over 60X. Amazon did not see any EPS growth in 2011 and 2012. In fact Amazon saw its EPS drop significantly from its 2010 all-time high of $2.53. Analysts are expecting Amazon to regain its EPS growth momentum in Q4 2012 and earn $.70 in 2012 and $2.21 in 2013. Even if Amazon is able to meet the lofty expectations of the investment community, it will have done this with a 12.65% reduction in its 2013 EPS relative to 2010 levels and would have a significantly lower profit margin in 2013 relative to 2010 levels.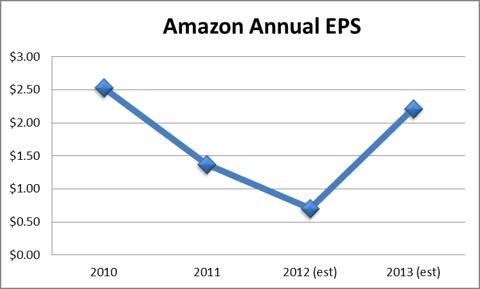 Source: FactSet Marquee
One thing we noticed with regard to Amazon's operating margin is that gross margin percentage is holding somewhat constant or registering incremental growth depending on which quarter one is talking about. Amazon's first quarter Gross Margins over the last three years have increased from 22.8% in Q1 2010 to 25% in Q3 2012. However, we think that the company said it best in its annual report when it instructs investors that gross margins aren't as meaningful for investors to evaluate as income from operations and operating margins. Operating margins peaked in 2004 and have declined steadily from 2005-2010 before rapidly declining after 2010. The reason why the company's operating margins have deteriorated is because the company has increased its sales, general and administrative expenses from 17% in Q1 2010 to 25.45% in Q3 2012. The drivers of operating expense growth included Marketing (up 50% YTD 2012 versus prior year levels), Technology (up 57%), Fulfillment (up 43%) and Administrative (up 40%).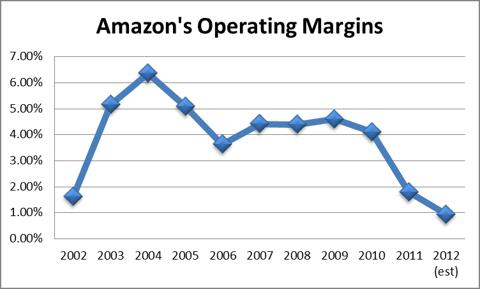 Source: FactSet Marquee
Amazon's operating margin has declined sharply over the last 10 years and that should be a concern for investors. Amazon's management says that it is "investing in its future". We're glad that the investment community is willing to give management the benefit of the doubt and that management is so sanguine about its declining results because we are wondering when it will see its operating margins pick up. The real concern is in its international operations. Amazon's North American operations did not see a dramatic decline in operating income in 2011 as North American operating income only declined by 2% versus 2010 levels, despite the massive investments the company made that year. Amazon North America's Q3 2012 operating income enjoyed a 102% jump versus prior year levels and its YTD 2012 operating income grew by 51.7% versus YTD 2011 levels.
Unfortunately, Amazon's International operating income has collapsed relative to 2010 levels. Amazon International earned $654M in the first nine months of 2010. In the first nine months of 2011 it earned $463M and in YTD 2012 it earned $6M. Amazon International can't blame its results on currency because the total unfavorable impact from year-over-year changes in foreign exchange rates throughout the quarter on operating loss was $3 million. We are vexed by this poor performance in Amazon International since it was more profitable than Amazon North America in 2009.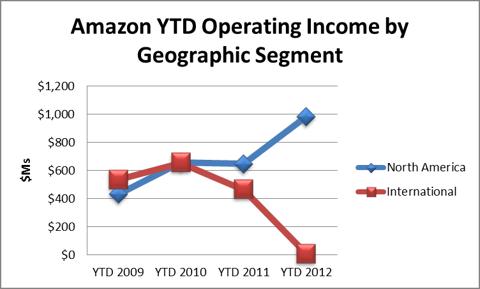 Source: Amazon's Quarterly Reports from 2009-2012
We are also concerned about the sales growth momentum at Amazon. In Q2 2011, the company's quarterly sales growth on a year-over-year basis reached its fever pitch peak of 51%. Since then, each quarter has seen a year-over-year deterioration in the year-over-year sales growth rate, which reached 27% in Q3 2012 and could be as low as 17% based on the low end of Amazon's Q4 2012 guidance.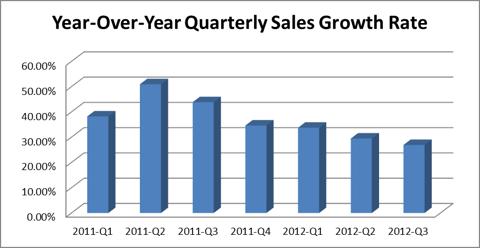 Source: FactSet Marquee
Being that Amazon is a technology company, it needs to maintain a strong stock price in order to attract and retain talent. Unfortunately, because the stock price is already so high relative to its earnings power, we believe that it will have a tougher time going forward with regard to attracting and retaining talent. Until we saw that Amazon's vaunted cloud services and other solutions segment was only 4.3% in Q2 2012, we were adamantly opposed to actually shorting the shares ourselves. At least Amazon's bulls can make the lame claim that 4.7% of Q3 2012 revenue from Amazon Web Services and other related services and solutions such as marketing and promotional agreements, co-branded credit card agreements and other seller sites.
The good news for Amazon is that AWS and related revenues have increased from $111M in 2003 to $2.4B in 2012 and has doubled its share of Amazon's total revenues. The bad news is that AWS's revenue proportion of Amazon's total revenues has only increased from 2% in 2003 to 4% in 2012.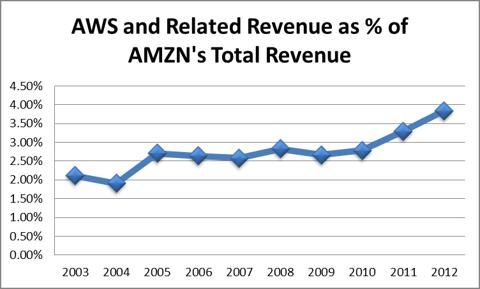 Source: Amazon's 2003-2012 Annual and Quarterly Reports
In conclusion, we believe that Amazon is overvalued and overrated. We believe that investors have bid this company up to an unsustainable high of 108X expected 2013 earnings. We are also especially concerned that it is trading at 32X TTM operating cash flows and over 100X TTM free cash flows. We see significant operational and execution risk in Amazon and are concerned that the recent run of rapid revenue growth has not translated into increased profits for Amazon. We are concerned with the rapid run-up in its CapEx and its declining Returns on Investment Capital. We think that investors are too willing to overlook profit growth in exchange for revenue growth at Amazon. We believe that investors who have been long-time holders of Amazon may want to consider steadily reducing their exposure to Amazon and to pay the maximum 15% tax rate on their gains rather than stick around for a significant potential decline in Amazon's shares. In short, while we are impressed with the performance of Amazon North America and Amazon Web Services, we believe that the halo effect from those businesses is blinding investors to the poor performance of Amazon International.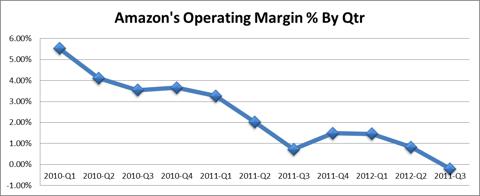 Source: FactSet Marquee
Disclosure: I have no positions in any stocks mentioned, and no plans to initiate any positions within the next 72 hours. I wrote this article myself, and it expresses my own opinions. I am not receiving compensation for it (other than from Seeking Alpha). I have no business relationship with any company whose stock is mentioned in this article.
Disclaimer: This article was written by an analyst at Saibus Research. Saibus Research has not received compensation directly or indirectly for expressing the recommendation in this article. We have no business relationship with any company whose stock is mentioned in this article. Under no circumstances must this report be considered an offer to buy, sell, subscribe for or trade securities or other instruments.