By Fani Kelesidou
Dryships (NASDAQ:DRYS) used to be a big name in the shipping industry before the sub-prime crisis left its mark. The slow global shipping activity caused the stock to slide from a trading price range between $100 and $120 in 2008 to $2-$3 by 2012. After five years of low demand and consequent oversupply of vessels, Dryships is swimming in turbulent waters. Well, most of the shipping companies do. However, the main question is how they will perform after global demand starts picking up again. In this case, we examine whether Dryships could offer an attractive investment.
Company Profile
Based in Greece and incorporated in the Marshall Islands, Dryships engages in the global transportation of crude oil and dry bulk cargoes. Dryships owns one of the largest fleets globally. It operates 59 vessels, including dry bulk carriers and tankers with a combined carrying capacity of more than 3.4 million deadweight tons. All carries are employed through a variety of leases and managed by Cardiff Marine, a private company founded by Dryships's CEO in 1991. In addition, through its 65 percent ownership in Ocean Rig (NASDAQ:ORIG), Dryships engages in offshore drilling businesses.
The Baltic Dry Index and Dry Bulk Shipping trends
The Baltic Dry Index [BDI] is a shipping and trade index created by the London-based Baltic Exchange. It provides an overview of the sector by simply measuring changes in the cost to transport raw materials. It takes into account the transportation cost for 23 different shipping routes and covers Supramax, Panamax, Handysize and Capesize carriers. Overall, it provides investors with insight into global demand and supply trends.
The BDI has experienced a long-term downtrend reflecting the drop in daily charter rates and low global demand for raw materials. However, it seems that it might be on the comeback trail. Throughout October 2012, the index performed nicely by returning about 40 percent. This upward trend is mainly attributed to the higher Capesize returns. Also, the recent news that China, the biggest buyer of iron ore worldwide, is going to spend $150 billion on infrastructure projects, helped boost the market. In September 2012, China's total imports of iron ore reached 65 million tons up by 7.3 percent compared to last year. Currently, China is in the process of rebuilding its iron ore reserves. Once China is done restocking, we might see the BDI returning to downward trends. However, a recent report by BIMCO indicates that coal (rather than iron ore) will lead the dry bulk sector out of the slump. China's thermal coal imports are estimated to reach 122.8 million tons for full-year of 2012. An average increase of 12 percent y-o-y to 137.8 million tons is expected for 2013.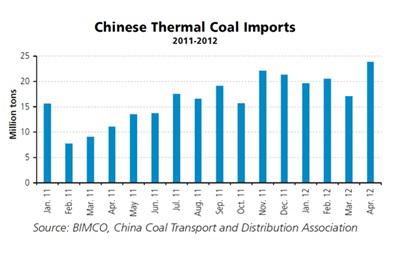 Moreover, as I mentioned in a previous article, Brazil also launched a large infrastructure project recently. Brazil is a raw materials provider. However, it also acts as a major importer. According to the latest data provided by EIA, Brazil is the second largest importer of US coal in 2011. Overall, the country expects its hard coal imports to double by 2020.
Another issue, that investors are concerned about, is the oversupply of the sector. Since the beginning of the year, the global active fleet has grown by almost 9 percent. About 1000 new ships with combined carrying capacity of 80 million deadweight tons have entered the market. Fortunately, this fleet expansion was partially counterbalanced by the demolition of about 400 over aged vessels. With oversupply having plagued the industry since the end of 2011, it does not make sense why ship owners would invest in newbuildings. However, if an operator has several long-term supply contracts already in progress, then acquiring a new vessel makes sense. Newbuilding prices are close to bottom-low levels compared to the past two decades. However, ship owners have to take into consideration additional factors, such as financing and freight rates. A recent report by Intermodal suggests that there is a desirable break-even point in buying a newbuilding at current rates. Also, the new eco-friendly vessels with low consumption using will significantly lower the operational costs.
As newbuilding orders make their cycle, the gradually increasing scrapping activity will start to show its positive impact. In the last three years, we have seen great acceleration in dry cargo recycling. The average age of scrapped vessels was 30.5 years in 2010. Today it is 28 and 22 for dry cargo vessels and tankers, respectively. Overall, the required demand/supply balance is expected to occur at the second half of 2013.
What about Dryships?
Dryships has been the target of skepticism for quite some time. The primary concern for the company's future performance derives from its high debt pile. Nevertheless, Dryships has a long-term debt-to-equity ratio of 1.2, which is lower than the industry's median. Fundamentally, the company has some positives. Over the past five years, sales grew by 34.11 percent, which is encouraging considering how weak is the market. With a gross margin higher than the industry's average and standing at 53.62 percent, Dryships shows relatively solid control of expenses. Also, EPS next year is estimated to increase by 186 percent. Most importantly, Dryships is trading with desirable valuations, which might indicate a value opportunity. The stock is trading 40 percent below its 52-week low and with a 70 percent discount to book value. Moreover, Dryships is trading less than sales and 4.6 times free cash flow.
Technically, Dryships's five-year chart is the definition of a falling knife. The stock's previous close price was 11 percent behind the SMA200. However, year-to-date stock returns are positive by 15.25 percent.
Overall, Dryships's diversified income stream with a large portion of revenues deriving from its drilling business, serves as a safety cushion. In addition, as of market close ORIG had a market cap of $2.10 billion. Dryships's 65% ownership of ORIG translates into an asset valuation of $1.3 billion. At the current valuation of $1 billion, the market is pricing Dryships for less than its Ocean Rig ownership valuation. I do not expect this mispricing to last for long.
Disclosure: I have no positions in any stocks mentioned, and no plans to initiate any positions within the next 72 hours.
Business relationship disclosure: EfsInvestment is a team of analysts. This article was written by Fani Kelesidou, one of our writers. We did not receive compensation for this article (other than from Seeking Alpha), and we have no business relationship with any company whose stock is mentioned in this article.