By Fani Kelesidou
Analysts are bullish about the Agricultural Chemicals Industry. Early market indicators suggest that the sector's sales volumes are going to be robust in 2013. During the recent global financial crisis, demand for fertilizers and general crop nutrient products remained tight, primarily due to increased raw materials prices. However, the "Medium-Term Fertilizer Outlook 2012-2016" report released by the International Fertilizer Industry Association [IFA] suggests a steadily growing global demand for fertilizers.
Global Fertilizer Demand (Mt nutrients)

N

P2O5

K2O

Total

07/08

100.5

38.4

28.9

167.9

08/09

97.7

33.7

23.4

154.8

09/10

101.9

37.5

23.5

162.9

10/11

104.1

40.5

27.6

172.2

Change

+2.2%

+8.0%

+17.4%

+5.7%

11/12[e]

108.2

41.0

27.7

177.0

Change

+4.0%

+1.4%

+0.4%

+2.8%

12/13[f]

109.8

42.2

29.4

181.4

Change

+1.4%

+2.9%

+6.0%

+2.5%

2016/17[f]

114.7

45.4

32.7

192.8

Average Annual Change*

+1.5%

+2.3%

+3.7%

+2.1%
[e] estimated; [f] forecast
*Compared to the average 2009/10 to 2011/12
Source: Heffer, IFA, May 2012
Overall, the persistent need to supply the fast-rising food market will enhance crop-yield associated products' demand in the long-term. In addition, weather-related conditions are somehow working in favor of the fertilizer producers.
The impact of the severe Midwest drought has resulted in very strong grain and oilseed prices. During 2012, crop yields were revised downward to historically low/bottom levels. High crop prices and tight grain inventories are estimated to create vital support for global nutrient demand in the coming year. Growers are interested in optimizing application and fortunately they have the money to do it. Thanks to insurance payments and increased grain prices, farmer's net income is estimated to reach $122.2 billion in 2012. This is about 3.7% higher than last year. Farmers' income forecast represents time record levels.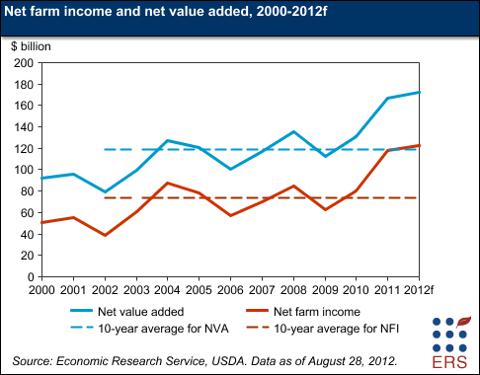 Here, we review our top picks from the Agricultural Chemicals Industry. We analyze the fundamental and technical state of each company and examine whether it is the right time to start a position.
Potash Corporation of Saskatchewan Inc (POT)
Founded in 1953, Canada-based Potash Corporation of Saskatchewan is a leading producer of crop nutrients, such as potash, phosphate and nitrogen.
The company reported second quarter of 2012 earnings of $522 million, or $0.60 earnings per share. Second quarter's gross margin of $1.2 billion was the third-best quarterly total in the company's history. Fundamentally, Potash has many positives. EPS this year grew by 80.4% in this year alone. In the past five years, annualized EPS growth was 40%. Potash is trading 21.7% below its 52-week high of $51.29. Its valuation metrics are close to the sector's median. The stock is trading with a P/E ratio of 14 and forward P/E ratio of 11.2. Book value per share is $10.22.
Technically, Potash is standing a little bit behind from major moving averages. The latest closing price was 6.35% down from the SMA 200 and 4.52% down from the SMA 50. 3-year average stock returns of 42.28% reveal a stronger performance.
Right now might not be the perfect time to initiate a position in the stock. Nevertheless, I strongly suggest that POT is worth watching for upside moves. According to analysts' estimations, the stock has at least 25% upside potential to reach the mean target of $51.60.
CF Industries Holdings, Inc. (NYSE:CF)
Established in 1946, CF Industries serves both wholesale distributors and resellers in the agricultural, industrial, and garden businesses. It is the second largest provider of nitrogen products and the third largest provider of phosphate fertilizers in the world.
CF is among the most well-positioned fertilizer producers within the sector. Over the last three years, revenue grew by an outstanding rate of 15.9% versus the industry's average rate of 4.9%. During the same period, EPS followed an upward pace of about 22, while the industry's earnings growth stands at 7.3%. Current ratio is 3.60, well above the sector's median. Overall, the company's margins make it an intriguing investment.
Currently, CF is trading at slightly above $200. Throughout 2012, the stock performed strongly by returning about 42%. Considering the strength of its fundamentals, the stock is trading with attractive valuations, especially compared to its peers. CF is trading at 7 times free cash flow and 2.1 times sales. It has a P/E ratio of 7.84 and a PEG ratio of 0.73, suggesting that the agricultural chemical offers a value opportunity.
Agrium Inc (AGU)
With a market cap of $16.4 billion, Canada-based Agrium Inc is one of the largest agricultural retailers within the sector. The company produces and markets agricultural nutrients and industrial products, which include nitrogen, phosphate, potash, controlled-release fertilizers and micronutrients.
Agrium has a long-term debt-to-equity ratio of 0.22, which is certainly manageable. For Q2 2012, net earnings from continuing operations were 18% up from the same period in 2011 and totaled $860 million. For the last five years, operating cash flow trends resulted in an average cash flow stream of around $1 billion.
Fundamentally, AGU has some positives. Even though, profit margin figures are a bit disappointing, EPS this year grew by 106%. Moreover, historical data on EPS growth reveal a positive change of 97.62% for the past five years. Combined with the company's desirable valuations, Agrium can be considered as a profitable investment.
The stock is priced at around $105. Throughout 2012, Agrium has performed nicely by returning 56% and outperforming most of its peers. The stock's previous close indicated a 17% positive distance from the SMA 200. Even though, the stock is trading around 52-week highs, analysts' mean target price suggests at least 10% upside potential. Agrium has a current P/E ratio of 10.2 while forward P/E is 10.8, indicating a rather cheap stock. AGU's value opportunity is further enhanced by its price-to-free cash flow ratio of 12.31.
Rentech Nitrogen Partners, L.P. (NYSE:RNF)
Operating since 1965, Rentech is a nitrogen fertilizer company formed by Rentech, Inc. as a publicly traded master limited partnership. The company's competitive advantage derives from its facilities' position in the core of the nitrogen fertilizer market. Rentech does not have to worry about delivery delays due to the low Mississippi river levels. Most of its customers are within 200 mile distance. In addition, considering the low gas prices -a key feedstock to nitrogen production- RNF's growth prospects are compelling.
Fundamentally, the stock has many advantages. With a gross profit of 50.6% and operating margin of 38.8%, Rentech is ahead of its peers. The company has good control of expenses and performs strongly in terms of profitability and management efficiency. RNF keeps about 35 cents for each dollar of revenue. In addition, it has a LT debt-to-equity ratio of 0.17, which is the lowest, compared to the above mentioned companies.
Analysts are overall bullish about RNF's future EPS growth. Earnings growth prospects are mainly justified by Rentech's plans to expand its ammonia capacity, as well as its strategic position at the forefront of the nitrogen market. ROE figures of 372.11% certify the company's ability to generate growth.
Technically, Rentech looks more than solid. Throughout 2012, RNF has presented superb returns of more than 120% and outperformed its peers. Currently, the stock is priced at around $38. Its previous close price was 37% above the SMA200. Compared to its peers' valuation metrics, Rentech could be regarded as pricey. The P/E ratio stands at 18.48 while forward P/E ratio is 13.6. The stock is trading 8 times sales with a PEG ratio above the norm of 1.
RNF's dividend yield makes it a compelling investment. The stock yields 12.4%, which is the highest within the sector. With a 3-year average free cash flow y/o/y growth of 675.21%, the company has enough cash-generating capacity to keep the current yield.
Disclosure: I have no positions in any stocks mentioned, and no plans to initiate any positions within the next 72 hours.
Business relationship disclosure: EfsInvestment is a team of analysts. This article was written by Fani Kelesidou, one of our writers. We did not receive compensation for this article (other than from Seeking Alpha), and we have no business relationship with any company whose stock is mentioned in this article.