The biggest news to come out of the personal computer world this week will not be the launch of the Apple mini-iPad. The real revolution will come from the granddaddy of PC software firms, Microsoft (NASDAQ:MSFT).
TV's stock veterans like to call Microsoft "Mr. Softie". But there's nothing soft or subtle about the launch of this new operating system, Windows 8, this Friday.
All Guns Blazing
Microsoft thinks its new operating system and its tablet, the Microsoft Surface, will be a smash according to this article on Upstart Business Journal. In a radical break with tradition, Microsoft is opening 34 temporary pop-up stores, in shopping malls around the country. This jazzy, costly strategy is supposed to "more than double the company's direct-to-consumer retail presence".
Hoping to persuade consumers that its new operating system is easy and pleasant to use, Microsoft and Intel (NASDAQ:INTC) have teamed up with Best Buy (NYSE:BBY). The three companies have trained hundreds of thousands of store employees on features of the new Windows 8 operating system.
Microsoft and Best Buy are also working together to make new product displays more inviting. Even Bill Gates will show up in a video to tout the new system. But is it already doomed?
What Could Possibly Go Wrong?
In a word, everything. Do you remember the last failed Microsoft operating system called Vista?
If you do, you'll also remember that it was a disaster. Millions of computer buyers decided to wait out the Vista product cycle. They continued using the old, reliable Microsoft XP System and refused to buy new machines loaded with the trouble-prone Vista system. I fear Windows 8 could be even worse.
I visited a local electronics store and took a look at the new Windows OS. Even on a standard desktop computer it looks an awful lot like the screen of a touch-sensitive tablet. Why?
The brain trust at Microsoft thinks this is a great idea. New computers will look and run more or less like their new flagship tablet called "Surface". They tout the virtues of "product integration" and "user ease". Some say this awkward product could be a company killer.
Facing the Firing Squad
It's not just Microsoft that has a stake in this dangerous venture.
The world's biggest PC-makers will be right there on the firing line with Microsoft. Every computer they build will run Windows 8 whether you like it or not.
So what if this "new beginning" is a big flop?
Well, don't take my word for it. "Flop" and "dud" are the words I'm reading right now in geek-friendly magazines as well as the popular press.
They Hate it Too
Let's check in at Silicon Valley. There the Personal Technology Columnist at the influential San Jose Mercury News, Troy Wolverton says he "hates" the system.
Why? Because Windows 8 is like a tablet program with huge icons that users are supposed to poke and squeeze as they would on a smartphone or other touch-sensitive device.
But computer users have spent thirty years using a mouse and keyboard to run their desktops and laptops. This new system leaves many testers baffled.
Another industry standard, PC World complains that the system has no "Start" button. The columnist, a computer expert asks, "How exactly are you supposed to navigate the Desktop without one?"
How about the popular press? The Christian Science Monitor calls the new design rollout "a move that risks confusing and alienating customers". The newspaper reports that even the children who tried Windows 8 were puzzled, and refused to use it.
And how about the business press? The specialists at InformationWeek say the software will be a dud in the commercial world. The publication says big business will not embrace the product as "enterprise software".
However, not all reviews of Windows 8 are negative. There are positive and neutral reviews as well.
How Bad Could It Be?
The comment of one business leader quoted anonymously in InformationWeek is the harshest I have ever seen.
She is quoted as saying, "it's the end of Windows…she has no interest in upgrading to Windows 8... and that Windows is the single most severe point of security [risk] in her corporate architecture."
Ouch.
The widely-read Mercury News of Silicon Valley calls it a system "for PC users to avoid". The result of a PC-user revolution against Windows 8 could be a disaster for Microsoft's notoriously boring stock.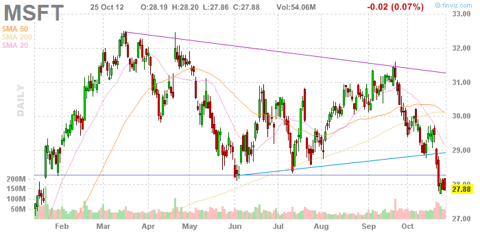 Right now the company is valued at a towering $236 billion, with a dividend yield of 3.28%. Microsoft has a juicy profit margin of more than 20%. But that could dry up if the computer experts in the geek press are right and consumers treat Windows 8 like Vista or the long-forgotten Microsoft device called the Zune.
And what about hardware makers. They operate on much slimmer margins, and giants like Hewlett Packard are losing money. If they all commit to Windows 8 and their products don't sell this Christmas, there will be blood in the streets.
I'm no computer expert but I know what I don't like. I also have a nose for trouble and I suspect that Microsoft is in for a big correction.
I suggest you go to a computer store to see if you agree.
If you do, then you will see the wisdom in shorting Microsoft and cash-starved computer makers like Dell (DELL) and Hewlett Packard (NYSE:HPQ).
Of course, if Windows 8 becomes a hit with users, then the stock may actually go up. I doubt this will happen, but it's always a possibility.
Action to Take:
Short with target of $24. Close position if MSFT rises above $ 28.75
Short with target of $8.00. Close position if HPQ rises above $15.00
Short with target of $6.00. Close position if Dell rises above $9.99
Happy Trading!
Disclosure: I have no positions in any stocks mentioned, and no plans to initiate any positions within the next 72 hours. I wrote this article myself, and it expresses my own opinions. I am not receiving compensation for it. I have no business relationship with any company whose stock is mentioned in this article.