Marvell Technology Group (NASDAQ:MRVL) is set to report its results for FQ3 2013 on November 15th. While the company had previously guided revenues of $800M - $850M for the current quarter, it recently revised its estimates to $765M - $785M on weakness in its storage segment. The firm further noted that its other segments - mobile & wireless, networking, and even the SSD subsector of storage - were tracking to expectations. The weakness really seems to be in traditional hard disk drives. However, there's more to the Marvell stock weakness than secular headwinds in the hard disk drive controller space.
Why Did The CFO Resign?
Wall Street hates uncertainty. The more risks and uncertainties that loom over a company's future prospects, the less people will be willing to pay for its shares. At the earnings warning, the former CFO Clyde Hosein announced his intention to leave after being with Marvell since 2008.
It is likely that the company saw its shares demolished on this news because, simply put, Hosein was quite liked by the investor community. Since his arrival in 2008, the company's gross margins have seen very healthy expansion: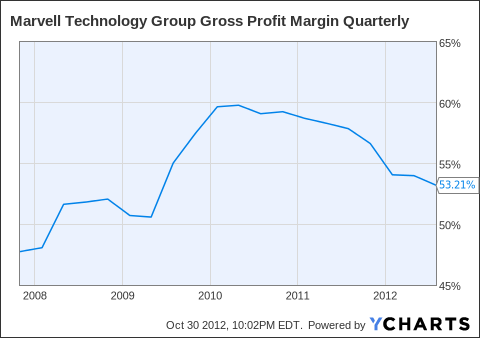 MRVL Gross Profit Margin Quarterly data by YCharts
Moreover, Marvell's commitment to return ~50% of FCF to investors via a healthy dividend (now yielding over 3%) as well as with share buybacks has generally proven to be quite shareholder friendly: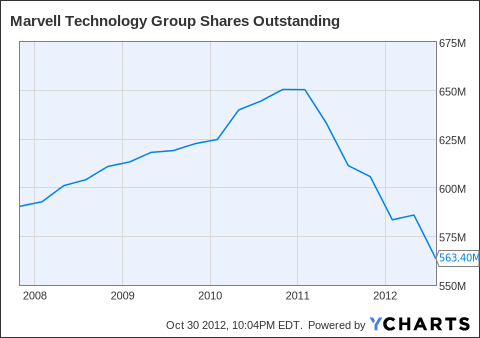 MRVL Shares Outstanding data by YCharts
However, he is not without his faults. For example, in FQ2, the company significantly missed the low end of its revenue estimates, and the company missed again when it issued its FQ3 warn. These misses reflect poorly on the now former CFO, and it is not inconceivable that he was shown the door after two consecutive blunders that significantly diminished investor trust. Look for more color here (and on naming a replacement) in the upcoming conference call.
Current Quarter Estimates
In my previous article, "Marvell Pre-Announces: No Near Term Catalyst To Support Long-Term Value", I devised a set of estimates for the quarter. The assumptions I made were that the company did not buy back shares in the quarter (a fairly loose one, so there is upside to my EPS estimates), and I assumed no change in operation expenses and gross margin from the guidance (downside here could be from an inventory write down, for example).
These estimates came up with a fairly broad range of $96M - $124M in non-GAAP net income or roughly $0.17 - $0.22 per share in non-GAAP EPS. This is well below the previously guided $0.22 - $0.26.
Q4 Guide
The Q4 guide is not likely to be particularly strong. Marvell's chief competitor, LSI Corporation (NASDAQ:LSI-OLD), reported revenue results at the low end of its guidance - $624M on a guide of $620M - $660M. Further, the company came well below the analyst consensus of $638M for Q4, guiding to $570M - $610M, implying that buy side estimates were much more pessimistic than the sell-side numbers. Even with these weak numbers, there was a fairly tangible short-squeeze in shares of LSI, gaining nearly 10% in the days following the report.
Further, Western Digital (NYSE:WDC), Marvell's largest customer, guided significantly down for its next quarter. This further confirms that Marvell will likely guide very pessimistically.
That being said, if the current quarter comes in at the midpoint of the guidance at $770M, we can roughly extrapolate the values that will be given in the Q4 guide. We can expect a sequential decline on the order of 2% - 9%, similar to LSI's guidance. However, while LSI's results imply a year-over-year increase despite a sequential decrease, such a guide would imply yet another year-over-year decrease (as has been the theme for the company this year). While Marvell's valuation is still more attractive than LSI's on a price/book, price/sales, price/earnings, and dividend basis, the simple fact is that FY2013 has been one of y/y contraction and not growth, hence it is assigned a bottom-basement, single-digit earnings multiple.
Conclusion
The expectations going into the report are very low. Marvell is trading near multi-year lows despite a significantly reduced share count, a >3% dividend yield, and a fortress of a balance sheet (~50% of the market cap is in net cash). While the hard disk drive industry is likely to see continued headwinds, there is so much pessimism surrounding the stock that any whiff of good news could be a catalyst to finally relieve some of the downside pressure on the shares. However, the company will need a few quarters to regain Wall Street's trust.
Disclosure: I am long MRVL. I wrote this article myself, and it expresses my own opinions. I am not receiving compensation for it (other than from Seeking Alpha). I have no business relationship with any company whose stock is mentioned in this article.