Advanced Micro Devices (NASDAQ:AMD) has been embroiled in competition with the much larger Intel (NASDAQ:INTC) for many years. Both companies make processors using the x86 architecture, which dominates the desktop, laptop, and server markets but has almost no presence in the mobile market. AMD has been struggling over the last few years and recently reported weak earnings and layoffs of 15 percent of their workforce. This sent AMD stock to levels not seen since the financial crisis in 2008-2009. Although the stock is highly speculative at this point, AMD bonds may offer an attractive opportunity.
AMD Bonds
There are a handful of outstanding AMD bonds, but only two are non-callable. The first is a 6% convertible note with a maturity of 05/01/2015 issued in 2007, and the second is a 7.5% senior note with a maturity of 08/15/2022 issued in August of this year. The prices of both bonds have declined sharply recently. (Data from FINRA.)
AMD 6% 2015 Convertible Note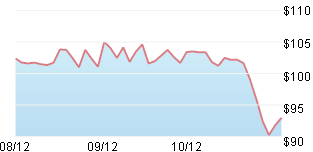 AMD 7.5% 2022 Senior Note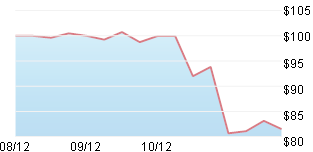 The 2015 note last traded at $94, while the 2022 note last traded at $83.140. The 2015 note is convertible for shares of AMD stock, but since the stock has slumped by so much since issuance that feature is essentially worthless.
In order to compare these bonds we need to calculate the yield to maturity of both bonds. The yield to maturity tells you the annualized rate of return if the bond is held to maturity. I'll use the Bargain Bin Yield To Maturity Calculator to do this calculation.
images
AMD 6% 2015 Convertible Note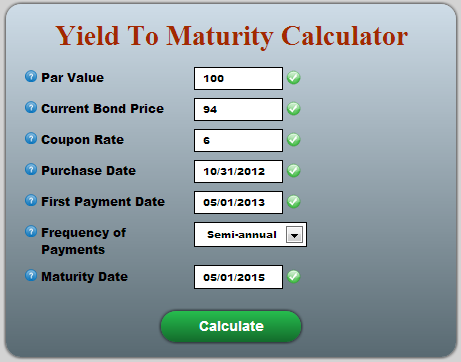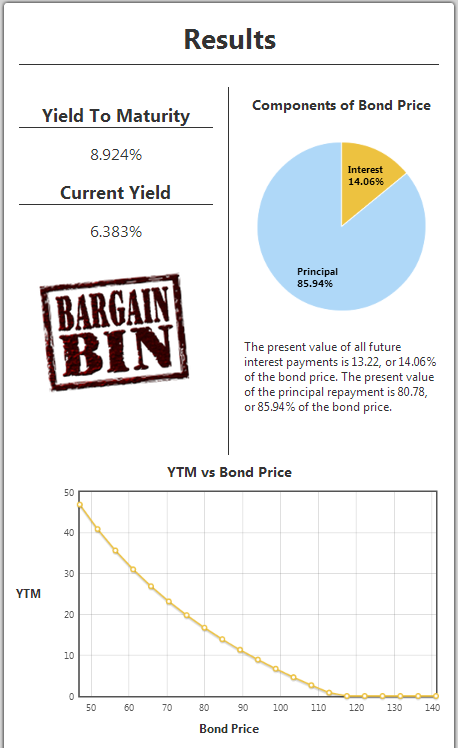 AMD 7.5% 2022 Senior Note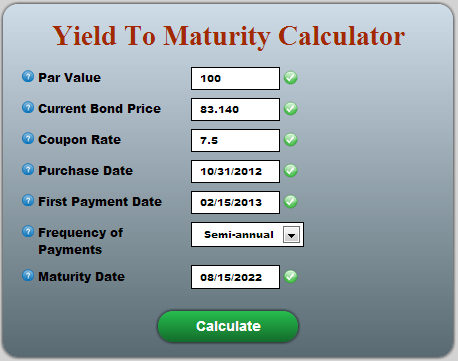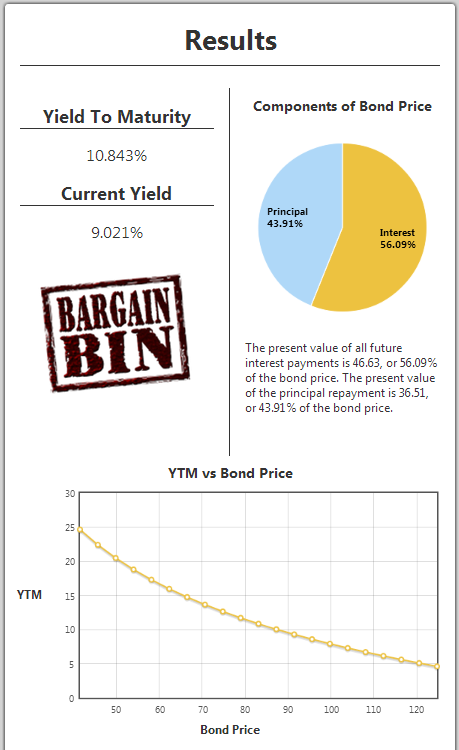 The 6% 2015 note has a yield to maturity of 8.924% while the 7.5% 2022 note has a yield to maturity of 10.843%. The 2015 note is much more sensitive to price since the maturity is much sooner than the 2022 note.
Are These Bonds Safe
Whenever you consider buying a bond it's important to consider the company's financial situation and judge whether or not the debt can be adequately serviced. First, let's examine the balance sheet as of September 29,2012. AMD has cash and investments totaling $1.48 billion and $2.04 billion in debt and debt-like obligations. In Q3 AMD spent $44 million on interest payments, which puts the company on pace to pay $176 million annually.
Although AMD has a large cash balance the company's free cash flow turned negative in Q3 of 2012. This certainly creates some risk, especially for the 2022 bonds, that the company will at some point be unable to service that debt. The large cash balance makes me believe that the 2015 notes should be fairly safe.
Conclusion
AMD is a company in transition, and as such both its stock and bonds have taken hits in price recently. The 2015 note offers a 8.924% yield to maturity with an maturity date only two-and-a-half years away, while the 2022 note offers a yield to maturity of 10.843%. The company has a fairly substantial cash balance which should allow for some safety in these bonds as profitability suffers in the short term.
Disclosure: I have no positions in any stocks mentioned, and no plans to initiate any positions within the next 72 hours. I wrote this article myself, and it expresses my own opinions. I am not receiving compensation for it (other than from Seeking Alpha). I have no business relationship with any company whose stock is mentioned in this article.