Should You Follow AutoZone (NYSE:AZO) Insiders' Actions or Words?
Repeatedly beating on 'double or nothing' propositions will inevitably lead to nothing. That is irrefutable. Dedicating all AZO's profits towards share repurchases is akin to this type of bet.
AutoZone's company officers have awarded themselves generous quantities of employee stock options over the years. Insiders have been huge net sellers of AZO shares to their own enrichment.
From December 2011 through August 2012 there were 32 reported insider sales (including simultaneous exercises/sales) versus ZERO buys.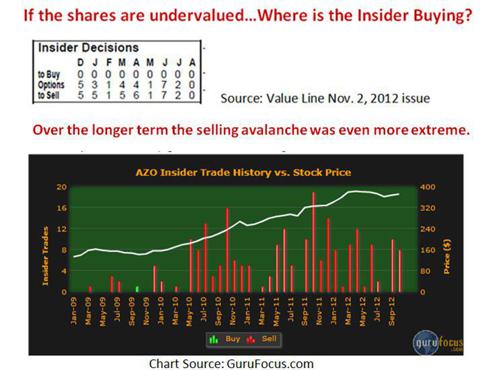 AutoZone's Board of Directors has spent and authorized share buybacks totaling $12.7 billion since 1998. That was more than 100% of the total net profits earned over that entire 14 years! AZO's reported net profits from the decade just ended in August, 2012 were a cumulative $7.0685 billion.
Insiders have saddled shareholders with about $3.7 billion in debt on a share base of less than 39 million. Book value went from a positive $6.61 per share at fiscal year-end 2206 to a negative (d$42.40) in the latest period (source: Value Line).
The destructive swing in shareholder equity was an astonishing $49 per share. That negative equity would look even worse if you note that $7.55 per share of that number represented intangible assets as of FY 2011.
Insider trading has been almost 100% on the sell side even as the Board continues issuing debt to absorb their own stock sales. Total insider ownership was recently down to only about 3% of the total.
Kohlberg, Kravis and Roberts (NYSE:KKR) had taken AZO private in 1984. They later IPO'ed it in 1991.
Officers and directors have been steadily decreasing their holdings at the same time they are buying with other people's money.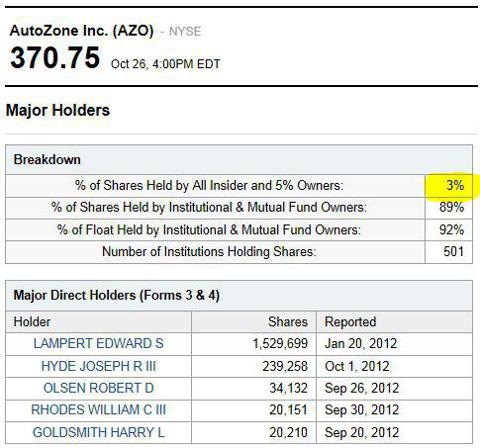 This company may be forced into bankruptcy whenever credit conditions next begin tightening or simply due to higher interest rates that make the debt burden unsustainable.
AZO repaid no debt in FY 2011 or 2012 while funding operations and maturing debt simply by rolling it over into ever larger obligations. Long-term debt skyrocketed from $1.194 billion in FY 2002 to about $3.72 billion as of Aug. 31, 2012.
By the time that happens Eddie Lampert and company officers will have extracted so much from stock sales that they won't be hurt. AZO shareholders, on the other hand, will likely be left with little or nothing.
U.S. Treasury bond prices are now artificially inflated due to extensive bond purchases by the Federal Reserve Bank. AZO shares have been similarly pumped up by massive debt-fueled share repurchases. Unlike the Fed, AZO cannot print money. You won't want to be a shareholder when the company's ability to rollover or expand their credit lines occurs.
Follow the insiders' actions - not their press releases.
The Trade: Sell or short AZO shares
Disclosure: I have no positions in any stocks mentioned, and no plans to initiate any positions within the next 72 hours. I wrote this article myself, and it expresses my own opinions. I am not receiving compensation for it (other than from Seeking Alpha). I have no business relationship with any company whose stock is mentioned in this article.