Today's topic is TASER International, Inc (TASR). The company's Q3 announcement here.
Business Summary
TASER International, Inc. develops, manufactures, and sells electronic control devices (ECD) for use in the law enforcement, military, corrections, private security, and personal defense markets. ECDs transmit electrical pulses along the wires and into the body affecting the sensory and motor functions of the peripheral nervous system. Its products for the law enforcement, military, corrections, and professional security market include the TASER X26 product line, which consists of TASER X26, various cartridges, a digital power magazine, data download software and equipment, extended warranties, and a range of holstering options and accessories; TASER X3, a multi-shot ECD that would engage three separate targets; and ADVANCED TASER M26 product line comprising the ADVANCED TASER M26, various cartridges, rechargeable batteries, a battery charging system, data download software and equipment, extended warranties, and various holstering options and accessories. The company also provides TASER XREP, a self-contained, wireless ECD that deploys from a 12-gauge pump-action shotgun; and TASER Shockwave security system for safety and stand-off capability during hostile situations. In addition, it manufactures TASER C2, TASER X26C, and ADVANCED TASER M26C devices for the personal defense market, as well as provides various cartridges and other accessories. The company sells its products worldwide through its direct sales force, distribution partners, online store, and third-party resellers. TASER International, Inc. was founded in 1993 and is headquartered in Scottsdale, Arizona.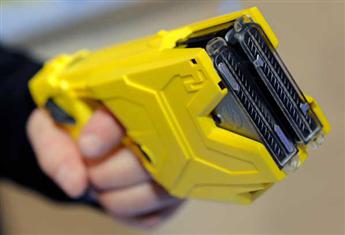 Revenue and net income
Lets start with Q3 revenue and profits. As you can see from the chart below, sales have been quite volatile and it is not the first quarter that the company registers $29 million in sales. What is however different is that these sales were completed in the third quarter.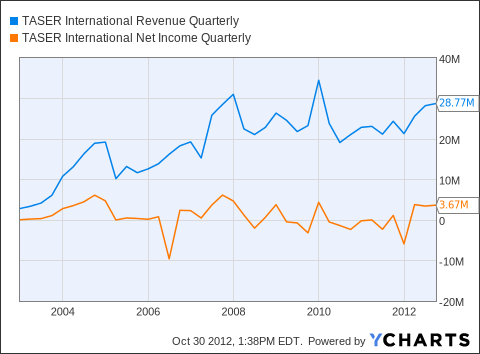 TASR Revenue Quarterly data by YCharts
The increase in sales was primarily driven by an extended upgrade program for TASER X2 devices. Sales also increased because the company offered a special discount on cartridges to distributors and thus, many took advantage and stocked up at lower prices. In a way, the company produced a lot of forward cartridge sales in Q3. To what extent sales will be affected in the future by this discount is hard to tell. However, the company also had a similar program in Q1 and it does not seem to have had a negative forward sales impact.
One of the most interesting things about this company is its stock buy-back program.
In Q1 of 2012 the company executed a $32.5 million stock buyback program, which resulted in 7.45 million shares purchased or 11.9% of the total shares outstanding as of 1/1/2011.
In April the company announced another buy back program of $20 million. As of the latest Q3 release, the company executed $3.9 in stock repurchases and from what I understand, the program is now completed.
The chart below shows the reduction in shares outstanding all through 2012.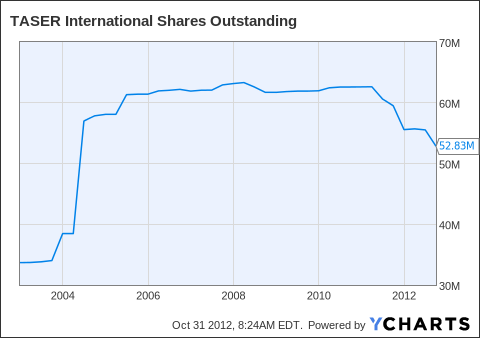 TASR Shares Outstanding data by YCharts
It is rare to see a company buy so much of their shares back and for me, this adds a premium to this stock. It also means that you have a very responsible management in place that has shareholder value in mind.
The company was able to generate about $23 million in cash from operating activities, even though it executed its stock repurchase program. The company will continue to produce quite a bit of cash in the future and it is unclear at the moment how this cash will be put to use. The company also has no debt and its balance sheet is of AAA quality.
Theoretically speaking, the company has the balance sheet capability to purchase another company altogether with cash and debt. That is one explanation for the big premium on the stock, which has a PE close to 100 at current levels.
The stock, as you can see from the two charts below, has come from a very long-term correction. I am not sure why it was priced so rich several years ago, but as with everything else, the market goes crazy from time to time. I am sure there are many disappointed shareholders that still have the stock and as I see it, have very few chances of ever getting their money back it they have bought at the peaks.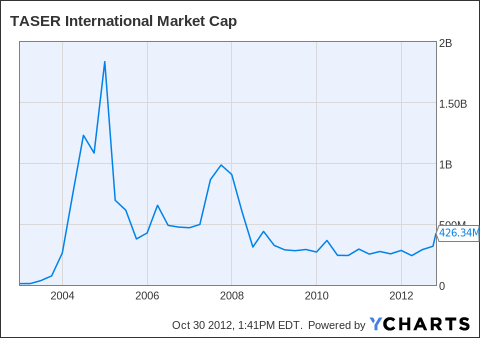 TASR Market Cap data by YCharts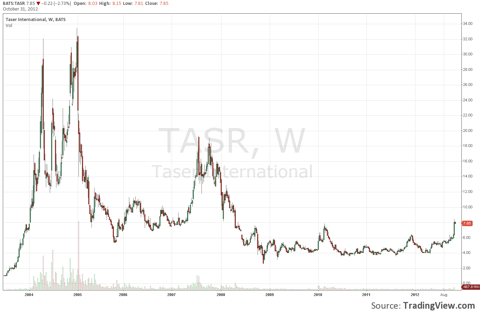 All this means is that the market once had very high expectations for this company. That is a good thing, because such expectations can under certain conditions propel the stock to much higher levels again in the future. And the truth is, such expectations can return relatively easily, because the market for the company's products is quite large and the company has very few international sales.
My take:
There is nothing about this company I don't like. I like management's style, the product line, their execution strategy and the fact that they look for ways to add value to the average shareholder.
However, this is a relatively expensive stock with the trailing PE at 92, Price/Book 5.5 and Price/Sales 4.
I think it would be a good idea to buy this stock in a general market correction and hope it drops below $6. I don't know if it is going to happen, but if it does, I think that's all the discount we will probably see.
Bottom line: Buy this stock if you can in a correction, for there is a risk that the stock will wait a while until the fundamentals can catch up. Which means that if you do buy this stock at current levels, you might have to wait for a while for some good price appreciation.
Other companies in the space to compare to, Sturm, Ruger & Co. Inc. (NYSE:RGR) and Smith & Wesson Holding Corporation (SWHC).
Disclosure: I have no positions in any stocks mentioned, and no plans to initiate any positions within the next 72 hours. I wrote this article myself, and it expresses my own opinions. I am not receiving compensation for it (other than from Seeking Alpha). I have no business relationship with any company whose stock is mentioned in this article.