Nucor Corporation (NYSE:NUE) reported better than expected third quarter earnings as metal margins came out better than what the sell side was expecting. Lower scrap cost was the reason for higher-than-expected margins. However, NUE is expecting Q4'12 earnings to decline sequentially due to high import levels, excess domestic supply, weak economic outlook, and seasonally weak demand in Q4'12.
In addition to declining steel mill profits, NUE is expecting LIFO credit to be approximately $0.05 in the fourth quarter, down from $0.16 in the third quarter. It is also expecting marginally higher start-up costs. The acquisition of Skyline was cash accretive in Q3'12 and is expected to be earnings accretive in Q4'12.
NUE has a strong balance sheet. It has $2.54 billion in cash and an additional unused $1.5 billion in a revolving credit facility with maturity in December 2016. The company has plans to pay $650 million in debt in 4Q'12 and finish the year with more than $1.5 billion in cash and equivalents. NUE has a dividend yield of 3.60 percent. The next dividend of $0.365 per share is due in November. With $2.54 billion in cash and an operating cash flow (TTM) of $1.47 billion, it should be able to pay its 157th consecutive dividend.
Due to its strong balance sheet and a track record of cash discipline, we believe NUE, especially in comparison to its peers, is in a strong position and has value for long term investors. Despite operating at only 71 percent of its capacity, NUE is delivering consistent results. We believe NUE's strategy to move up in the value chain for a majority of its products should result in better margins and more stable end markets. However, NUE is still facing challenges in the commercial construction market, which along with a weakening SBQ market remains a headwind. Residential construction market is showing signs of improvement but NUE's exposure is in the commercial construction market, which is expected to improve slowly in the coming years.
Keeping in mind that approximately 60 percent of NUE's volumes are construction related, we believe NUE is relatively overvalued on a short term earnings outlook and investors who are looking for capital appreciation should wait for a better entry point. However, the stock yields value for dividend seeking and long term investors.
Q3 Earnings Review
Nucor, the largest U.S. steel maker by market value, reported a net income of $110.3 million, or adjusted third quarter earnings of $0.45 per share, beating consensus estimates by 2 cents. The Q3 earnings are also better than the recently announced adjusted earnings guidance range of $0.39 - $0.44. However, the adjusted EPS of $0.45 is down 3.6 percent sequentially and 22 percent y/y. The adjusted EPS includes a negative impact of $28.2 million ($0.06 per share) from the Skyline Steel acquisition and 4 cents per share ($17.6 million) loss on the sale of Nucor Wire Products.
Net sales of $4.8 billion were down 6 percent sequentially and 8.6 percent y/y. Gross margin was down to 7.3 percent, from 8.7 percent in the same period last year. Net income of $110.3 million is down 39 percent, from $181.5 million in Q3'11.
Total shipments of 5.77 million tons were down 2.7 percent, from second quarter shipments of 5.93 million tons, and were flat y/y. Steel mill related shipments were down 3 percent sequentially and 1 percent y/y. Cold finished steel saw the biggest sequential decline of 10 percent, but shipments were flat y/y.
According to Nucor, its earnings reflect reduced operating profits at the mills, especially in sheet and plate. Average sales price per ton decreased to $832, representing a 3.4 percent sequential and 8.4 percent y/y decline. Scrap costs also decreased 15 percent y/y and 11 percent sequentially. According to Nucor, the increased import levels have resulted in lower steel mill margins for the company. Total steel product imports for 2012 will see a huge increase of 43 percent from 2010 and 21 percent from 2011, according to the U.S. Census Bureau. Moreover, excess domestic supply of sheet steel has further negatively impacted Nucor's earnings.
Capacity utilization was 71 percent in the second quarter, down from 76 percent in the second quarter and 74 percent in the same quarter last year.
4Q Guidance
Company expects further sequential decline in earnings in Q4'12. As mentioned previously, high import levels, increased domestic supply, and sluggish internal and external economic growth are expected to be headwinds for the rest of the year.
NUE claims that energy, automotive and heavy equipment continue to be the strongest end markets whereas the construction market continues to be very challenging." Analysts are expecting 4Q'12 consensus EPS of $0.36.
Company Overview
Nucor Corporation, headquartered in Charlotte, manufactures steel and steel products. NUE also produces direct reduced iron (NYSE:DRI) to use in the company's steel mills. Nucor is the largest U.S. steel producer by market cap. It is also the largest North American recycler. NUE has three main reporting segments: Steel Mills, Steel Products and Raw Materials. Steel Mills accounted for 70 percent of 2011 revenue. Steel Products and Raw Materials segments generated 17 percent and 11 percent of the total revenue in 2011, respectively.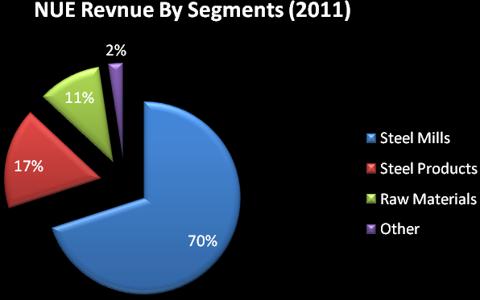 Qineqt Calculations and Company Documents
Financials
NUE is trading at a forward P/E of 13.45x. It has a PEG ratio of 3.34 and long term growth rate of 7 percent. It also offers a very attractive dividend yield of 3.60 percent. It has a total debt of $4.31 billion, against total cash of $2.12 billion. The company is expecting to finish the year with more than $1.5 billion in cash.
| | | |
| --- | --- | --- |
| Comp Sheet | NUE | US Steel (NYSE:X) |
| Forward P/E (1 year) | 13.45 | 9.88 |
| PEG ratio (5 year expected) | 3.34 | 2.42 |
| EV/EBITDA | 9.16 | 5.8 |
| Dividend yield | 3.60% | 0.90% |
| Long-term earnings growth rate | 7.13% | 6.50% |
| Share price Performance (YTD) | -1.00% | -25.00% |
Source: Yahoo Finance
NUE is trading near $40, an increase of 17 percent from its 2012 low of $34.4 on May 18.

NUE YTD Stock Performance (Source: Yahoo Finance)
Risks to our analysis
Imports - As mentioned earlier, imports of steel making products into the U.S. have increased considerably in recent years. If the next few years also see a significant increase in imports of steel making products, demand for domestic steel producers' products will go down and impact their earnings negatively.
Macroeconomic Factors - Steel industry and steel equities are cyclical in nature and demand for steel products depends heavily on the health of both the internal and the external economy. A slowdown in the global economy, and the North American economy in particular, could hurt the demand for steel products and, therefore, decrease Nucor's earnings.
Scrap Costs - NUE's steel making process depends heavily on scrap. Volatile scrap prices, especially when NUE is not able to pass those costs onto customers, could dent earnings. On the other hand, a large decline in scrap prices would reduce costs and boost profitability.
Disclosure: I have no positions in any stocks mentioned, and no plans to initiate any positions within the next 72 hours.
Business relationship disclosure: The article has been written by Qineqt's Basic Materials Analyst. Qineqt is not receiving compensation for it (other than from Seeking Alpha). Qineqt has no business relationship with any company whose stock is mentioned in this article.