From the Beijing Olympic Games to war on Russia's doorstep to the DNC Convention and Hurricane Gustav, 2008 livened up the dog days of August and, not to be undone, Search followed suit. Google (NASDAQ:GOOG) set a new record in August, gaining query volume and market share again as rival engines struggled.
All rivals ceded market share to Google, though Club Live continued to mitigate the dip at Windows Live.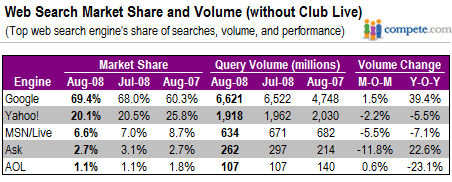 (Note that these figures are slightly different than last month's due a minor methodology change.)
Google received nearly 40% more queries from the US Adult population then it did in August 2007, continuing a trend of steady query growth over the past 12 months. Meanwhile, Yahoo! (YHOO) declined 5.5% and Windows Live (without Club Live) fell 6.1% compared to last month last year. The story is a bit different when we factor in Club Live – with it, Windows Live actually gained 6.1% share compared to a year ago.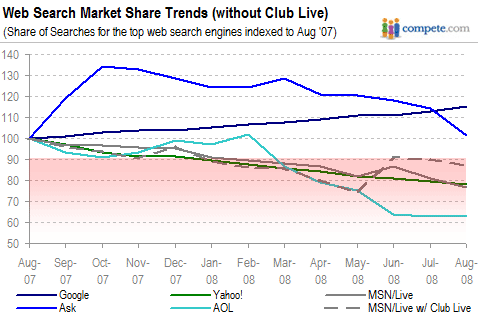 The major takeaways for August 2008 (excluding Club Live from the market)….
Google sets new record of 69.4% share on 1.5% m-o-m query volume gains
Yahoo! dips to 20.1% market share on 2.2% m-o-m query volume decline
Windows Live Search drops to 6.6% market share (with Club Live, this jumps up to 10.2%, though m-o-m query volume still declines)
Ask share dips slightly to 2.7% on a nearly 12% m-o-m decline in volume
AOL holds on with 1% search share on flat query growth
Next up … the rush Back to School in September!