Indian stocks and exchange traded funds rebounded as the local government loosened restrictions on foreign investment. Assets under management in the biggest focused ETFs saw a nearly 30% increase in new capital.
"A lot of big western foreign institutional investors have over the last two months bought India dedicated ETFs to catch up with Indian markets post the unexpected reforms announcement by the government. Since the Indian markets are illiquid, it's easier for them to participate or catch the momentum using the ETF route," Saurabh Mukherjea, head of institutional equities at Ambit Capital, said in a report.
The WisdomTree India Earnings (NYSEARCA:EPI) has gathered AUM over $1 billion in the past few months, while the PowerShares India Portfolio (NYSEARCA:PIN) is at $386 million in AUM. Previously, EPI has $$700 million in assets while PIN had $300 , million, according to India ETFs data.
The iShares MSCI India Nifty Fifty Index ETF (NASDAQ:INDY) has seen the largest rise with its assets going up 54% in 2012. The ETF touts $294 million in total, from a previous $225 million.
According to Benzinga, the current valuations for India ETFs are compelling. WisdomTree re-balanced the India Earnings Index, the index EPI tracks, in late September and that dragged the index's P/E down to 8.8. PIN's P/E ratio at the end of September was 14.85.
Indian markets have gained about 20% in dollar terms this year, reports Nitin Shrivastava for Daily News and Analysis. Indian corporations are posting decent earnings profiles and the possibility of a better macroeconomic picture for the country is leading the surge. The Bank of India has hinted at interest rates cuts which would give way to a further rally in India ETFs. Should the government put into action the recent announcements, these funds would suit investors for some time.
iShares MSCI India Nifty Fifty Index ETF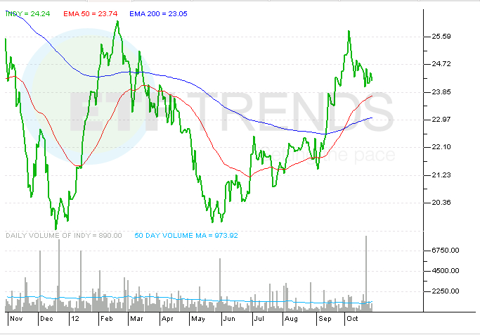 Tisha Guerrero contributed to this article.
Disclosure: I have no positions in any stocks mentioned, and no plans to initiate any positions within the next 72 hours. I wrote this article myself, and it expresses my own opinions. I am not receiving compensation for it. I have no business relationship with any company whose stock is mentioned in this article.