The word "deleveraging" has been used and overused since the crisis took root, and the process is a debt cleansing of sorts -- payoff, restructure, default -- that will eventually allow the consumer to resume a normal economic life. The housing industry -- the one segment that still keeps the Fed up at night and is likely to benefit from deleveraging -- is showing signs of a recovery. Although considering other macro readings -- manufacturing and unemployment, for example -- the projections may be a little foggy. Let's consider the S&P/Case-Shiller house price index, and the positive readings over the last three months.
(click images to enlarge)

We can easily observe that a similar price rebound took place during the summer of 2010, and although the celebratory mood is in place, a continuation of the trend must hold after the busy real estate season ends. We won't know until early 2013, and thus far, we're able to derive that a stabilizing effect is in play.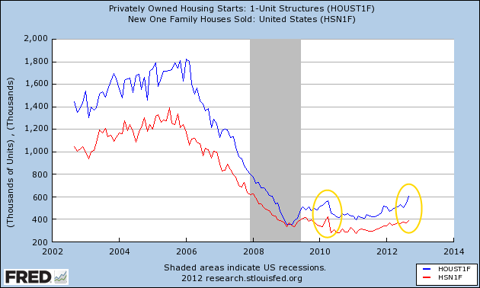 The chart above includes 1-Unit (single family homes) housing starts and 1-Unit house sales, and the yellow ovals highlight similar points in time. I view the blue line (housing starts) as a reflection of builders' sentiment, not necessarily demand. As a matter of fact, if trend lines are drawn between the peaks of the 2010 period and today, one would see a mild increase in housing starts contrasted with a mild decrease in house sales, and builders' sentiment may be running ahead of reality. Let's hope that they're right. A note must be made that the high mark for the NAHB's Housing Market Index was 22 in 2010, and it stands at 41 as of the last reading -- an improvement without a doubt, despite being in negative territory.
But we must look at the deleveraging argument because lower debt payments do free the consumer to engage in spending. As a matter of fact, Bloomberg published the article "Consumers Paying Down Debt Helps Boost U.S. Expansion" a little over two weeks ago:
"The household deleveraging process is largely over," said Mark Zandi, chief economist at Moody's Analytics Inc. in West Chester, Pennsylvania. "Credit use should soon go from being a significant headwind to the economy to a tailwind."
But did deleveraging ever happen? One would think that the data would support the argument, but I'm not sure, unless something is amiss. An adjustment to consumer credit was made by the Federal Reserve, and I addressed the event in a previous article. In short, as I wrote, "The December 2010 spike is the result of non-revolving credit being increased by $145 billion..." It goes without saying that a job is usually a prerequisite for a loan approval, and we cannot look at consumer debt in a vacuum, because for every $1 in debt, there must a person that is able to pay it.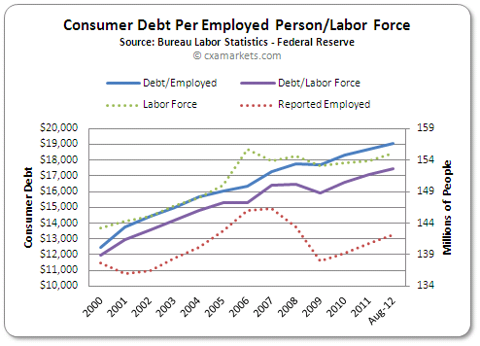 The chart above was constructed with consumer credit (debt) and unemployment data, and we can observe that the average consumer debt per employed person decreased only slightly between 2008 and 2009 -- $106 to be precise -- and while the average employed person carried $17,783 in debt in 2008, that amount is now $19,035. The average debt per person in the labor force -- job or no job -- only decreased $553 between 2008 and 2009, and the average amount of debt is now $17,459, compared with $16,484 in 2008. Certainly student loans are in the mix, and, without a doubt, that will come home to roost. But if consumers have been paying down debt and banks charged off bad debt, shouldn't we see a meaningful decrease in consumer credit? Instead, we have a heavier average debt burden carried by those can pay for it -- those with a job.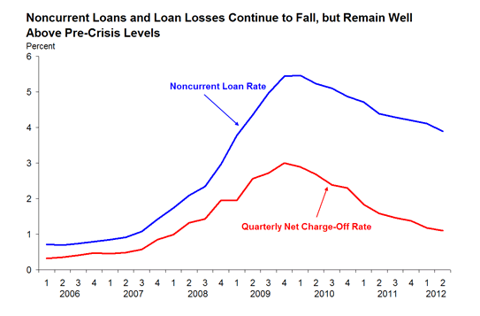 Over five years into the housing crisis, noncurrent loan and charge-off rates are still extremely elevated, according to the FDIC. The noncurrent loan rate in 2006 was 0.71%, compared with 3.89% during the second quarter of 2012. The high point was 5.46% during the first quarter of 2010, and although it stands 1.57% below the peak, it is still 3.18% above historical values. In addition, the charge-off rate is still three times larger than it was during 2006 -- 1.10% vs. 0.32%. How much of the noncurrent loan load will translate into foreclosures remains to be seen, but the "deleveraging" process appears to be in its infancy.
Narayana Kocherlakota, president of the Federal Reserve Bank of Minneapolis, delivered a speech yesterday defending the Fed's actions, and he spelled out an often overlooked and glaring truth:
But the U.S. economy is recovering from the largest adverse shock in 80 years -- and a historically unprecedented shock should lead to a historically unprecedented monetary policy response.
While everyone looks for signs of a recovery, let's not forget that the time period Kocherlakota refers to - the Great Depression -- required a generation to dig out from under, and World War II helped the economic engine. Meanwhile, the European project is on the ropes, and the BRIC story is quickly turning into a nightmare, and that is not the help we need.
Disclosure: I have no positions in any stocks mentioned, and no plans to initiate any positions within the next 72 hours. I wrote this article myself, and it expresses my own opinions. I am not receiving compensation for it (other than from Seeking Alpha). I have no business relationship with any company whose stock is mentioned in this article.