Vivus Inc. (NASDAQ:VVUS) stock has been under pressure for the last two weeks going down by over 30% in the process. With the first new obesity treatment to reach patients in 13 years, shouldn't the stock be flying? So why are Vivus shareholders taking a bath instead of a champagne shower?
When biotechs make the transition from no approved products to marketing authorization, sales must deliver on the market's expectations to reach pre-launch valuation levels. After Vivus received approval for Qsymia from the FDA, the stock rocketed over $30 and a market cap over $3B. It settled back down after approval, as many biotechs do, to a more reasonable market cap of around $2.3B.
In order to justify such a valuation, sales must meet analyst expectations or the market will re-evaluate what the stock should be worth. Credit Suisse analyst Lee Kalowski forecasts Qsymia sales of $12M for Q4 2012. This would equate to filled prescriptions of approximately 100K. I do not have access to IMS Health script figures directly, but according to Bioworld, there were only 2,000 patients on Qsymia after 4 weeks of being on the market and week over week script growth fell from 400-500% down to just 30%.
This weak launch for the drug has likely been the culprit for the selling pressure on VVUS over the last two weeks. This pressure can be seen clearly in its chart and given the stock is now trading in a gap from February 18th, it is likely the stock will drop further to fill that gap back down to $12 barring a quick jump in Qsymia scripts or some other positive news out of the company on its November 6th conference call.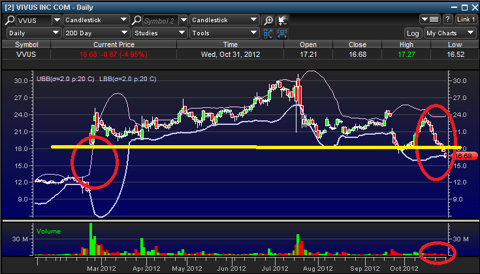 During the same period as the sell-off of Vivus, Arena Pharmaceuticals (ARNA,) has continued a two month consolidation as investors await the DEA scheduling of Belviq and the Q1 marketing launch by its partner Eisai Pharmaceuticals. Like Vivus, Arena's value will ultimately be decided by the market success of Belviq.
Those who have researched this space know that Belviq is the first truly novel drug approved in the last 13 years. Although it doesn't come with the same average weight loss as Qsymia, it has a far better safety and tolerability profile. It reduces blood pressure, heart rate, cholesterol and blood glucose in addition to weight. In fact, it is the first weight loss drug ever approved with this nice of a safety profile. In medicine, physicians are schooled to first do no harm. For most patients, doctors will always prescribe the safest drug first.
When you holistically consider Belviq and understand that this is a drug that can help about half the people who take it lose clinically meaningful weight along with the low-risk nature of trying it and perhaps most importantly, the average HbA1c reduction of .9, you have a drug profile that lends itself to liberal use for tens of millions of patients.
So the only question remaining is will physicians embrace Belviq or will they cautiously prescribe it like is apparently happening with Qsymia? Investors will just have to wait until February or March 2013 when Belviq hits local pharmacy shelves and we start to get insight into the weekly script figures. Until then, ARNA will likely continue to be range bound in the absence of news and VVUS will likely fall further if the weekly script growth doesn't increase. But if Belviq can gain acceptance in the medical community, Arena has a good chance of following the valuation footsteps of Alexion (ALXN) Celgene (CELG).
Disclosure: I am long ARNA. I wrote this article myself, and it expresses my own opinions. I am not receiving compensation for it. I have no business relationship with any company whose stock is mentioned in this article.