I got interested in investing when, as a teenager, I was handed a book that discussed the magical power of compounding. The idea of bringing forward my future retirement by a couple of decades by investing early and allowing compounding to work for me seemed quite delightful. My initial investment forays were into mutual funds and then real estate. I got turned on to investing in publicly traded stocks when, a few years later, I started reading Warren Buffett's letters to shareholders. His concept of taking a business valuation approach to investing in order to beat a volatile and volatile Mr. Market intrigued me. I continued reading Buffett's shareholder letters and armed myself with his basic principles and set out to battle Mr. Market.
The one Buffett principle that I try and keep first and foremost in my mind is his famous rule No. 1, which is "don't lose money." I also try and stay aware of Buffett rule No. 2, which is "don't forget rule No. 1."
Wildcat Exploration Drilling -- How Do You Apply Rule No. 1?
The business model of an offshore exploration company is to go out into the middle of the ocean and drill a well that costs over $100 million, with a success rate that is likely somewhere around 1-in-5. The prospect sizes are enormous, so if they hit oil chances are it is going to be a monster find. However, if they don't hit oil, you have just flushed $100 million down the toilet.
The business model of an exploration company obviously does not fit well with my investing style, which is based on Buffett. Exploration success equals a big win for investors, while exploration failure equals a big loss (all of the cash invested in the well). It is hard to invest in these companies and believe you are following Buffett's rule No. 1.
This presents a bit of a problem for me because I really enjoy following wildcat exploration companies.
Exploration Wells That I Have My Eye On -- Cobalt International
Cobalt International (NYSE:CIE) is my favorite offshore explorer to follow. It isn't hard to see why, as the company is a pure explorer that has amassed a large portfolio of elephant-sized deepwater prospects. Cobalt is an explorer on two fronts, the Gulf of Mexico and offshore Africa.
At the start of 2012, Cobalt's share price roared from $10 to over $30 on news of a monster discovery in offshore Angola, which tested at 7,400 boe/day. Since then, Cobalt shares have drifted back down near $20 as Mr. Market, with his constant need for action, has grown bored. That has me wondering if now might not be a good time to get interested in Cobalt again before it drills its next exploration wells.
That next well is Cobalt's Mango prospect, which is also in offshore Africa, this time Gabon. The Mango prospect is the first of several prospects identified on Cobalt's blocks in offshore Gabon. Like offshore Angola, success here could result in a monster discovery.
Click to enlarge images.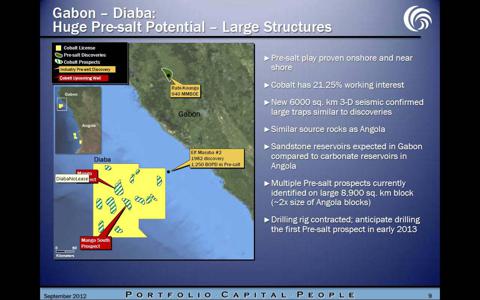 But before the first Gabon well is drilled, Cobalt shareholders will already have news from the Gulf of Mexico where Cobalt's North Platte prospect "spudded" (the process of beginning to drill a well) in the third quarter of this year, and from which results are expected by year-end.
The North Platte complex has six exploration prospects with over 2 billion barrels of resource potential. The first North Platte well is targeting 400 million to 850 million barrels of that. Again, success would be a step up in value for Cobalt shareholders.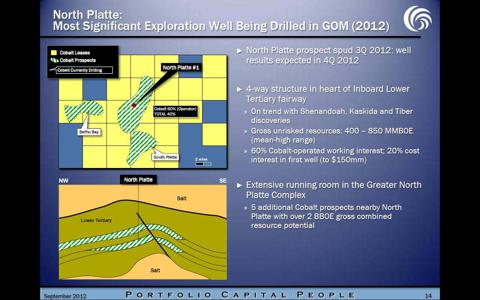 With the recent fall in Cobalt's shares from over $30 back close to $20, I think Mr. Market may have already forgotten about the Angola success. If either of these next two wells are successful, both $20 and $30 share prices could well be in the rearview mirror for Cobalt shareholders.
Of course, offshore exploration is risky business, and both wells could also come up dry.
Disclosure: I have no positions in any stocks mentioned, and no plans to initiate any positions within the next 72 hours. I wrote this article myself, and it expresses my own opinions. I am not receiving compensation for it (other than from Seeking Alpha). I have no business relationship with any company whose stock is mentioned in this article.