A leader in trucking transportation and logistics, Ryder Systems (NYSE:R) topped earnings and EPS estimates, but missed revenue targets. It is yet again an example of an industrial that has missed the sales estimate, but made higher than expected profits. This solidifies Qineqt's stance that industrials this year are trimming their cost structures, but have not found enough sales coming their way to provide impressive results on the earnings release. Earlier on, Harley-Davidson (NYSE:HOG), the manufacturer of stylish motorbikes also missed revenue estimates, but exceeded EPS expectations. Similarly, Caterpillar (NYSE:CAT), the giant equipment manufacturer, Norfolk Southern (NYSE:NSC), U.S.-based railroad, Chicago Bridge & Iron (NYSE:CBI), the engineering & construction company, and several other manufacturers missed sales expectations but exceeded EPS estimates. The positive news for Ryder investors was that the company raised its full year outlook to $3.93-$3.98, from the prior guidance of $3.75-$3.9.

The company reported a higher quarterly profit, which was achieved with the help of cost cuts, a reduced fleet and sales of used vehicles. The improved guidance was given as the company expected growth in its largest product line, full service lease. Under a full service lease, Ryder offers scheduled maintenance and roadside assistance.
The company has two major segments: Supply Chain Solutions (SCS) and Fleet Management Solutions (FMS). SCS helps to optimize customer supply chain systems. The transportation of materials from raw form to the final product is Ryder's SCS responsibility. FMS, on the other hand, provides full service lease. One of its most important sub-segments is commercial rental service, which rents fleets to different companies on an immediate basis in order to address short-term capacity needs.
FMS, from where the company makes 65% of its revenue, reported a revenue increase of 1% year over year (YOY). This was helped by a 5% increase in revenue from full service lease, due to higher prices on replacement vehicles and organic fleet growth. Despite the economic slowdown, the revenues for this segment have been on a rise due to the different acquisitions made by the company. The Hill-Hire acquisition in 2011 was a significant deal for this segment. The rental fleet utilization was 77%, down 190bps YoY. However, the utilization improved in the second half of 2012, after the fleet right-sizing actions of the company.
SCS's revenue remained flat for the year. Where the automotive industry gave higher volumes on a YoY basis, the segment's revenue was dented by lower performance in the consumer packaged goods.
Conclusion
Despite a weak economy, the company was able to deliver more than market expectations due to cost restructuring. Maintenance costs were also low, as the company has a young fleet of trucks. The stock was upgraded by Sun Trust's Robin Humphrey some weeks back. The analyst upgraded the stock, as the stock is trading at very cheap and low-end multiples. According to him, the stock is trading below its fair value, as the market perceives that the overall transportation industry is on a decline. Also, Ryder is a member of the Dow Jones Transportation Index, which is on a decline as well. Also, Ryder, for no reason, has underperformed both the DJTA and the S&P 500.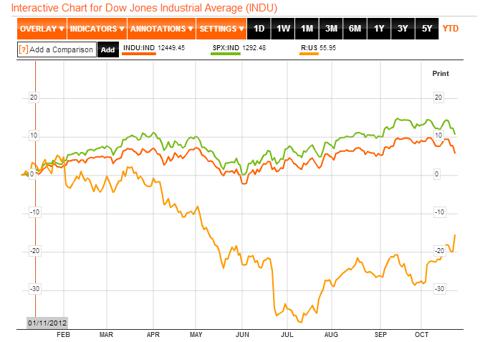 The company is currently trading at a forward multiple of 9x, which is close to its 5-year low of 8.6x. The company also provides a solid dividend yield of 2.71%. The stock's target price set by Sun Trust is $48, whereas Baird has raised the target price from $50-to-$57. Given such cheap valuation and a healthy dividend yield, the stock is recommended as a buy.
Disclosure: I have no positions in any stocks mentioned, and no plans to initiate any positions within the next 72 hours.
Business relationship disclosure: The article has been written by Qineqt's Industrials Analyst. Qineqt is not receiving compensation for it (other than from Seeking Alpha). Qineqt has no business relationship with any company whose stock is mentioned in this article.