Assets in global ETFs and ETPs reached a new record high of $1.86 trillion at the end of Q3, surpassing the prior record of $1.76 trillion set at the end of August 2012. Global ETFs and ETPs gathered $188 billion of net new assets year-to-date through the end of Q3 2012, setting a new record high and surpassing the prior record of $140 billion gathered through Q3 in 2008, according to findings in the upcoming 'ETFGI Global Industry Insight, Q3 2012' report by ETFGI, an independent research and consulting firm covering the global ETF and ETP industry.
This growth represents a percentage increase of 21.7% from $1.53 trillion to $1.86 trillion in the 4,690 ETFs and ETPs, with 9,626 listings, from 204 providers on 56 exchanges.
The challenging market conditions currently and over the past few years, combined with the difficulty in finding active managers that consistently deliver alpha, have caused investors to embrace the use of ETFs and ETPs. ETFs provide greater transparency in relation to costs, portfolio holdings, price, liquidity, product structure, risk and return compared to many other investment products and mutual funds.
Through the period ended Q3, equity ETFs and ETPs gathered the largest net inflows accounting for $111 billion, followed by fixed income ETFs and ETPs with $50 billion and commodity ETFs and ETPs capturing $17 billion.
The chart below shows the top 20 ETFs listed in the US which had the largest net new asset flows.
Through the end of Q3 2012, of the $152 billion of net inflows into ETFs, $71.5 billion went into the top 20 products listed below. Vanguard MSCI Emerging Markets ETF (NYSEARCA:VWO) has been the most popular ETF so far in 2012 with net inflows of $11.5 billion.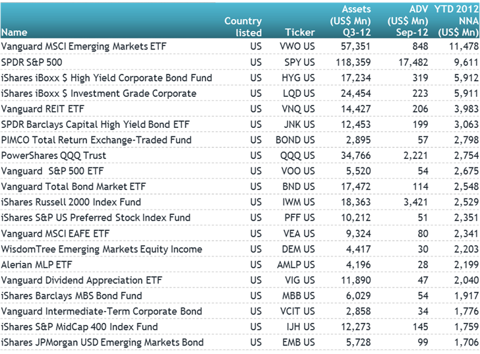 Recent flows show that investors have moved to a "risk on" stance. Equity focused ETFs and ETPs have gathered $111 billion YTD, which is $20 billion more than the NNA flows they received in all of 2011. Products providing exposure to the United States/North American equities have gathered $63 billion, followed by emerging market equity with $28 billion and Asia Pacific equity with $7 billion.
Fixed Income ETFs and ETPs have also proven to be very popular this year with $50 billion in NNAs, which is $4 billion more than the total new assets they received last year. Within the Fixed Income universe corporate bond products have gathered the largest net inflows with $20 billion, followed by high yield products with $14 billion. Emerging market and broad/aggregate bond exposures each captured just over $5 billion.
Commodity flows at $17 billion are nearly $2 billion more than full year 2011 NNAs. Precious metals have gathered the largest net inflows with $15 billion, followed by broad commodity products with $2 billion.
Disclosure: I am long VWO in my IRA. I wrote this article myself, and it expresses my own opinions. I am not receiving compensation for it. I have no business relationship with any company whose stock is mentioned in this article.
Disclaimer: This commentary is published by, and remains the copyright of, ETFGI LLP ("ETFGI"). This commentary may only be used by the permitted recipients and shall not be provided to any third parties. ETFGI makes no warranties or representations regarding the accuracy or completeness of the information contained in this commentary.
ETFGI does not offer investment advice or make recommendations regarding investments and nothing in this commentary shall be deemed to constitute financial or investment advice in any way and shall not constitute a regulated activity for the purposes of the Financial Services and Markets Act 2000. Further, nothing in this commentary shall constitute or be deemed to constitute an invitation or inducement to any person to engage in investment activity. Should you undertake any such activity based on information contained in this commentary, you do so entirely at your own risk and ETF Global Insight shall have no liability whatsoever for any loss, damage, costs or expenses incurred or suffered by you as a result.