We suggest investors not take any position in Solazyme (SZYM) due to its continuous deteriorating profitability, lack of product commercialization, operational inefficiencies and inability to achieve growth. Its business model of producing oil through algae is a matter of concern for investors. The company's lack of SKUs in its skin care segment, limited distribution network and heavy third party dependence will render its revenue contribution stagnant going forward. Solazyme's financial problems, its inability to design a worthwhile manufacturing facility, and the delay in regulatory approval for the sale of microalgae oil-related products would trouble the company further.
Company Description:
Solazyme is involved in the production of renewable oil through converting a variety of plant-based sugars into oil. The company has diversified its business operations into three segments, namely, Skin and Personal Care, Nutrition, and Fuel and Chemicals. The company's biotechnology capability enhances its oil extraction ability from microalgae. It is involved in the selling of renewable oil for jet fuels, marines and vehicles, and in the replacement of some chemicals that are extracted from conventional oil. In its Nutrition business segment, the company provides food-based ingredients with low cholesterol, saturated fat and low level of calories to packaged goods companies.
We are not particularly approving of Solazyme's business model of producing high-value oil from biomass algae. As algae is an essential ingredient in the production of food, its increasing use in oil production is decreasing its availability to food manufacturers. The company is facing threats from the California Air Resources Board and the Environmental Protection Agency (EPA) with regard to its sales of jet fuel and diesel oil. We believe the use of such an important food raw material in oil production would constrain algae's supply, eventually increasing its prices and leading to more food inflation. Moreover, due to hurricanes, floods, drought and a rapidly increasing population, the world is already facing a food crisis. The United States Department of Agriculture expects the recent drought in the country to push food prices up considerably in the fiscal year 2013. In such circumstances, producing oil through nutritional plants is not a good idea. In our opinion, Solazyme's business will be affected by food availability. If the company increases its business activity, it will further enhance the food shortage in the country, as the United States already faces low agricultural yields because of the recent drought.
In our opinion, the company starting its large scale fuels and chemicals plant in the fourth quarter of 2013 is a gamble. We do not foresee a future for oil generation through algae, and expect stringent government regulations pertaining to the business.
Skin And Personal Care:
The company sells its skin and personal care products under the brand name Algenist, and distributes its products through QVC and Sephora. Product manufacturing and packaging is heavily dependent on third party contractors. Its limited product range, along with few SKUs, would not help the company earn a significant amount of revenue from this segment.
Fuel And Chemicals:
We can foresee the company facing a lot of financial problems in the construction of its 100,000 million ton plant in Brazil. The company's deteriorating profitability situation is a matter of concern for creditors.
Nutritionals:
Solazyme has good future prospects in its Nutritionals business segment. The company sells its products, made from algal strains, through a subsidiary called JV, which was formed by Solazyme and Roquette through equal amounts of equity injection. JV operates a 300 metric ton plant in France, and is expected to expand in the coming period. We expect more product development and more customers in its food and beverages segment due to rapidly growing food demand. Currently, the company is not able to get approval from Roquette's board for a 45,000 MT plant facility.
Financials:
The company's net income has decreased continuously over the course of last four quarters, as depicted in the graph below. It has not been able to generate profits since inception, which shows its poor business and operational performance. The company's gross and operating margins have also decreased over a period of time, primarily because of its cost inefficiencies and increased selling, administration and R&D costs.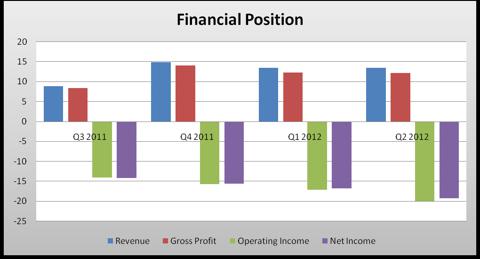 Stock Price:
SZYM showed a significant downside of 17% in the last three months due to weak financial performance. Its 50-day and 200-day moving averages are $11.3 and $11.9, respectively. Investors' negative sentiments are reflected in the stock price, which has decreased by more than 50% from its IPO price of $20.7 in May 2011. In our opinion, preferences shifting towards packaged hygienic food, in which algae has great significance, would highlight government attention toward the business of producing oil through algae. The government might impose heavy taxes, limit SYZM's food supplies for business operations, or put stringent regulations on the continuation of its Fuel and Chemicals business segment. If the drought continues in the next year, the government will likely be stricter in implementing the aforementioned policies.

Valuation:
The stock is currently trading at a price to sales of 11.95x, which is at a significant premium when compared to the industry average of 3.1x. According to sell side analysts' estimates, its next quarter earnings will decrease by 29%. Analysts estimate that the company's loss will increase further to $1.2 per share by the end of 2013. For all the reasons listed above, we would suggest investors avoid taking any position in the stock.
Disclosure: I have no positions in any stocks mentioned, and no plans to initiate any positions within the next 72 hours.
Business relationship disclosure: The article has been written by Qineqt's Energy Analyst. Qineqt is not receiving compensation for it (other than from Seeking Alpha). Qineqt has no business relationship with any company whose stock is mentioned in this article.