American Capital Agency's (NASDAQ:AGNC) has lost its leading role as a 20% dividend payer. The mortgage real estate investment trust (mREIT) is facing challenging industry headwinds. The net interest rate spread has decreased from 2.31% in the 1st quarter of 2012 to 1.42% in the 3rd quarter of 2012. I believe investors should reallocate funds to American Capital Mortgage (NASDAQ:MTGE). This article will highlight the benefits of investing in non agency mREITs.

American Capital Agency Valuation
American Capital Agency has a book value per share, as of September 30th, of $32.49. The stock price dropped below $30 on October 15th. On October 28th, management authorized a $500 million buyback plan. Management may buy back shares if the stock price is trading below book value per share. If management buys stock below book value, the book value per share increases.
Federal Chairman Bernanke's Quantitative Easing 3 has flattened the borrowing costs versus lending income spreads. If this scenario continues, then mREITs will decrease dividends. The Pain Train has entered the once peaceful income sector known as mREITs.
Income investors can choose to buy non agency mREITs, or buy agency preferred shares.
American Capital Mortgage
American Capital Mortgage is American Capital Agency's sister fund. This fund, however, is a hybrid mREIT. The fund managers can buy agency mortgage backed securities and non agency mortgage backed securities (MBS). Non agency MBS can offer higher returns on equity. The Federal Reserve is not buying non agency MBS.
American Capital Mortgage reported Wednesday, a 3rd quarter book value per share of $25.41. American Capital Mortgage declared a $50 million share buyback tonight. These are both positive catalysts which should support investment capital to the equity.
American Capital Agency Preferred
Dividend investors can choose to invest in the agency preferred shares. American Capital Agency's preferred shares (AGNCP) require investors to seek other opportunities. The preferred shares have favorable terms for income investors, "8.000% Series A Cumulative Redeemable Preferred Stock".
Outlier Agency mREIT
The one mREIT surprise is CYS Investments (NYSE:CYS). Kevin Grant, CEO, led the 3rd quarter conference call. A question was asked about a share buyback. Mr. Grant stated size and scale prevented the company from considering a stock buyback. He mentioned a potential share buyback when the shares were trading at a 50% discount to book value per share.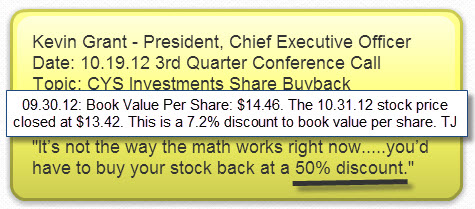 Rationale of Announcing Stock Buyback
Mr. Grant did purchase shares at reduced prices. If the company announced a stock buyback authorization, the company is not obligated to purchase shares. The authorization only provides the opportunity if the situation arises. CYS Investments is the only mREIT I follow closely which has not authorized a stock buyback. Let the shareholders know the stock is undervalued with an existing buyback authorization.

Annaly Capital Management (NYSE:NLY), for example, announced a $1.5 billion stock buyback with a 3.5% stock discount to book value per share.
Action
I recommend buying American Capital Mortgage. Gary Kain makes key management decisions on what non agency MBS and agency MBS to purchase. This hybrid mREIT has greater flexibility in what MBS are purchased to generate significant shareholder returns.

Agency mREITs are in a precarious situation tightening net yield spreads.
Disclosure: I am long MTGE. I wrote this article myself, and it expresses my own opinions. I am not receiving compensation for it (other than from Seeking Alpha). I have no business relationship with any company whose stock is mentioned in this article.
Additional disclosure: I do not own shares in NLY, AGNC, CYS. I own bullish put spreads on AGNC & CYS. TJ 10.31.12