Macau has become the world's number one gambling market, overtaking Las Vegas as a result of a huge development surge over the past five years. Once a seedy sideshow to nearby Hong Kong, Macau now draws millions of Mainland Chinese visitors, who can't legally bet at home. Over three billion people live within a travel radius around Macau. We originally became interested in the investment opportunities in Macau back on May 28th, 2010. We highlighted our interests in Macau in our article: What Happens in Vegas Now Happens in Macau.
Our conclusion in 2010 was that both Las Vegas Sands (NYSE: LVS) and Wynn Resorts (NASDAQ: WYNN) were well poised to begin new, major advances. Since then, both stocks have performed exceptionally well: LVS, +95.78% and WYNN, +41.83%.
It's time to revisit Las Vegas Sands and Wynn Resorts and determine how they might perform going forward. Here's our analysis:
Las Vegas Sands: Undervalued, STRONG LONG-TERM BUY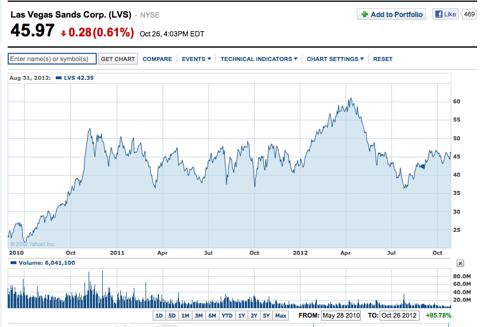 Some analysts consider LVS expensive at a multiple of 26.2 times past earnings. However, we think LVS is undervalued and poised for continued long-term growth, in spite of what we believe is excessive bearish pessimism over Asian growth.
As mentioned above, LVS appreciated 95.78% since we first mentioned it on May 28, 2010 - up from $23.12 to $45.97 on October 30th, 2012. However, LVS has been on a bumpy ride over the past 12 months during which the stock price depreciated -2.35%. Year-to-date appreciation has been +3.33% and LVS' stock price dropped -17.16% over the past six months. Yet, over the past three months, it has appreciated +22.46%. So, you can see what we mean when we say that LVS' stock price has been all over the place over the past year.
Nevertheless, as its new casinos become fully operational, we believe LVS' growth prospects will soar based on the market's tendency to think in terms of "what have you done for me recently?"
Analysts across the board are becoming more bullish about LVS's prospects with 24 of 28 issuing a 'STRONG BUY' or 'BUY Recommendation for the stock. See the chart below for more details:

We are particularly optimistic about LVS's outlook relative to its competitors. We expect LVS to generate its greatest earnings growth in Macau. However, we're equally optimistic about the company's endeavors in other emerging markets. There are rumors that LVS is in talks with banks to get financing to develop a resort in Spain.
So What to Expect?
In the short term, bears may bet the LVS down due to concerns over capex. However, in the long run, it should pay off significantly thanks to a growing consumerist population in Asia. If China's Golden Week sales growth of 15% is any indication, the company can perform well even on off days.
With about 85% of its business leveraged towards Asian gaming, LVS stands to gain big from the current stimulus programs being implemented in China. Singapore, one of the strongest economies in the world, currently has two major casinos - one that is operated by LVS. We expect the LVS to increase its dividend yield (current: 2.20%) and issue a share repurchase program to encourage investors to sit through the high capex periods and take a more confident outlook on the future.
Wynn Resorts: Expensive, HOLD/SELL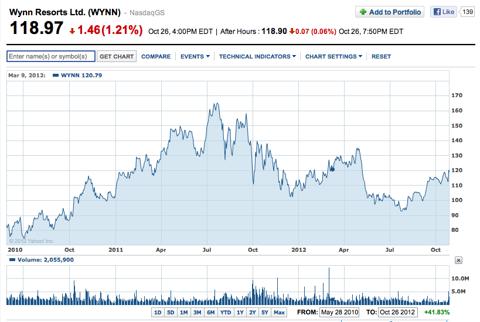 Wynn Resorts has not delivered as strong a performance as its competitor, Las Vegas Sands. Nevertheless, Wynn has been a solid investment, +41.83% since we originally mentioned it on May 28th, 2010. Wynn Resorts is an excellent casino operator, but overall they're less attractive than their major competitors. Let's compare WYNN against LVS. Both stocks are very comparable in terms of size and revenue exposure to Asian markets. However, Wynn doesn't stack up to LVS across a number of key indicators. For example, Wynn underperforms LVS in growth potential, balance sheet measures, leverage and profitability margins. Wynn only outperforms LVS in terms delivering a better capital return and free cash flow generation.
Wynn's free cash flow is one of the company's strongest points. They have dramatically turned things around over the course of the past 5 years. In 2007, Wynn was in the red to the tune of hundreds of millions of dollars. It is now proudly $2.1 billion in the positive. Nevertheless, the stock trades at a 7.4% valuation premium to LVS' two trading multiples and has a higher PEG Ratio of 2.03 vs. 1.00.
Wynn has lowered its growth estimate substantially over the past year. Furthermore, when you value their stock relative to the company's fundamentals they again miss the mark. As a result, 10 of the 27 analysts covering the stock have issued a 'HOLD' or 'SELL' rating for the WYNN. Look at the chart below for more details:

Wynn's overvaluation wouldn't be so bad if the company hadn't performed so poorly over the past 18 months. Over the past 5 quarters, Wynn's management has missed expectations four times by an average of 4.9%. That's not a good sign for investors. Much like LVS, the stock has had its ups and downs and performed dismally over the past year, in spite of the recent surge over the past three months. Over the past year Wynn's stock has depreciated -10.35%. Year-to-date is it up +4.35%. Over the past six months it is down -10.82%. And, like LVS, it has rallied over the past three months, +25.83%.
Bottom line on Wynn: Due to the lack of a sufficient margin of safety on this investment, we don't recommend investing in Wynn. If you currently hold the stock, our suggestion is that you either hold the stock or take the recent 25.83% surge as an opportunity to cash out. If not, hold onto the stock for now as if there is one bright spot for Wynn - a new 51-acre casino resort on Macau's Cotai Strip is scheduled to open in 2016. The company already operates Wynn Macau and Wynn Encore resorts in Macau. Its Cotai resort should provide much-needed growth and a significant boost to its revenue projections.
Overall Recommendations
Las Vegas Sands: Undervalued, Strong long-term BUY
- Analysis: Shares might dip in the short-term. However, we view LVS as a strong long-term play.
- 12-Month Price Target: $65; Yield, 31%; Dividend, 2.2%
- Total Net Yield: +33%
Wynn Resorts: Expensive, HOLD/SELL
- Analysis: Sell shares on a strong day or hold with hopes new casino developments will improve growth prospects.
- 12-Month Price Target: $115; Yield, 11%; Dividend, 1.7%
- Total Net Yield: +13%
Disclosure: I am long LVS. I wrote this article myself, and it expresses my own opinions. I am not receiving compensation for it (other than from Seeking Alpha). I have no business relationship with any company whose stock is mentioned in this article.