WHAT CAN GO RIGHT WITH THE RAIT FINANCIAL TRUST
By Thomas E. Sobon
A bond is a debt certificate and a stock is an equity certificate. Before an investor buys a bond at par he should ask "What can go wrong?" If everything goes right he will only get back an interest rate of return while holding the bond and his principal on the bond's maturity date. But if things go wrong he will be stuck with a loss; therefore he must avoid risk. With a stock it's different and when determining its suitability as an investment the investor should ask "What can go right?"
It is the successful assumption of risk that produces significant investment gains in the form of dividends and/or capital gains. (1) The dividends I receive as an investor are those declared by the company's management. Therefore, I need to know about the merits of the corporate development program that make dividend payments possible. Those merits also affect the way the investment community (aka Mr. Market) prices the stock. And (2), when things go right (or wrong) the capital gain (or loss) I achieve results from a favorable (or unfavorable) response by Mr. Market and the price at which I am able to sell it. He is the adjudicator who re-prices the stock daily and he doesn't ring a bell when the price is topping or bottoming. Therefore, (3) due diligence dictates that I rely on both fundamental and technical analysis when making investment decisions: the former tells me "what" stock to buy (or avoid) and the later tells me "when" to buy or sell it. Neither discipline can provide all of the answers for picking winners in the stock market; but the two together can be better than either alone.
Is there risk involved for an investor in RAIT's shares at this time? And, is the risk-reward relationship favorable? My answer to both questions is yes. And now I'll tell you why.
Fundamentally, what can go right with company?
The RAIT Financial Trust (NYSE:RAS) is an internally-managed real estate investment trust that provides debt financing options to owners of commercial real estate. It also invests directly in commercial and residential real estate properties located throughout the United States. And, it is an asset and property manager of real estate-related assets owned by third parties. Management is focused on producing attractive risk-adjusted returns while maximizing shareholder value over time.
It had its IPO in 1998 and prospered during the real estate boom in the early part of the past decade (who didn't?) and it got its comeuppance during the real estate bust that followed (who didn't?). This once high flier had to do a 1-for-3 reverse split of its stock in 2008, when it also eliminated the dividend. Reverse splits are often a sign of desperation and doom for a company. But there are times when a survivor recovers and goes on to prosper. Such appears to be the case with RAIT. There were some significant changes in top management as the company struggled to survive and now it appears to be headed in the right direction. Dividend payments were resumed in 2011 and since then there have been several increases, albeit from a low base of three cents per share quarterly. Having climbed above the $5 level, the stock is now priced at $5.66 and is no longer considered a "penny" stock. The adjusted book value at the end of Q3 was $6.65, up from $6.56 at the end of Q2.
Insiders have been heavy buyers of the stock and during the past six months they have purchased almost 600,000 shares, much in the open market. They own about 1.7% of the 50 million shares outstanding. Institutions own 52.8% of the company's shares and during the past six months they have been heavy sellers of the stock (some 3.4 million shares). There was a short interest in RAIT of about 4.5 million shares on October 15 (that's 9% of the shares outstanding). More anon about the short position.
The stock is not widely followed by analysts and the one who follows it was estimating adjusted funds from operations (AFFO) of 27 cents per share for Q3; but the actual number was 30 cents which compared with 23 cents a year ago. For the first nine months of the year the number was 76 cents versus 65 cents last year. He is estimating AFFO of $1.00 and $1.25 for 2012 and 2013, respectively. According to comments made by management during the Q3 conference call the analyst's estimates are doable. I think his estimates will prove to be somewhat conservative.
Analysts normally use FFO (funds from operations) as the measure of a REIT's dividend paying ability. But RAIT is still writing off some losses resulting from the aforementioned real estate bust. Management provides the AFFO numbers because they are more indicative of the company's current performance than FFO or GAAP accounting would be.
The quarterly dividend rate was increased last month (the second this year just like last year) to 9 cents per share and the stock went ex- dividend earlier this month. According to remarks made by management during the conference call an increase in the quarterly dividend to 15 cents is both doable and probable in 2013. With the stock trading at $5.66 the current annualized dividend of 36 cents shows a dividend yield of 6.4% while a dividend of 60 cents would yield 10.6%. The direction, magnitude, and momentum of the dividend increases are worthy of note. Moreover, if management is able "to gain traction from current initiatives" as referred to below, the dividend rate could continue to rise at a good clip in the years beyond 2013. Such cannot be forecast at this time but the potential for that to happen is there (as it is with any good turn-around situation). So while investors should be primarily interested in what is likely to happen in the immediate future (that being a one year time horizon) they should remember that beyond horizons, horizons lie: 2012 is proving to be a good progressive year for RAIT, further progression is fairly well defined for 2013, and who can say that the progression won't continue in 2014?
One of the more positive things about the company's Q3 operating results was the decline in interest expense resulting from a burn off of hedges.RAIT remains match funded because it is increasing the number of floating rate loans in the portfolio and as a result, it doesn't need to replace interest rate hedges when they expire. So it saved $300,000 in Q3 and expects to save an additional $250,000 in Q4 as existing hedges burn off. Management estimates that an additional $3 million in hedge cost savings will be realized during 2013; that equates to 6 cents per share and since reits payout most of their funds available for distribution, just about all of that will be included in the dividend to be paid to shareholders. That alone would be sufficient to add 1.5 cents to the quarterly dividend rate. Are there any questions about the boost ability of the dividend?
Management knew that it needed to identify new sources of capital to continue the positive momentum in its lending businesses. So it secured two warehouse facilities to fund CMBS lending initiatives and it is actively exploring similar initiatives for its bridge lending businesses. It also began to partner with banks who are interested in participating in its pipeline of bridge loans. One new partner, Almanac Realty, committed to purchase $100 million of newly issued securities. The commitment is structured so that RAIT can draw funds as needed over two year periods so that the capital addition won't be dilutive to earnings. It will use the proceeds to fund all of its lending businesses and fully expects this capital to be accretive to its common shareholders as it closes CMBS loans and closes and levers bridge loans. When RAIT deploys capital in its lending businesses, it targets returns in excess of 20% which is well in excess of the 7.5% current cost of the Almanac capital. This is a good initiative so now it's up to management to execute.
The two warehouse lines are with Barclays (NYSE:BCS) and Citi (NYSE:C) and RAIT has been securitizing loans through their programs. It likes that strategy because they come to the market with deals every other month. That allows RAIT to have good velocity in turning over its loans to earn loan origination fees; therefore, it doesn't have to carry them on its balance sheet very long.
RAIT has been working to establish relationships with banks which would participate with it on bridge lending. In a low interest rate environment banks are hungry for higher yielding loans. Several banks have expressed interest in participating in the program so now it is incumbent upon RAIT to generate the loan volume needed to succeed. Until now it was capital constrained because it was fully invested through its CDOs at the end of the Q2. The new capital source wasn't available until the very beginning of the Q4 as referenced above. RAIT has been busy building its pipeline but didn't want to get ahead of itself because it's still going to need 25% to 30% equity for each of the loans that it funds in the program. But now it has access to the capital so according to management "it's full speed ahead." This is another good initiative; let's see how speedy they can be.
Management has a number of real estate deals that it is working on. And as it puts new capital to work it expects cash flow to increase. Thus far in the fourth quarter it hasn't closed any deals but the pipeline is full of signed deals and they will start closing between now and the end of the year.
RAIT owns and manages multi-family housing properties and the overall occupancy rate was down 1% in Q3 on a sequential basis. When boosting rents it's always a balance between pushing rents and occupancy. Higher rents may have been the reason for the decline in occupancy. There is still strong demand nationwide for multi-family properties. The uptick in home ownership has impacted the A-Plus properties but RAIT's are mostly B-Plus to A-minus. Management expects occupancies of its properties to remain in the vicinity of 90% and it believes that it will be able to push rents going forward.
The loan portfolio has been stable. Non-accrual loans decreased slightly to $70 million or 6.8% of the portfolio. The company continues to maintain loan loss reserves at approximately 47% of non-accrual loans and believes that such is adequate for potential future losses.
Combined compensation and administrative expenses continue to run at about 16% of revenue. A modest increase in that percentage is expected for the period ahead as it continues to hire personnel necessary to grow the business.
Fundamentally, the company is out the intensive care status that it was in following the real estate bust and it is now doing well in the recovery zone. The basis for a sound corporate development program has been established but much more needs to be done before the recovery is anywhere near complete. Management's recent efforts have been productive and it really has executed well. Hopefully it will continue to do so. Earlier I wrote about the heavy buying of shares by insiders so they are confident that the company will prosper. What better endorsement can there be than insiders buying shares in volume?
Technically, what can go right with the stock?
Let's look at the chart I constructed from data in my workbook: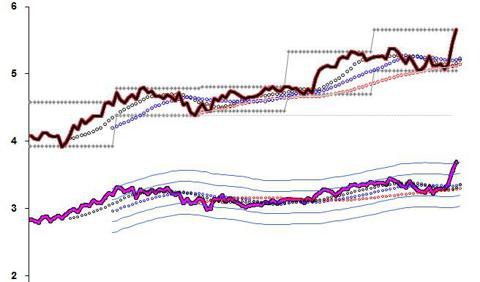 (1)The bold black line on top is price and the bold pink line below it is relative strength. (2) The dotted lines are moving averages and there is a set of those for price and a similar set for relative strength; they are used to define trends and reversals. (3) The five sets of gray parallel lines that frame the stock's price action are 22-day trading ranges and their progression shows how the trading range shifted during the 110 days charted. And (4) the four wavy blue lines that straddle relative strength are Bollinger Bands and they are used to detect overbought or oversold situations. Any one of the items listed as (2) to (4) is independent of the other two and could be cited as a valid technical indicator for buying or selling the stock.
The stock has been in a strong uptrend. It is now priced at $5.66 versus the $4.00 at which it sold just five months ago. (Remember, institutions were net sellers of 3.4 million shares during those months so the stock advanced during a period when institutions were divesting shares; I called attention to that fact earlier in this report; this is a bullish technical indication worth noting.) However, in early 2008 it was as high as $34.00 and a year later it was as low at $1.20. The past is prologue and Mr. Market will decide where it goes from here.
Now consider this: (1) the trends as defined by the moving averages are bullish for price and relative strength. (2) The trading ranges have shifted upward in text book fashion and they remain bullish. And (3) the price action has been so strong in recent days that the uppermost 2X Bollinger Band has been violated to indicate an overbought situation. Normally, I would say that (3) trumps (1) and (2) and the stock should be avoided at this time because of the overbought situation. However, I am going to put a "qualified speculative buy" rating on the stock at this time because I choose to defer to other considerations. In my introductory remarks I stated that I use both fundamental and technical analysis when making investment decisions. So that there is no confusion regarding my terminology I will explain exactly what I mean by "speculative" and "qualified."
RAIT is searching for source funding so it is dependent upon third parties for financing. It is seeking and launching new marketing opportunities. The corporate development program as discussed above is constructive and I hope it succeeds and the company prospers (it better because I own the stock and I intend to buy more shares). But the company is recovering from the crash of 2008 and its business base is not yet solidly established at this time. Therefore, the company's overall fundamental situation is "speculative." So by being an owner of the stock I am speculating that management will execute its corporate development program well enough to strengthen and solidify the company's business base.
And I will answer the "qualified" part of the recommendation as follows: The stock's price chart as discussed above indicates that the stock is in an overbought condition and therefore the stock should be avoided at this time. "However," I wanted to buy the stock because the company's recovery from the crash is well underway. Recent operating results have been good and the near term outlook is promising. The stock is priced to deliver a high dividend yield. Insiders have been heavy buyers of the stock. Also, the stock has been under accumulation as evidenced by the stock's price trend during the last five months despite institutional liquidation. And there is a large short interest that is going to have to be covered at some point if the company continues to post good operating results like those shown in Q3, as I think it will. Moreover, with RAIT doing well and a big boost in the dividend virtually guaranteed, the institutions who own 52.8% of the shares outstanding ought to be willing to hold on to their positions. The shorts collectively need to buy about 9% of total shares outstanding to cover.
In effect, RAIT had 50 million shares outstanding but there were 54.5 million shares in the hands of investors who were long the stock on October 15. That imbalance exists because of the 4.5 million shares that have been sold short. The law of supply and demand indicates that things could get interesting if the shorts are forced to cover. This consideration made it easy for me to downplay technical factor number (3) referred to above and defer to the other considerations I just discussed.
Furthermore, the shorts are going to have to pay significant amounts of money to those people who bought the stock that they shorted. As stated above, the dividend return on this $5.66 priced stock is currently 6.4% and that should increase to 10.6% by the middle of 2013. Those percentages will result in negative returns for those unfortunate people who are short the stock. One way or another, they are going to get squeezed. The only ones who should be short the stock at this time are those people who have nothing but contempt for money and are eager to get rid of the pile of cash at their disposal. I'm a nice guy so I am ready and willing to render assistance by doing whatever I can to relieve them of their unwanted cash. Therefore, I opened a position in the stock due, partly, to the "short covering" possibility.
I cannot predict what the people who are short the stock will do. But they are currently trapped between the proverbial rock and a hard place. There was a sharp increase in trading volume during the last two business days as the stock's price advanced so the process of short covering may have already started.
Because of what I stipulated, my initial position in RAS is about one-half the amount that I would normally buy in a stock. That is about right for me because the overbought reading I got from the price chart tells me to proceed with caution. I'll watch the stock's price action and buy additional shares on price weakness if that should occur. I state this so the reader who is a potential buyer fully understands both my concerns and my rationale when he determines whatever strategy he may choose to pursue. I will continue to follow the company and write progress reports as needed until the time I sell the stock.
Disclosure: I am long RAS. I wrote this article myself, and it expresses my own opinions. I am not receiving compensation for it (other than from Seeking Alpha). I have no business relationship with any company whose stock is mentioned in this article.