"When did Noah build the ark? - - - Before the storm Gladys, before the storm" Robert Redford - Spy Games
Eli Lilly (NYSE:LLY) launched Cymbalta (duloxetine) as an antidepressant in 2004 and never looked back. The product has been a real success story at Lilly generating $94 million in its first year of launch and is expected to generate $4.8 billion by the end of 2012, just eight years later.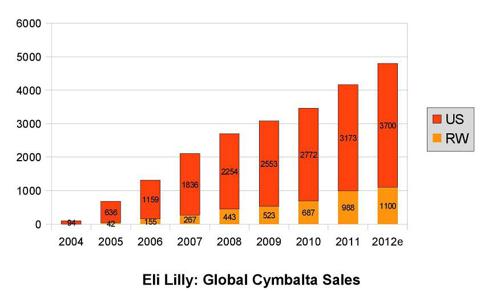 Cymbalta is the current leading antidepressant medication, in terms of revenue, both in the US and globally. But all is not well. Cymbalta, a selective serotonin and norepinephrine reuptake inhibitor (SNRI), is expected to lose patent protection in the US in June 2013.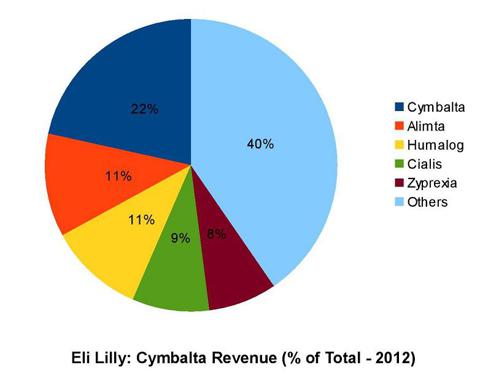 Cymbalta currently accounts for 22% of Eli Lilly's global revenue. It could lose over 70% of its revenue once generics enter the market - that is over $3 billion in annual sales. Lilly co-markets Cymbalta with Boehringer Ingelheim outside the US and with Shionogi in Japan. Patent loss in the US will have a direct impact on its bottom line.
Cymbalta's patent cliff comes on the heels of Zeprexia's patent expiration which saw its revenue decline by 65% from a peak of $5 billion in 2010 to an estimated $1.7 billion by the end of 2012.
Losing over $6 billion in revenue from its top two brands in less than three years, which is over $2 billion per year, is a big feat. The other top three brands in Lilly's portfolio, Alimta, Humalog and Cialis are mature, so there is no organically grown champion out there that can be called to the rescue.
Lilly is currently seeking pediatric exclusivity for Cymbalta which, if granted, could extend protection to December 2013. There is a fair chance that Lilly would get the pediatric exclusivity, however, this will simply delay the pain for six months and come 2014, Lilly's revenue will take a steep dive.
Those who have been either investing or simply watching Lilly have known for sometime that it is facing one of the steepest patent cliffs in the pharma industry, both in absolute terms and relative to its own revenue, which is expected to end 2012 close to $22.3 billion.
The price to earnings (P/E) ratio currently stands at 13.2, which is favorable compared to Lilly's peers. However, P/E measures historical trends. If we can travel forward in time and try to estimate P/E in mid-2014, I think we can safely assume that if we are to continue holding LLY we need a good hedge.
Disclosure: I have no positions in any stocks mentioned, and no plans to initiate any positions within the next 72 hours. I wrote this article myself, and it expresses my own opinions. I am not receiving compensation for it (other than from Seeking Alpha). I have no business relationship with any company whose stock is mentioned in this article.