Investing in biopharmaceutical companies often approaches the experience of riding a roller coaster at our favorite amusement park. Consider the wild ride shareholders of Vivus Pharmaceuticals (NASDAQ:VVUS) endured in the month of October 2012, as chart below suggests.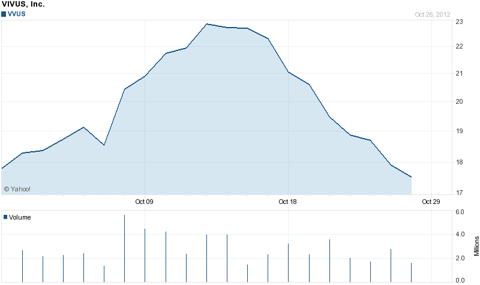 The chart from Yahoo Finance says it all. Exuberant buying in the first half of the month plunged into a selling frenzy through the end of the month. For some investors, this kind of sudden decline represents a buying opportunity, depending, of course, on the prospects of the stock in question. In this article, we will look at what happened on the way up and what happened on the way down and whether or not VVUS is something to BUY on this substantial dip.
What Happened?
Obesity in the United States is gaining focus as a major medical problem impacting the cost of health care. Vivus is one of there biopharmaceutical companies bringing a drug treatment for obesity to market. Right now only two entries have received FDA approval - Qysmia (formerly called Qnexa) from Vivus and Belviq from rival Arena Pharmaceuticals (NASDAQ:ARNA). Back in February the Vivus entry was first out of the gate with pre-approval from an FDA advisory panel. The stock price jumped almost 80% following comments like those of an analyst at New York investment firm MLV Co. who offered the opinion that Qnexa (now called Qysmia) could be the "next Lipitor".
Belviq was actually the first drug to get full FDA approval but Qysmia soon followed and that drug was the first to reach the market via mail order pharmacies. Vivus is seeking approval for the drug to be sold in retail pharmacies. Belviq will not go on sale till 2013. Since going on sale in September Qysmia is beating expectations in the crucial issue of insurance carriers paying for the drug. Bloomberg reports about a 30% approval rate so far.
The October rise was due in large part in anticipation of sales volume following the launch, boosted further by the news that the nation's largest pharmacy benefits manager Express Scripts would begin offering Qysmia through its mail order operation, joining mail order suppliers CVS Caremark (NYSE:CVS) and the Walgreen Company (WAG) who also offer Qysmia.
The steep fall followed the news that European regulators would not recommend Qysmia based on safety concerns over heart risks and birth defects. The extreme negative reaction was somewhat of a surprise as Vivus had pre-announced they were not expecting the drug to be approved at this time. The company is going to appeal the decision.
What's Next?
There is little question obesity in the US is a major problem. The CDC (Center for Disease Control) estimates over a third of adults in the United States are obese and as such at risk from related health conditions like heart disease, diabetes, and stroke. As of 2008 the estimated cost to the US health care system stood at $147 billion.
Despite the scope of the problem, prior to the approval of Belviq and Qysmia the only obesity treatments available were various self-help dietary programs and bariatric (weight-loss) surgery. The FDA has not approved any form of drug treatment for more than a decade, largely due to negative side effects of the drugs and to a lesser extent because of the belief obesity was a life-style choice, not a disease. In the distant past some viewed "diet pills" as vanity drugs and physicians became increasingly reluctant to prescribe them in the face of negative side effects.
The climate has changed with the recognition of a national epidemic of obesity and in theory the market potential for these drugs could be huge. Bloomberg biopharma analyst Andrew Berens estimates the drug could generate $1.1 billion in sales by 2016.
While market potential and first mover advantage are two major points making a Bull case for Vivus, there is a Bear case to be made as well.
First, the hype over weight loss drugs may have led to Vivus shares being significantly overvalued. With a forward P/E of 73.14 according to Thompson Reuters, that concern appears valid. Some feel acceptance of these obesity drugs by physicians will be slow in coming and delays in evidence of market acceptance may further unnerve investors.
Second, there is some confusion regarding head to head comparisons between Belviq and Qysmia. Some market advisers claim Belviq is safer while Qysmia is more effective. Both have negative side effects, and although independent studies do show higher percentage weight loss for Qysmia users than Belviq users, the WebMd site clearly states the numbers are not valid for direct comparisons due to differences in the designs of the clinical trials.
Even granting the assumptions regarding safety versus effectiveness, it remains to be seen which factor will be more important in physician and consumer acceptance of the drug. However, MedMarket Diligence, an independent provider of medical technology information to the industry and to investors, indicates differentiated market penetration depending on the type of drug.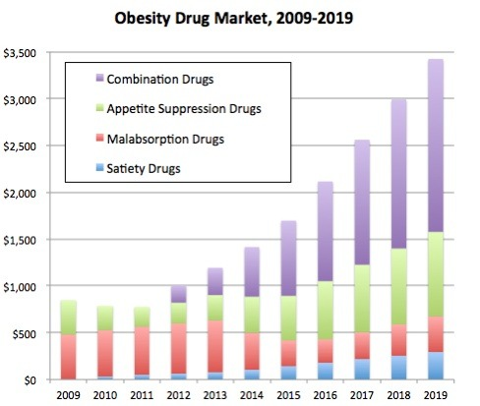 Qysmia is a combination drug, uniting chemicals that suppress appetite with those that promote a sense of fullness, or satiety. Belviq is a satiety drug, with the weight loss coming from feelings of fullness.
Much has been written about the competition between Belviq and Qysmia as the only currently approved weight loss drugs, as though there will be a clear winner. However, there is reason to believe the market potential is large enough to support both drugs, as well as others. Sites like WebMd and others tell us certain obese patients might respond better to one drug over another. The truth is no one knows for sure right now. The history of market penetration with other competing drugs, however, provides a guide.
Although the key is the efficacy of the drug in question, the following chart regarding market penetration of competitive drugs for erectile dysfunction (PDEi5 drugs) makes the point there is room for more than one treatment: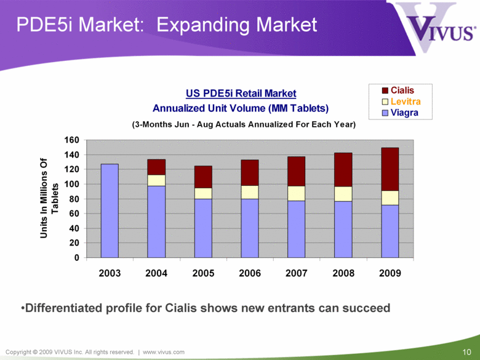 Interestingly, the chart was prepared by Vivus for presentation to investors concerned about market acceptance of the company's recently released erectile dysfunction Avanfil.
What to Watch For?
In the short term, Vivus will be releasing financial results on November 3rd and should include some indication of how well Qysmia is being received.
Watch the progress of Vivus appealing the European decision as well as their FDA request for expansion of availability of Qysmia to retail pharmacies. The initial approval for Qysmia came under a Risk Evaluation and Mitigation Strategy (REMS) which limited supply to mail order operations.
Belviq already has wider approval and watch for introduction of the drug in early 2013.
Disclosure: I have no positions in any stocks mentioned, and no plans to initiate any positions within the next 72 hours. I wrote this article myself, and it expresses my own opinions. I am not receiving compensation for it (other than from Seeking Alpha). I have no business relationship with any company whose stock is mentioned in this article.