Natural gas trade will play a stronger role in all OECD regional markets in the short- to medium term, according to the International Energy Agency.
In its just-released Natural Gas Market Outlook 2008, the IEA says imports will constitute more than half of total supplies, with LNG expected to reach nearly 20%. In OECD North America, indigenous production will continue to supply more than 90% of expected demand by 2015, yet LNG imports are expected to be more than double 2007 levels.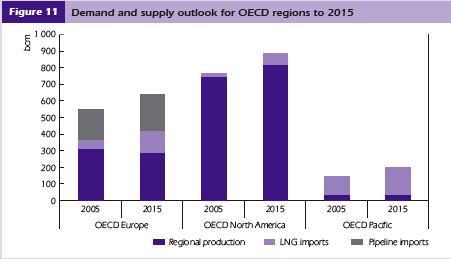 Other key findings of the report:
Gas demand for power is growing, particularly in the IEA but also in a number of major producing and consuming non-OECD countries. Gasfired power has dominated supply growth in IEA countries since 2000; this looks set to continue, notwithstanding strong growth in renewables.
Investment uncertainties, cost increases and delays remain a major issue in most gas markets and are continuing to constitute a threatto long-term security of supply. The escalation of engineering, procurement and construction [EPC] costs, the tight engineering market and risks in producing
countries were amongst the main causes for investment project delays.
Gas markets are on their way to globalisation. Flexible LNG (spot and short-term) played a greater role in inter-regional market balancing in 2007. In the present tight market context, this market integration seems to be aligning prices in some regions at higher levels.
More transparency on prices and flows and more competitive internal markets could bring beneficial effects from interregional competition in the long term, as well as improving gas security.
Domestic markets of many major producing countries are now consuming more gas than before and new energy policies underline the priority of local demand. In the medium- to long term, progressively rising domestic prices in these markets might provide economic incentives to develop resources and use gas more efficiently. In the absence of price reform, these developments will not occur.