Summary: The ruling on the doctrine of laches is a blessing in disguise for Vringo because it tells the jury that there is a good possibility that damages might be awarded.
With Judge Jackson's recent ruling that Vringo (VRNG) cannot claim damages beyond September 15, 2011, the date of filing of the lawsuit, Google (NASDAQ:GOOG), it might seem, has effectively saved itself from a minor catastrophe. Infringement has been alleged from 2005; however, once Vringo wins the case, it cannot lay claim to damages since that year. It can only claim damages since September 15th, 2011. This effectively allows it to claim damages for four quarters until today (not considering future royalties).
Google Historical Revenue Figures (Source: ycharts.com)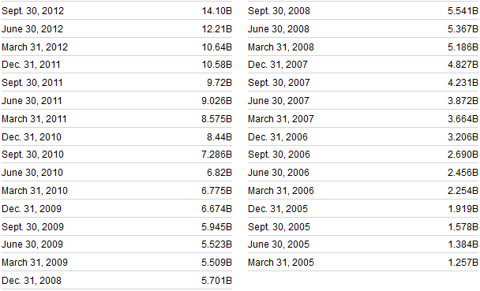 Let's do some simple math using the data above.
Disclaimer: My figures could be way off; however, my thesis, as you will see, does not rely on the numbers.
Since January 2005, Google has earned a total revenue of $182.95B. Since September 15, 2011, it has earned $47.53B (plus a little extra for those 15 days in September and the last month). Now - and this is not going to be totally accurate, just a ballpark - Google usually makes 90% of its revenues from Adwords, which is where Vringo's patents come into play. Of that 90%, let's say it makes 70% from US sales (I am pulling that figure from the thin air; I could look it up, but it would take me hours, and this is just a ballpark anyway), so the relevant US sales figures since 2005 and since September 2011 come to $115B and $30B, respectively. If I understand this correct, Vringo is claiming a royalty rate of 3.5% of the 20% excess profit that Google earned using their patents. So, let's see what 20% of these revenues are - they are $23B and $6B respectively. Now, 3.5% of these figures are, again, $800 million and $200 million, roughly and respectively.
So, until today, (note, and not until 2016, which is the date Vringo has put forward for damage and royalty calculations), if Vringo wins the case, Google will have to pay them roughly $200 million in damages. Judge Jackson has made Vringo lose some $600 million on this case. (Note: Vringo had originally asked for $493 million.)
That is not the important consideration, however; the most important consideration here is that Judge Jackson, and even Google, is subtly acknowledging Vringo's prima facie case against Google. Judge Jackson is acknowledging that by dismissing - without even a hearing - Google's mid trial motion for summary judgment. While these motions are filed as formalities and to make some ammunition ready for appeals and therefore filing them is not unusual, it is a little unusual to dismiss them without a hearing in a major case like this. That tells us that, not only as a matter of law but also in substance, Judge Jackson is telling the jury that Vringo has a case, at least on some of its claims. If I was a jury in that bench, I would be quite influenced by how these events unfolded; I would feel more positive about Vringo's presented evidence.
Now, another small calculation. From 2005 until 2011, Google's damage potential was $600 million. This was in 6+ years; however, in the last one year, that has become $200 million because Google is growing at a better pace now. If this growth continues, we can assume potentially another $1.25B in just damages+royalties until 2016. So, that gives us a total of $1.45B from Google alone.
However, let's not forget the most important aspect of this trial - that this trial is a trial in more than one sense for Vringo. If it can win this case against Google, it is not only going to make a modest ($1.45B, modest?) amount of income from Google, but it will also have extremely strong cases against almost everyone else in the market.
Vringo can potentially target every big and small company that uses Google's Adwords system. This concept clarifies why Vringo sued Target (NYSE:TGT), AOL (NYSE:AOL), Gannett (NYSE:GCI) and IAC (IACI) as co-defendants in this one lawsuit. Some of these companies directly use the technology allegedly taught in the patents in question; some used them through Google. Everyone is potentially facing damages.
Even more interestingly, Vringo can sue Microsoft (NASDAQ:MSFT) for technology used in Bing, Yahoo (NASDAQ:YHOO) for its own search engine, Facebook (NASDAQ:FB) and Linkedin (NYSE:LNKD) for their targeted ads technology, because allegedly all of these infringe on the Lang/Kosak patents on Relevance Filtering Technology. Winning big money on these so-called patent troll lawsuits is not unusual; Virnext (NYSEMKT:VHC) got $200 million from Microsoft in 2010, and is now suing Apple for more. Vringo is also suing ZTE for infringing on its mobile technology portfolio; it can now target Huawei and other mobile manufacturers too. Basically, winning a lawsuit like the one against Google creates a windfall for Vringo not only in more money to continue its IP litigation operations, but also a reputation among future defendants that will quickly lead to settlements.
Reality Check
Vringo investors need to put all this information into a reality check machine and come up with some conclusions. Conclusion one, Vringo will win this lawsuit, at least partially. Conclusion two, Vringo will not make as much money in damages from Google as some expected. Conclusion three, Vringo will face the doctrine of laches in future lawsuits against other parties; and lastly, conclusion four, Vringo will survive, but investors need to stop hoping for $100 price targets for Vringo.
Disclosure: I have no positions in any stocks mentioned, and no plans to initiate any positions within the next 72 hours. I wrote this article myself, and it expresses my own opinions. I am not receiving compensation for it (other than from Seeking Alpha). I have no business relationship with any company whose stock is mentioned in this article.