Based on third quarter results, lower than expected Q4 guidance and weaker tubular outlook, we maintain our neutral rating on United States Steel Corporation (NYSE:X). The largest producer of steel in United States by volume, U.S. Steel reported third quarter adjusted EPS of $0.01, with a domestic flat rolled segment and European segments performing better than expectations. However, it provided weak Q4 guidance for all its reporting segments.
Weak European and North American steel markets do not come as a surprise. What is of concern is the magnitude of expected decline in profitability of the tubular segment and U.S. Steel Europe (USSE). U.S. Steel now expects lower tubular shipments in 4Q due to declining rig counts and lagging imports. Higher levels of imports (more than 50 percent of market share in 3Q) are putting downward pressure on prices. Although we expect oil country tubular goods (OCTG) earnings to improve in 2013, we believe that over the coming years, this highly profitable segment of U.S. Steel will see increasing competition. Higher costs and elevated inventory levels do not bode well for 4Q and 1H13.
The integrated steel producer should benefit from declining coking coal prices. However, we think most of the advantage will be offset by lower steel prices. U.S. Steel will not see much benefit from declining iron ore prices because it is vertically integrated into iron ore in the U.S. In fact, the company is more vulnerable to weak iron ore prices because low iron ore prices will keep steel prices weak.
With the European economic recovery uncertain, weak tubular segment, and price issues in the U.S. flat rolled segment, we believe there are more headwinds ahead before a rebound occurs. That is why we maintain our neutral rating on U.S. Steel. Earnings volatility and high fixed cost integrated steel production also result in high risk for the company.
However, we are still of the opinion that when steel prices rebound, U.S. Steel will be in a strong position to benefit from rising prices.
Company Overview
U.S. Steel is an integrated steel maker with a majority of its operations in North America and Eastern Europe. It has a steel making capacity of over 31 million tons. The company has three main reporting segments: Flat-rolled Products, Tubular Products and U.S. Steel Europe (USSE). The flat-rolled segment accounts for almost two-thirds of the company's revenue.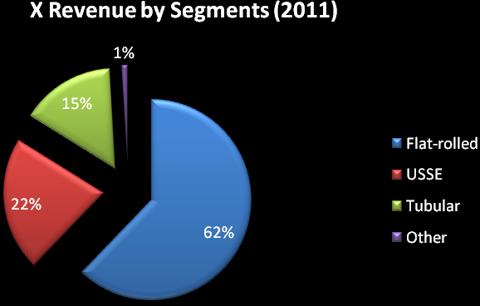 Source: Qineqt calculations and company documents
In addition to its steel making business, U.S. Steel is involved in rail and barge transportation operations, iron ore and coke production, real estate, and providing engineering and consulting services.
Q3 Earnings Review
United States Steel Corporation, the North American steel manufacturing giant, reported third quarter 2012 adjusted EPS of $0.01, slightly beating consensus estimates of breakeven. The reported EPS of $0.28 included $46 million ($0.27 per share) in tax benefits relating to the prior period, which we have excluded. Lump sum payment for the new labor agreement also negatively impacted earnings by $0.13 per share. The adjusted EPS of $0.01 is down 98 percent, both sequentially and y/y.
Total sales of $4.7 billion are down 7 percent sequentially and 8 percent y/y. Total operating income of $171 million is down 48 percent from Q2 2012 operating income of $330 million, and down 42 percent from the same quarter last year. Total steel shipments were down 2 percent sequentially and 3 percent y/y.
Flat-Rolled Segment
The operating income of the flat-rolled segment dropped by a whopping 83 percent to $29 million, from second quarter operating income of $177 million, and dropped by 85 percent from Q3 2011. Shipments for the segment were flat sequentially but down 3.5 percent y/y. Substrate sale to tubular also declined during the period. Average realized prices per short ton were down $31/ton to $741. Prices dipped 4 percent, both sequentially and y/y. Higher import levels and lower scrap prices have led to a decline in realized prices in 3Q.
The company's raw steel production for its flat-rolled segment was almost flat sequentially and up 4 percent from Q3 2011. Capacity utilization of 77 percent was also flat sequentially and up by 3 percentage points y/y.
U.S. Steel Europe (USSE) Segment
USSE's reported operating income of $27 million was down 20 percent sequentially, but up 154 percent from its Q3 2011 loss of $50 million. USSE shipments were down 5 percent sequentially, and down 24 percent y/y. Holiday shutdowns, lower auto demand, and service center de-stocking resulted in lower shipment volumes. Average realized prices dropped by 15 percent y/y and 5 percent sequentially. An oversupplied regional market, uncertainty surrounding the eurozone and lower aggregate demand continue to suppress pricing.
USSE production was down 3 percent sequentially to 1.14m and down 13 percent y/y. Capacity utilization for the segment was also down sequentially by 4 percentage points to 90 percent, however, y/y capacity utilization increased by 19 percentage points.
Tubular Segment
Tubular segment reported operating income of $102 million, almost flat sequentially ($103 million) and down 24 percent from Q3 2011. Tubular shipments were down 7 percent sequentially and 5 percent y/y. The tubular segment also saw a decline in average realized prices, with prices declining by 2 percent sequentially and 1 percent y/y. Tubular demand, among other factors, depends heavily on oil and natural gas drilling. Lower drilling impacted the overall results of this segment.
Other Businesses
Operating income for other businesses segments also dropped sequentially to 13 percent, but increased YoY by 62.5 percent.
4Q Guidance
The company expects fourth quarter results to be sequentially lower for all segments, with overall results to be around breakeven. The persistent weakness in the economies of emerging and European markets, and uncertainty surrounding North America remain headwinds for U.S. Steel in Q4. Consensus analyst estimates for Q4 are $0.02 per share.
U.S. Steel expects the flat rolled segment, which accounts for almost two-third of the revenue of the company, to post a loss in the last quarter of the year. Prices are expected to be lower sequentially, and shipments are also expected to decline due to economic uncertainty. With increasing maintenance costs, operating costs are also expected to rise q/q.
USSE is also expected to breakeven in the fourth quarter due to lower pricing. Shipments are also expected to decline as weak automotive and other end user markets are expected to persist. However, declining raw material prices will slightly offset weak results for USSE in Q4.
Although the tubular segment is expected to remain profitable, profits are expected to decline substantially in Q4. Both average realized prices and shipments are expected to be lower sequentially. However, shipments are expected to decline significantly due to higher import levels, lower drilling activity due to tight budgets, and conservative customer inventory management. Lower production levels will result in operating inefficiencies and high operating costs for Q4.
Financials
U.S. Steel is trading at a forward P/E of 10x. It has a PEG ratio of 2.4, and long-term growth rate of 6.5 percent. It has a dividend yield of 1 percent. U.S. Steel is a high beta stock, as is evident from its beta of 2.4.
| | | |
| --- | --- | --- |
| Comp Sheet | U.S. Steel (X) | Nucor (NYSE:NUE) |
| Forward P/E (1 year) | 10.6 | 13.66 |
| PEG ratio (5 year expected) | 2.31 | 3.36 |
| EV/EBITDA (NYSE:TTM) | 5.7 | 9.16 |
| Dividend yield | 0.90% | 3.60% |
| Long-term earnings growth rate | 6.50% | 7.13% |
Source: Yahoo Finance
U.S. Steel is trading at $21.5, down 33 percent from its 2012 high of $32.25 on February 3, 2012.

X YTD Stock Performance (Source: Yahoo Finance)
Risks To Our Analysis
Steel industry and steel equities are cyclical in nature, and demand for steel products depends heavily on the health of both the internal and external economy. A decline in the global economy, and, in particular, the North American economy, could hurt demand for steel products and Nucor's earnings. Elevated import levels will also impact U.S. Steel's earnings negatively.
Higher than expected steel prices or lower than expected costs present the upside risks to our thesis on U.S. Steel.
Disclosure: I have no positions in any stocks mentioned, and no plans to initiate any positions within the next 72 hours.
Business relationship disclosure: The article has been written by Qineqt's Basic Materials Analyst. Qineqt is not receiving compensation for it (other than from Seeking Alpha). Qineqt has no business relationship with any company whose stock is mentioned in this article.