Looking for odds-on, quick results, big payoff, small drawdown vehicles? They're waiting for you.
There are no guarantees in this game, but investment pros are betting their big bonus jobs that several leveraged long ETFs have this ideal package of attributes. We know what they must be thinking from the way they protect themselves as they help their big-money fund clients use tons of these issues.
This chart of the dimensions of their price range forecasts is the starting point for your decision process:
Click to enlarge images.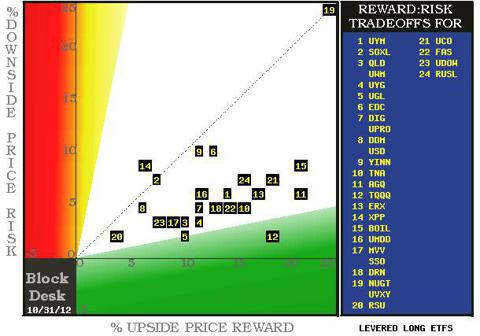 Your attention should be drawn first to point 12, the coordinates of the ProShares UltraPro QQQ ETF (NASDAQ:TQQQ), the three times levered tracker of the Nasdaq 100 index. Anything in that green area has a market-maker price range forecast of at least five times as much upside as downside. In this case, +18% vs. -1.6%, or better than 10-to-1.
Regular readers will recognize that the Range Index of any security at that color change border is 20 or less. The RI for TQQQ is 8. The Range Index notion is explained in here.
How well have the market-makers done with TQQQ at this extreme a forecast? And how often has it happened? To find out, we apply our standard investment test of a buy at all cases of this RI level or less, followed by a closeout sale at a target of the top of the price range forecast on the day of the forecast. If the target has not been reached by three months (63 market days) after the forecast, it is closed out then, regardless of gain or loss.
This is the time-disciplined standard. It allows no change to dates or targets, no matter what subsequent forecasts show. Each forecast stands on its own, and is measured on only what was known at its start.
With TQQQ, we have had 666 market days of forecasts. Of these, only 24 have had Range Indexes of 8 or less, about 3.5% of the time. That is neither extremely rare (<2% of time) or commonplace (>33%), but may be considered quite infrequent (five a year).
Of the 24, none were closed out at a loss -- 100% were winners. The wins either met their sell targets or were above cost at the end of three months. Average holding periods of 32 days (five weeks and two days) are half of the 63-day limit, so few positions could have been timed out -- many must have reached targets.
The average product of all closed-out gains was +28.3%, making an annual rate of over 600% per year. On the downside, we measure the maximum end-of-day price drawdown (from forecast-day "cost") in each of the 24 positions. That averaged -9%, so the experienced reward-to-risk ratio exceeded 3-to-1, an exceptional performance.
Today, the upside forecast for TQQQ is +18%, substantially less than the achieved +28%. So there is realistic encouragement that the target may be reached. In all, a buy recommendation on the ETF seems warranted (even without any warranty on performance).
And TQQQ is not alone. At least a half-dozen other leveraged long ETFs in the opening picture are reassuringly supported by prior performances following forecasts at their current Range Index levels. Here is a review of the better part of the array, along with TQQQ for comparison:

Comparing the average net gains (including losses) with the typical maximum drawdowns suggests where the advantage begins to decay among the various alternative choices. It's your call, as it always should be, when you have comparable descriptions of the prospects.
Our tolerances would regard as attractive Direxion Real Estate ETF (NYSEARCA:DRN), Russell Big Cap 1000 ETF (NYSEARCA:TECL), ProShares 3x S&P500 ETF (NYSEARCA:UPRO), and Direxion Big Cap 3x ETF (NYSEARCA:SPXL).
To provide additional perspective on how the volume market-makers see the leveraged ETFs prospects, both long and short structured, here are comparisons of their odds-weighted net payoff prospects.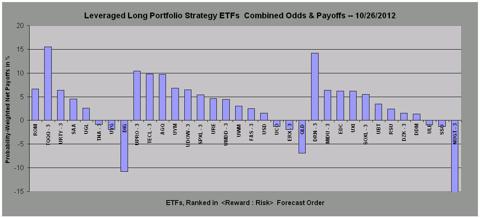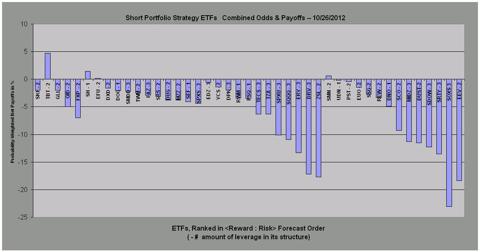 There appears to be a broad conviction among market pros, as influenced by the actions of their clients, for a strong near-term market regardless of who wins the upcoming presidential election.
Disclosure: I have no positions in any stocks mentioned, and no plans to initiate any positions within the next 72 hours. I wrote this article myself, and it expresses my own opinions. I am not receiving compensation for it (other than from Seeking Alpha). I have no business relationship with any company whose stock is mentioned in this article.