Navios Maritime (NYSE:NMM) is an international owner and operator of drybulk carriers, formed by Navios Maritime Holdings Inc (NYSE:NM). NMM reported its earnings last Tuesday. The company topped both the earnings and revenue estimates. This was a surprise, given that dry bulkers have been facing tough times since 2009, when most of them could not predict the future demand and ordered much more vessels than actually required. This led to overcapacity, which in turn brought down the freight rates to ridiculously low levels. NMM offers a dividend yield of 11.5%.
An Update on the Baltic Dry Index (BDI)
BDI is composed of weighted averages of Baltic Capesize Index (NYSEARCA:BCI), Baltic Handysize Index (BHI), Baltic Panamax Index (BPI) and Baltic Supramax Index (BSI). Following shows the pattern that the indexes have been following in the week ended October 29th

The time charter averages on the left hand side are for yesterday. As one can see, the BCI climbed up in the 30-40 days. This was due to a surge in demand for iron ore in China. Bears were of the point of view that the rise in demand is only temporary, and it could be a result of the recent approval of an infrastructural development bill in China. They might be right, given that the BCI index has abruptly become stagnant. However, it is too early to make a remark on that.
The BPI surge has also come to an end. Panamax vessels are mostly used to transport coal. US coal exports were on a rise lately. According to Norfolk Southern's (NYSE:NSC) management, coal exports, after showing a rise of 5% in both July and August, fell by 28% in September. The railroad management was extremely bearish about the coal exports, citing that it will decline at the same rate for this year at least. People believe that the rise in exports for July and August came after Europe decided to cut most of its nuclear power outside France.
BSI has been falling as well, given that the Ukraine government hasdecided to ban wheat exports from November 15th onwards due to poor harvest. Also, Brazil, the frequent destination of Supramaxes, has been quiet for some while.
The overall BDI has been falling since it touched the 1100 points mark. However, bulls still anticipate improvement in this dry bulk market, given that the index has surged from 660 points to 1100 in less than 30 days.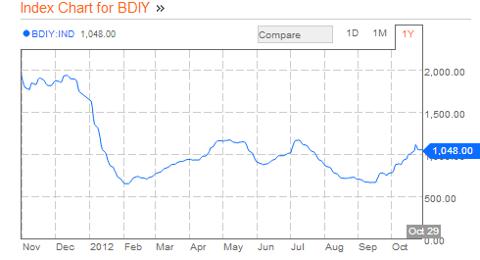 NMM Highlights
NMM reported a profit of $22.1 million, which was 33% higher YoY. The company also reported a rise of 15% in quarterly revenue on a YoY basis. EBITDA is considered to be one of the key indicators of performance for shipping stocks because debt is a primary issue in the industry and a company needs a robust EBITDA number to convince investors that it can pay off the debt with ease. EBITDA for NMM rose by 19.4% on a YoY basis.
Many people however tend to forget that it is not EBITDA but EBITDA per operating day that is an important indicator of the financial health of the company. The following chart shows how EBITDA per operating day has improved by 5% YoY.

Source: SEC Filings
Fleet
The company owns twelve Panamax vessels, seven Capesize vessels and two Handymax vessels. More exposure in Panamax means that the company depends heavily on the demand for coal across the globe for its revenues. All of the vessels operate on long-term charters. 30% of the charters will end in 1-3 years time, whereas, the rest of the 70%will end in 6-10 years time period. The average charter duration is 3.3 years. This is not a favorable sign for investors since the current freight rates are depressed. Long-term charters mean that freight rates will not change even if the dry bulk industry witnesses a turnaround, which hinges on a global economic recovery, especially, growth in the Chinese economy. It becomes clear why the company hardly benefited from a surge in BDI.
The company is increasingly facing the problem of overcapacity. The company's fleet has three vessels more for this quarter than for the same period last year. Two of them, a Panamax and a Handysize, were bought this year. Currently, the average age of NMM's fleet is 5.9 years. This is less than the average age of the dry bulk industry fleet,which is 10.4 years. This can be interpreted in two ways; the bullish aspect is that the younger fleet will require less maintenance and, therefore, will be cheaper in operating terms. However, the bearish aspect is that a young fleet will be scrapped away at a later point in time, which would enhance the overcapacity issue. On an industry level, investors are optimistic as the net fleet growth rate has slowed to 8.9% YoY (figure as of 1st October 2012)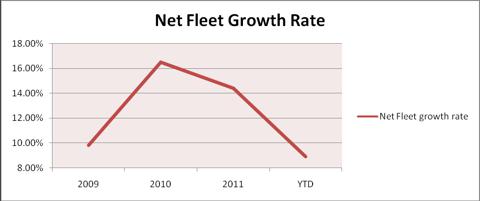 Conclusion
The company has been consistently paying dividends for the last four years. The dividends have been on a rise all throughout the four years. Recently, the company raised the quarterly dividend, from 44 cents per share to 44.25 cents per share. Though the rise is small, investors still appreciate the company's ability to maintain a double-digit dividend yield in such a tough macroeconomic environment. The current dividend yield is 11.5%.
The fact that the company's fleet is on long-term charters has made the market bearish about the stock. However, one can still understand how this helped the company avoid the volatility which has become a norm in the industry. This visibility in earnings/dividends should give NMM a status of a "dividend heaven". Given a solid dividend yield and growing EBITDA, the stock is recommended as a buy.
Disclosure: I have no positions in any stocks mentioned, and no plans to initiate any positions within the next 72 hours.
Business relationship disclosure: The article has been written by Qineqt's Industrials Analyst. Qineqt is not receiving compensation for it (other than from Seeking Alpha). Qineqt has no business relationship with any company whose stock is mentioned in this article.