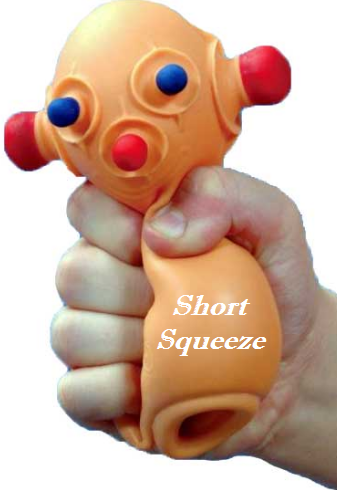 Chinese manufacturing data improved in October. Meanwhile, Japan is in full QE mode. Europe liked the blizzard of U.S. data, thinking it might spill across the pond. The IMF said a Greek deal is on the horizon ("Lost Horizons"?). U.S. data included: "reconstructed" ADP data, which showed 158K new private sector jobs (hard to trust this for now); Jobless Claims (369K vs. 370K expected, and prior revised higher to 372K); ISM Mfg Data (51.7 vs. 51.5 expected, and prior 51.15); PMI flat (51.5) Consumer Confidence (72.2 vs. 74 expected, and prior 70.3); Construction Spending (.6% vs. .6% expected, and prior -.6%); and, Challenger Job Cuts (47K vs. 33K), mostly ignored.
The most watched data point will be Friday's employment report, now under great suspicion from many corners.
Earnings reports investors focused on were stronger results from Chrysler (DDAIY.PK), General Motors (NYSE:GM), Exxon (NYSE:XOM) and Kellogg (NYSE:K), while Pfizer (NYSE:PFE) fell as its Lipitor patent expired. It must be said that many accuse the auto companies of reporting sales to dealers vs. consumers better known as "channel stuffing." But auto companies are now self-financing, with subprime auto loans making a large comeback. Nevertheless, bulls seized on quiet and oversold conditions as algos jumped on headline data to ramp markets higher.
It's also the start of a new month, where fund dividend reinvestment dominates, and we enter the normally bullish seasonal period toward year-end.
For now, bulls are setting aside worries about the election, fiscal cliff, the eurozone and most other issues, and pushing stocks higher in a classic short squeeze.
The dollar (NYSEARCA:UUP) was slightly higher, and gold (NYSEARCA:GLD) modestly weaker. Commodities (NYSE:DBC) overall were flat, while oil (NYSEARCA:USO) and a few base metals (JJC) were higher, mostly on Chinese manufacturing.
Stocks were led higher by tech (NYSEARCA:XLK), which had gotten quite oversold short-term, along with materials (NYSEARCA:XLB). Bonds (NYSEARCA:TLT) reversed course and sold off some as stocks rallied. Never short a quiet market is the old maxim, and this applied Thursday. It's also been the case that shorting stocks over any period beyond short-term with QE and ZIRP has been a losing strategy.
Volume was unremarkable on the short squeeze, and breadth per the WSJ was quite positive. Given Friday's employment report, let's keep Thursday in perspective and the blog report short.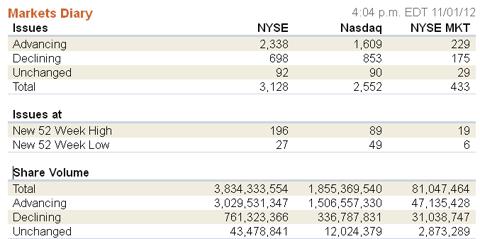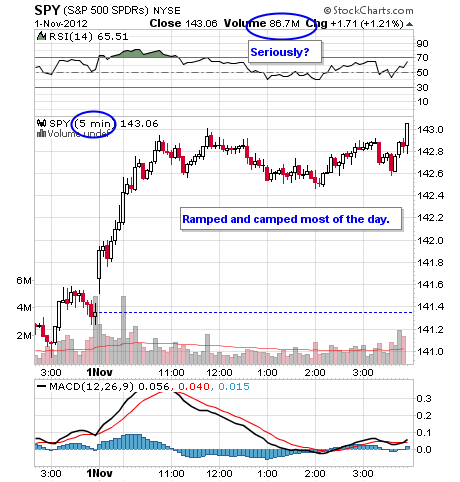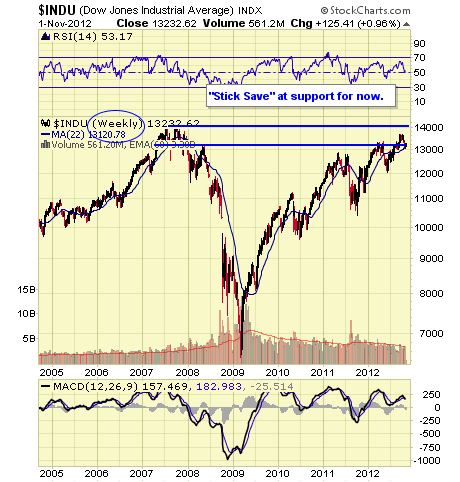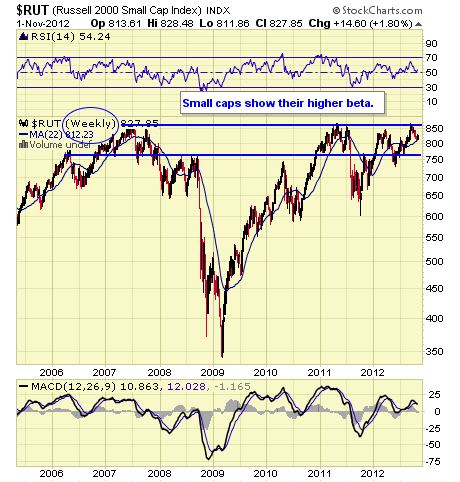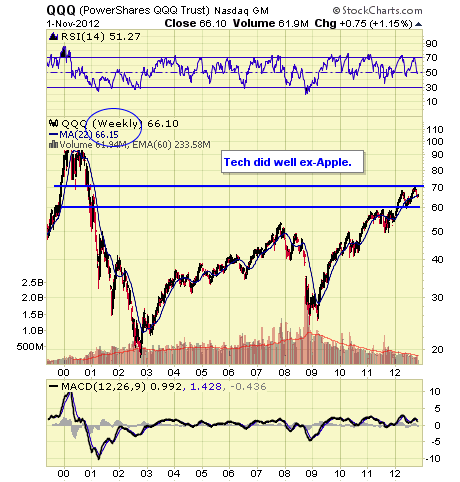 Continue to U.S. Sector, Stocks & Bond ETFs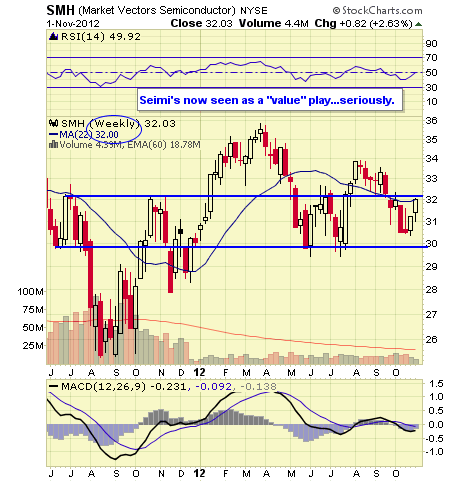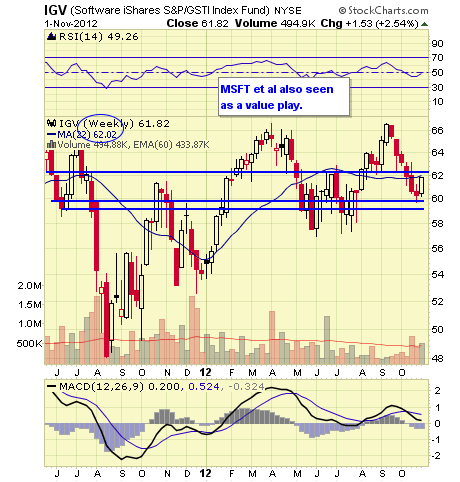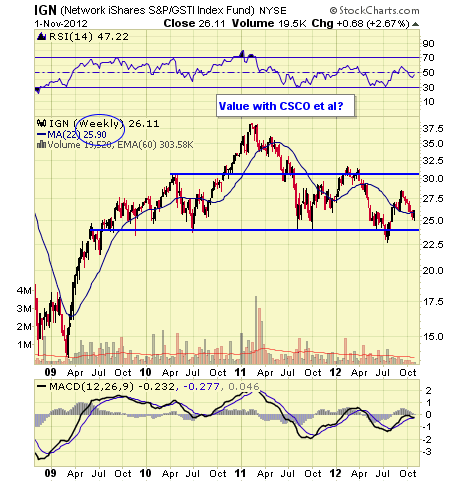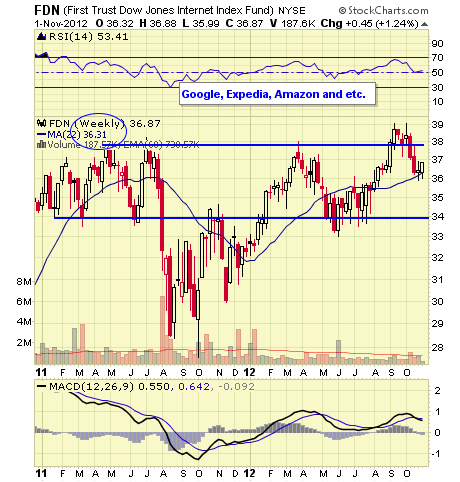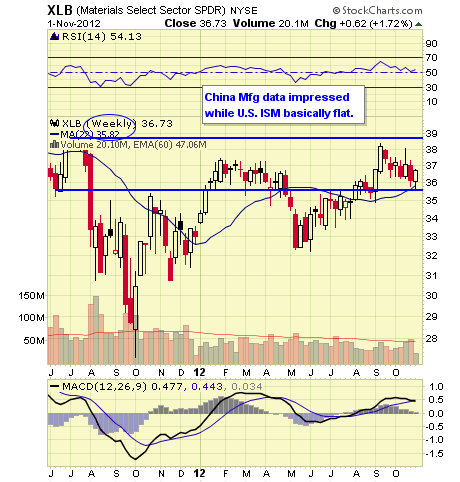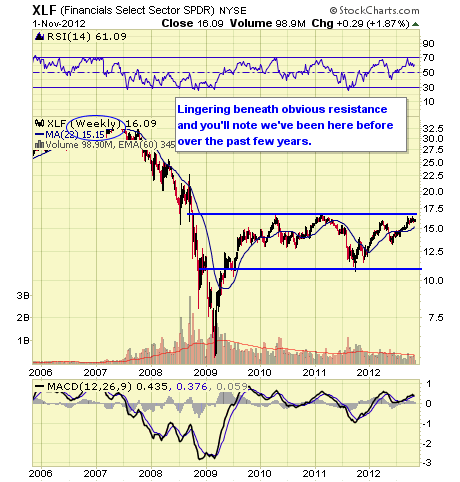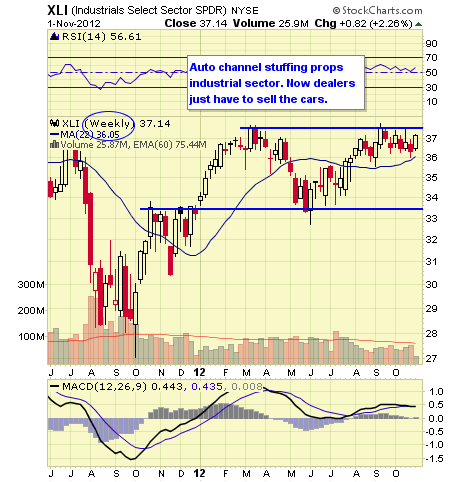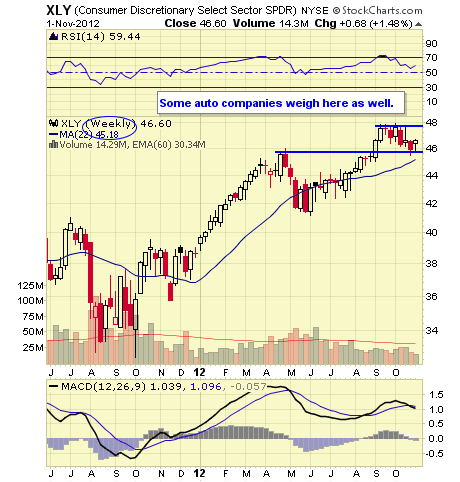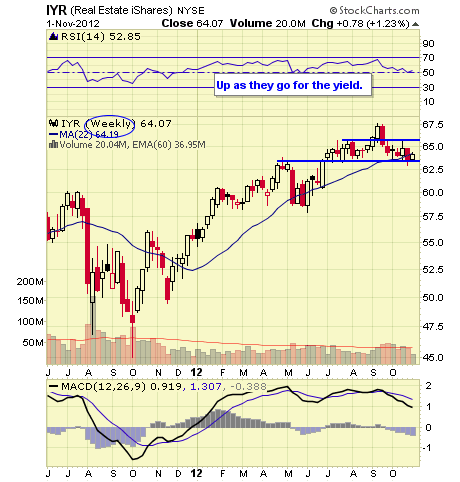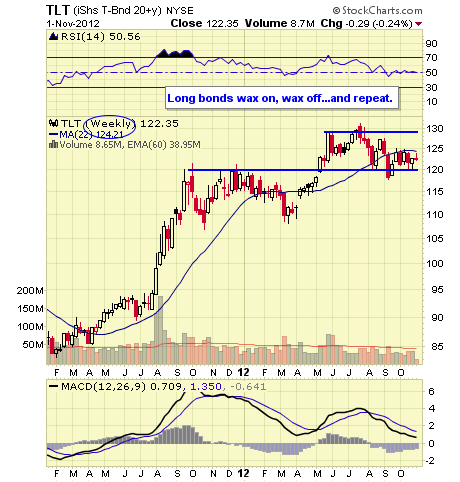 Continue to Currency & Commodity Market ETFs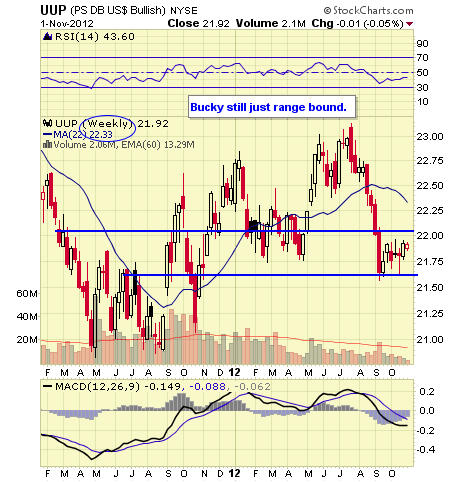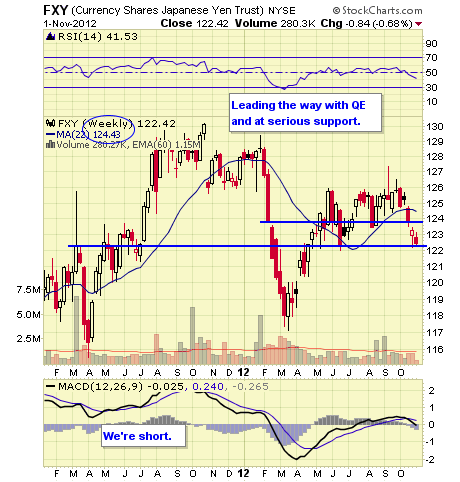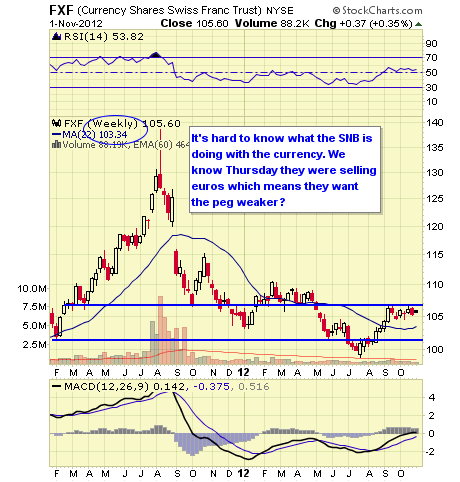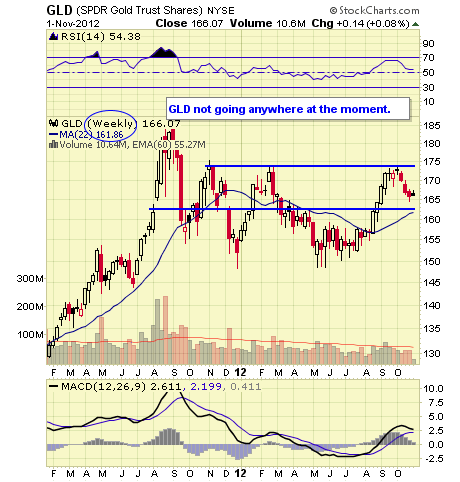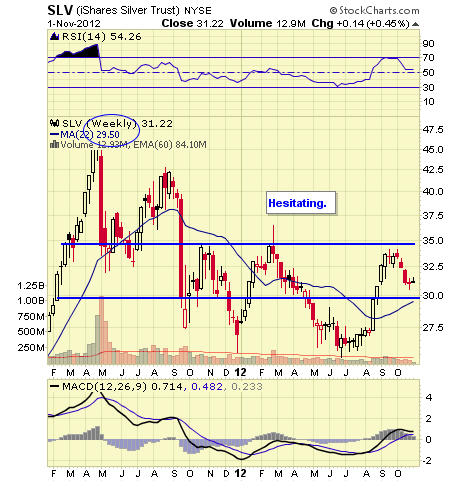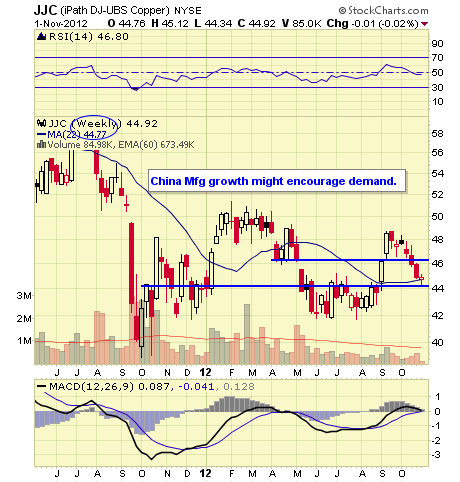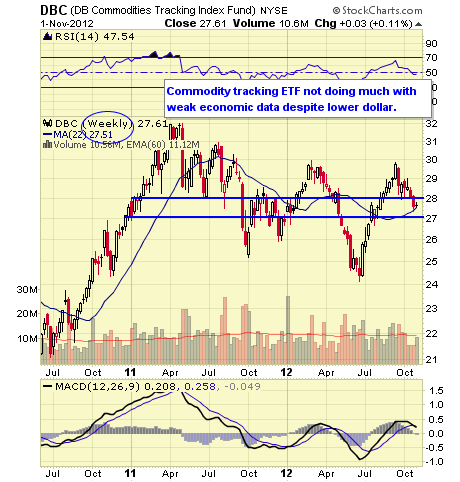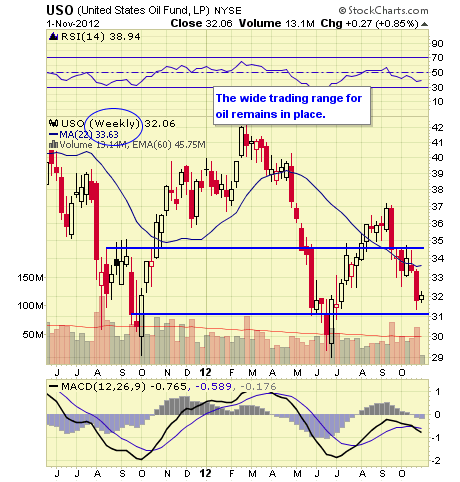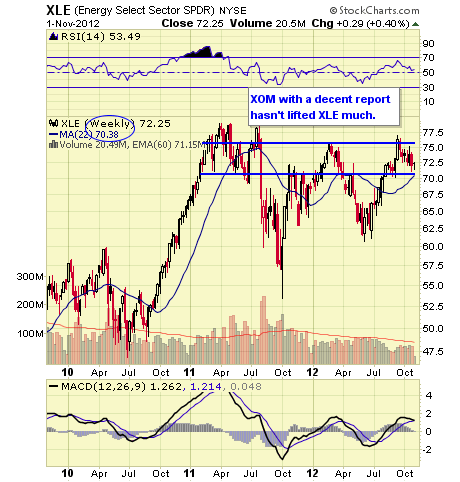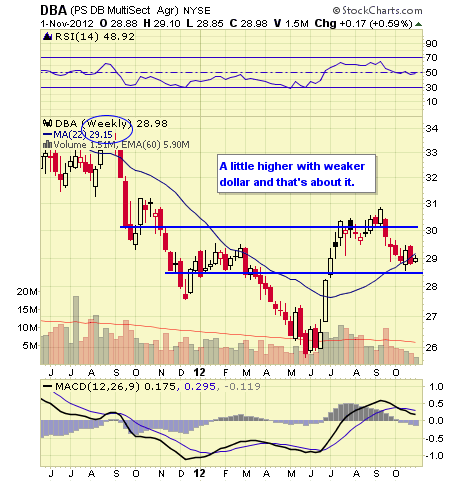 Continue to Overseas Sectors & ETFs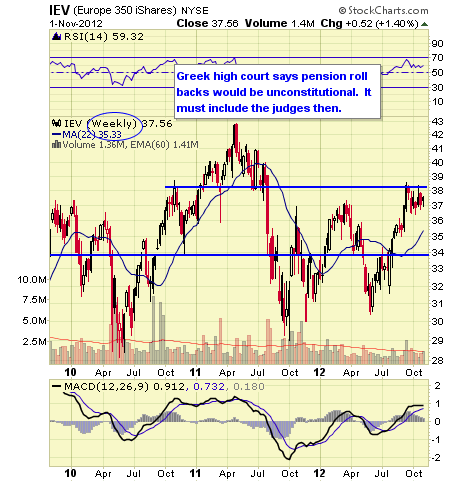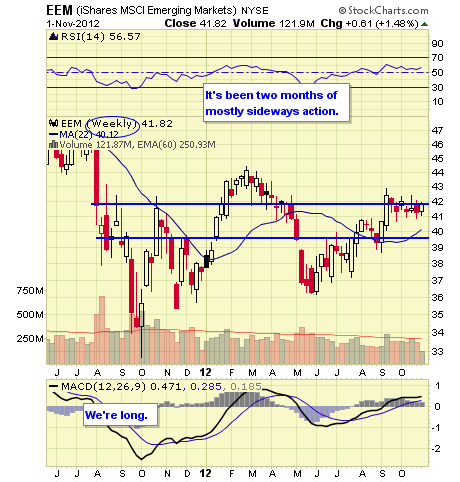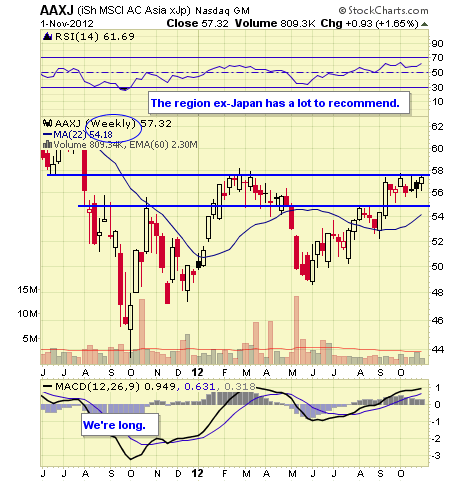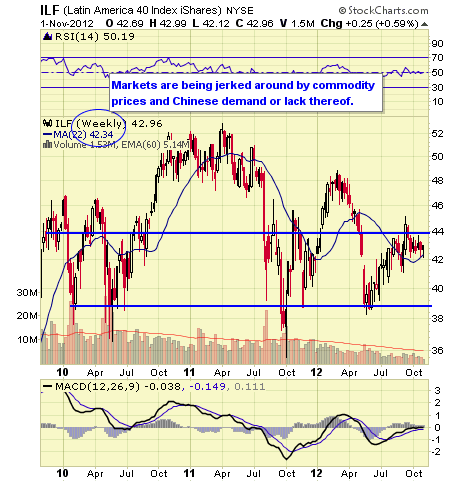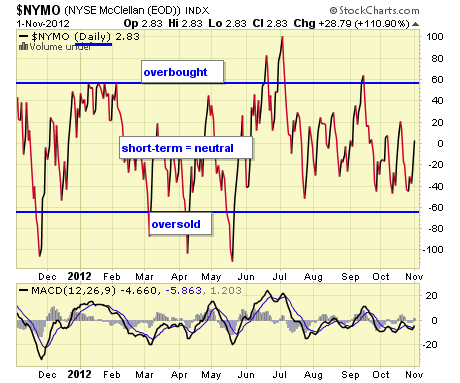 The NYMO is a market breadth indicator that is based on the difference between the number of advancing and declining issues on the NYSE. When readings are +60/-60, markets are extended short-term.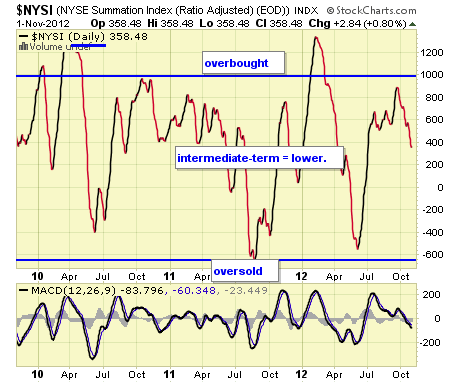 The McClellan Summation Index is a long-term version of the McClellan Oscillator. It is a market breadth indicator, and interpretation is similar to that of the McClellan Oscillator, except that it is more suited to major trends. I believe readings of +1000/-1000 reveal markets as much extended.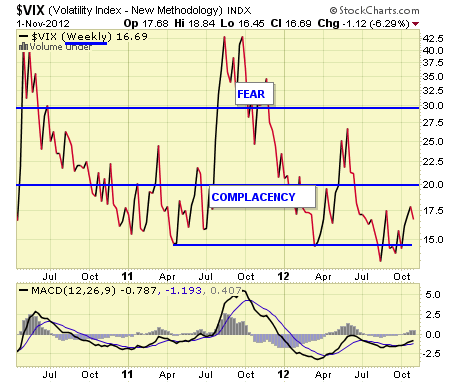 The VIX is a widely used measure of market risk, and is often referred to as the "investor fear gauge." Our own interpretation is highlighted in the chart above. The VIX measures the level of put option activity over a 30-day period. Greater buying of put options (protection) causes the index to rise.
Concluding Remarks
The commentary and review is purposefully cut short given Friday's employment report, which is sure to make an impact. Volume Thursday was quite light, despite the action and amount of economic data released.
We're coming to a crescendo on the news front as the election is coming down to the wire.
Disclaimer: The ETF Digest maintains an active ETF trading portfolio and a wide selection of ETFs away from portfolios in an independent listing. Current "trading" positions in active portfolios, if any, are embedded within charts: Lazy & Hedged Lazy Portfolios maintain the follow positions: VT, MGV, BND, BSV, VGT, VWO, VNO, IAU, DJCI, DJP, VMBS, VIG, ILF, EWA, IEV, EWC, EWJ, EWG, & EWU.
The charts and comments are only the author's view of market activity and aren't recommendations to buy or sell any security. Market sectors and related ETFs are selected based on his opinion as to their importance in providing the viewer a comprehensive summary of market conditions for the featured period. Chart annotations aren't predictive of any future market action rather, they only demonstrate the author's opinion as to a range of possibilities going forward.
Disclosure: I have no positions in any stocks mentioned, and no plans to initiate any positions within the next 72 hours. I wrote this article myself, and it expresses my own opinions. I am not receiving compensation for it. I have no business relationship with any company whose stock is mentioned in this article.